On the love of placements, unexpected, in experience: surprise.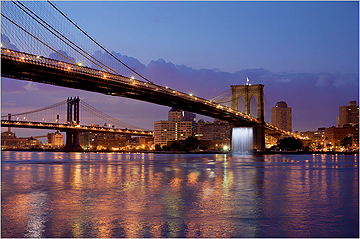 Photo: Vincent Laforet for The New York Times
I've been exploring the ideas of installations for a long time. My office is full of them. My house is crowded with them. My island place is surrounded by them. And I've written about it, tim.girvin.com/Entries/?p=454, that sense of surprise, that newly discovered presence — that object in path — designed, placed, installed.
And I keep looking.
There's a sense of placement that is about seeing something new, differently, because of the unexpected quality of it. So you might reckon the character of Robert Smithson's earthen applications (http://www.robertsmithson.com/earthworks/ew.htm) or James Turrell's excavations (http://blog.girvin.com/?p=627), Richard Long's installing by walking (http://www.richardlong.org) — they are all about that, all working with, and about, that proposition. I savor those discoveries.
Sometimes, the power of these expressions is about their remoteness — and other times, it's about their accessibility: (http://link.brightcove.com/services/link/).
"The New York City Waterfalls" expands the concept of public, land-based art — massed scale in installation and presence is an idea that goes back to ancient experience, spiritual edifices, memoria and or civic monuments. Contemplate scale: the Pyramids of Egypt, the Buddhas of Bamiyan, the Nazca Lines of Peru, others. According to Cathleen McGuigan, art writer:
"In America, public art once tended to be heroic, too, with bronze generals on horseback leading the charge across the quiet green of city parks. Modernism injected a new kind of heroism into the civic realm. Enormous abstract sculptures, landed like spacecraft in front of courthouses or shopping malls, have tended to be—with the exception of, say, a Calder stabile—as still as a tomb and as eternal. But now, contemporary artists like Christo, who wrapped the Reichstag in Berlin, or Cai Guo-Qiang, with his carefully choreographed gunpowder explosions, are up to something different. Their art is epic in scale but dynamic and ephemeral—they don't create an object so much as an experience."
Spectacle, you might say. I do like spectacular!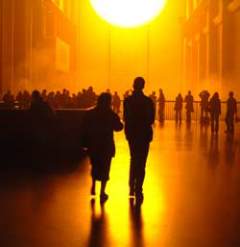 And my first exposure to Olafur Eliasson's work was here, at the Tate | Turbine Hall, 2004. Kapoor took advantage of that space, as well. (blog.girvin.com/?p=1189) It surely lends itself to the gargantuan. Because: it is.
Eliasson's remarks then, and his remarks now, are about reconnecting with nature — getting people return the glance to something that might be seen as commonplace. Like the Sun.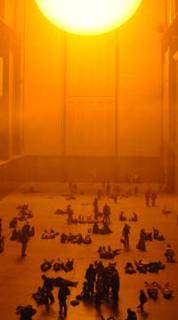 http://www.tate.org.uk/modern/exhibitions/eliasson/default.htm
The concept of surprise, which I find amusingly expressed from the mayoral leadership of NYC. Mayor Michael Bloomberg stated that the waterfalls were "most unexpected. New York is a place where big ideas are realized"; the four waterfalls are now known as the New York City Waterfalls. The project cost $15.5 million and will generate over $50 million in economic activity, according, at least, to Bloomberg's neat calculations.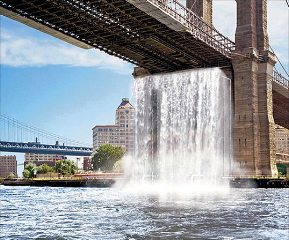 "Here in New York, water is everywhere. We take the water for granted," Eliasson said in an interview. "I want to suggest — now, it's not about the land, now it's about what's between the land." The Icelandic Danish artist worked for over 2 years on the installations.
Here's the sequencing of the tests, modeling studies and final installations.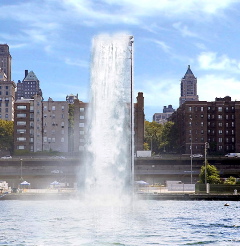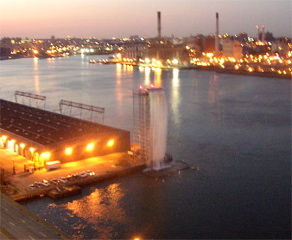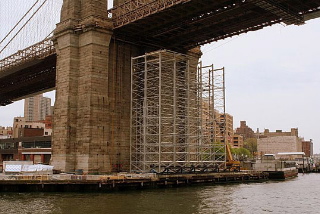 Here's my map, to get there: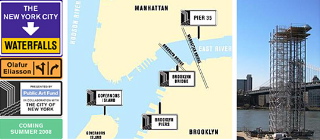 And, if you really want to explore more, this is the best place to learn more of his work, his thinking, his explorations —
http://www.olafureliasson.net/
I'll check it out this week.
What's your take, big water, on the waterfront?

tsg | nyc
—-