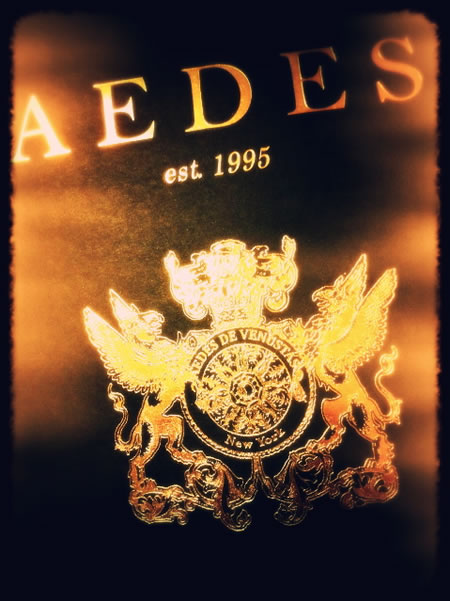 Aedes De Venustas | Perfumed Environments: The Design of the Fragranced Retail Experience
The idea of a space, a place, defined for the selling of scents can be an evocative experience. In one instinct — that place could be clean, even sterile. Or, if there's a distinct brand character, it can tie to the brand's aesthetics. But, to the notion of specialized retail, the design of an emporium of scents can reach precisely to the ethos of the founding merchants.
Early in my exploration of scent and the design of places made to sell olfaction expertise, I came to Aedes de Venustas. It's a small shop front, located in the West Village, built and formulated by scent mavens Karl Bradl and Robert Gerstner in 1995. I met and spoke to both of them, early on — asking about their interest in perfume, how they came to create their shop. Passion emerged as the perfected sentiment — they feel for perfume — as collectors, savants, experts.
That interest came, as it does for many, in the first introduction to fragrance. According to the perfume blog, "Now Smell This," interviewer Robin linked to Karl for a series of questions and answers. The beginnings, according to Karl, began "when my mom gave me a bottle of Rothchild for Christmas in the early 80's. I was so much into the scent that I started exploring the fragrance market. At this time I was also very much interested in fashion and as we all know the glamorous 80's were all about designers and their fragrances. My scent library grew very fast…from Armani, YSL Kouros and Dior Poison…I covered them all. By the time I was 20 I got tired of the fact that everyone was wearing the same scents and my enthusiasm for fragrance slowed down. That was until I discovered niche scents. The mystique of niche fragrances made me fall in love again." You can read more of the scent legacy of Karl's opening at the blog overview.
The Christopher Street Shopfront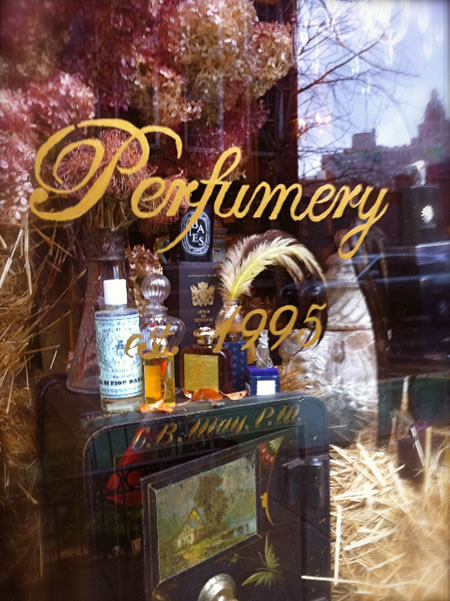 What I found — and still find as distinguishing — is the character of the environment. It is distinctively baroque — it reminds me of an antique shop in Paris or Munich — there is a fluency of cluttered shelves — but the idea of place-making is very distinguishable in the styling array of other boutiques in the city of NYC. To Bradl's interpretation, that distinguishment is attitudinal, it's about the "flower arrangements, the romantic location in the West Village, the living room effect, the fact that we won't push a fragrance and would rather send someone home with a sample before making a wrong decision, the small talks with our customers…all this contributes to a personal touch and creates a positive energy that results in a shopping experience that makes the customer want to come back. We also cater to the corporate world in the Fashion and Entertainment industry on a regular basis, and that keeps us very busy." And another focus is the nature of belief, clarity in the standard "that we only carry products we believe in and use ourselves and do not jump onto a product line just because it is trendy at the moment."
The other issue lies in Karl's comprehensive sense of style — which not only imbues the character of the overarching spirit of the brand, but as well the spatial presence which is so carefully managed by his team. Some photographic renderings of the place suggest a gesture on my part, lauding the spirit of what they've accomplished.
Some notes, to exploration:
First off, to styling, Karl evokes some astonishing gestures to floral arrangements, that curl and frame the space in a dizzying set of live floral and dried botanical tableau — every time I'm there (not being a New York City resident) I'll run down from the NYC office to learn more about his newest inventions.
The Aedes style of merchandising presentation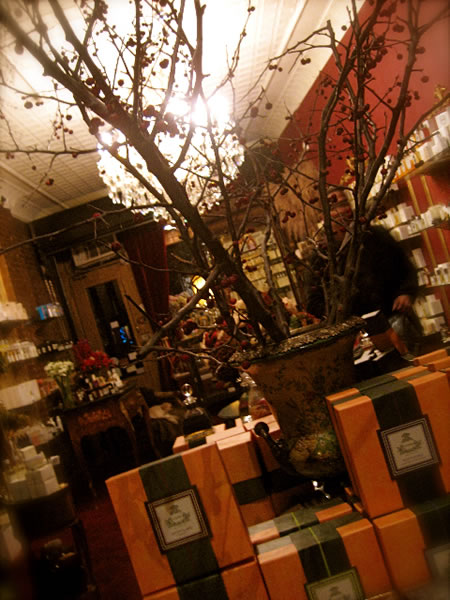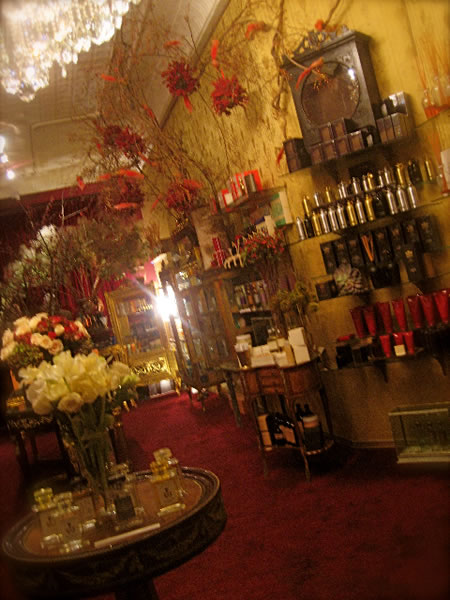 Karl and his team, to the complexity of their collected product offerings, build sequential, stylistically aligned treatments for each of their product displays — in this manner, the idea of each brand grouping is "contained" there is a framing of precious, nearly Parisian Napoleonic — yet delicately restrained — context that speaks to the overarching styling of Bradl's team inventiveness.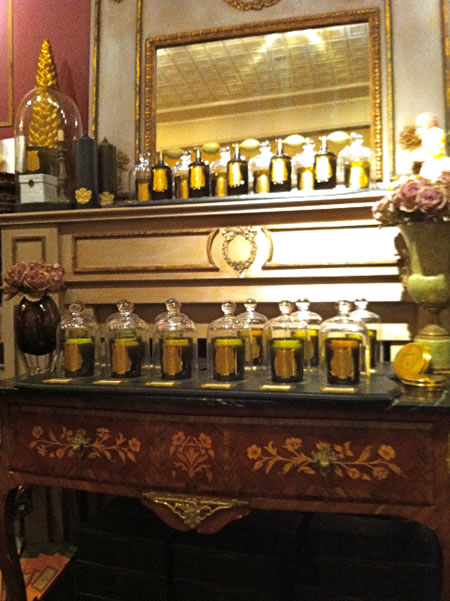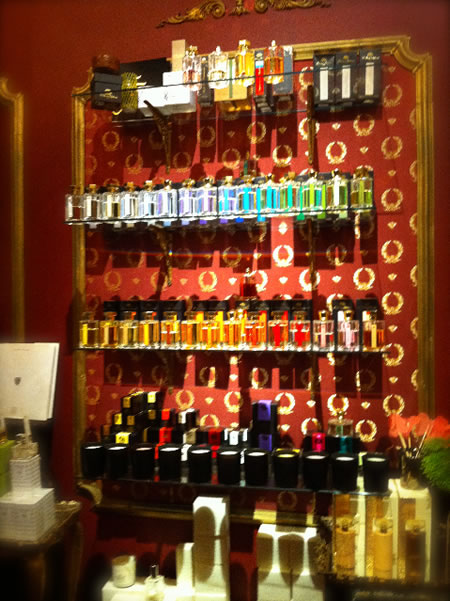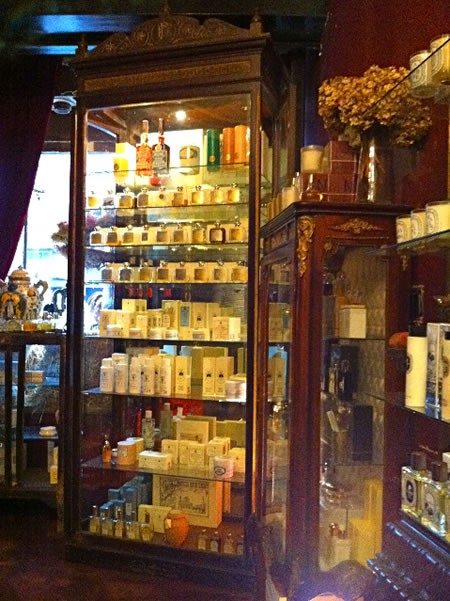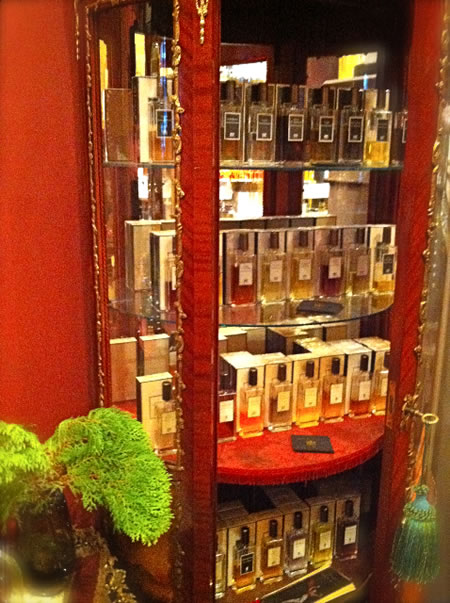 Bradl's team, as well, has acquired the rights for a Frédéric Malle installation.
It should be pointed out, as well, that the thinking for this ornate, high-taste visualization of his curated collections finds its way into online and print executions. Just these gathered stylings manifest Bradl's theatrical storytelling, each gathered below from Aedes de Venustas' catalogues:

Aedes de Venustas

Aedes de Venustas

Aedes de Venustas

Aedes de Venustas

Aedes de Venustas

Aedes de Venustas

Aedes de Venustas
The spirit of the brand is always human — there is always an evincement of character in the voice of the founder, what they care about, the detailing of their examination of principle, promise, meaning and the context of how they will be telling brand story. Bradl and his team have built a beautiful telling — and the holistic character of their portal to that dreamy world is one of lush engagement and brand enchantment — an allurement to the senses.
Go there, embrace and explore.
TIM | NYC Girvin | 26th + Broadway
…..
GIRVIN | IMAGINATION + PLACE
DESIGNING ENVIRONMENTS | RETAIL | RESTAURANTS
http://bit.ly/i7b7EN
the reels:http://www.youtube.com/user/GIRVIN888
girvin blogs:
http://blog.girvin.com/
http://tim.girvin.com/Entries/index.php
girvin profiles and communities:
TED: http://www.ted.com/index.php/profiles/view/id/825
Behance: http://www.behance.net/GIRVIN-Branding
Flickr: http://www.flickr.com/photos/tgirvin/
Alltop network: http://my.alltop.com/TGirvin
Google: http://www.google.com/profiles/timgirvin
LinkedIn: http://www.linkedin.com/in/timgirvin
Facebook: http://www.facebook.com/tim.girvin
Facebook Page: http://www.facebook.com/girvindesign