The writing of the eternal return: the perpetual script of spinning time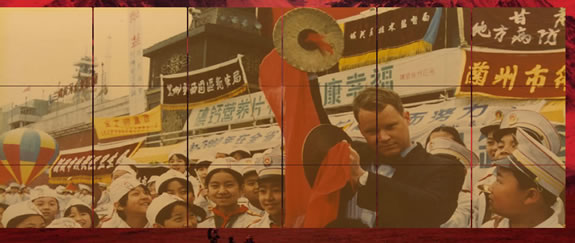 When you contemplate the road forward, there's a chance to look back,
the path that brought you to where you are.
[image above,
from http://mattgirvin.org/]
It's difficult work, when you're writing — spinning out the drawn script of moments and instants — about the web of the meaningful and emotional cartography in your history: in any self-made study of the ring of time; it is a collecting, a "re-collecting" — uncovering and discovering.
It is — a tracing — a scribbling and mapping of lines in the sand, that go back and back: a chalk-line,
into the mists of the alleyways —
the glimmering and mirage-rippling dunes and spellbinding labyrinths of —
mind, memory and experience.
And it can hurt.
Once I met an old man, wracked in the pain of many decades of living, and he said,
"Tim, look back, but don't stare."
In a way, when you recount a storytelling, the red threading of your living, the tethering and un-knotting, the untying of your past, it can be a meditative journey unto itself. You think, distill, gather in, refine and sort — it becomes an allegory unto those steps collected:
sand, stones, pathways,
chalk lines, scripts, maps,
lists and charts.
But like any journey, it can be hard.
Imagine that recounting in the realm of love, and loved ones — a passage — and in the finality of missing someone = forever.
Still, the memories hold that fastness, the holding of what was held and the imprinting of what can be gone.
"I was holding, and now I release — yet still, there is the impression in my 'hand.'"
I'd never done anything quite like this, except when it first happened — for Matt Girvin. And all the rest of the Girvin clan.
Now, more than a decade later,
we're hunting for stories,
reaching to community.
Come, share, explore —
who was Matt to you;
what memories and
stories hold you fast?
Reach here.
Or share,
simply,
here:
sharing@matthewgirvin.org
What lasts, but stories?
Sand, chalk, the fluency of time, dunes and icy fields — they flow and drift to new shapes and journeys.
Maps only show what has been, not the newly emerging geography — which could change every thing.
Still,
a story lasts forever.
If there's a story,
how would you tell it?
TIM | GIRVIN | Queen Anne Elementary School Studios
–––––
HUMAN BRAND DEVELOPMENT | The strategies of rippling genius
https://www.girvin.com/subsites/humanbrands/