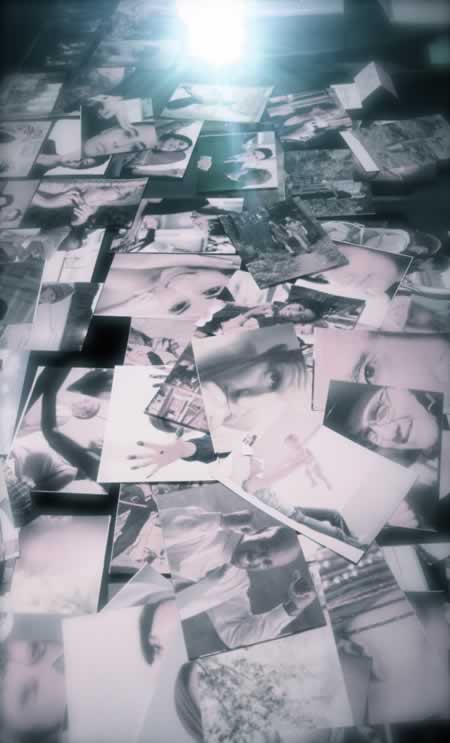 What brands face, in Facebook? Many, if their culture is robust enough…
In the metaphor of communing, there are layers — circles — of connections that we have with each other and our friends. A drop, ripples.
Stories are told — they are shared, and they spread, increasingly, to community — in the medium of Facebook. Brands, obviously, have picked up on this rhythm. If brands are about stories and experiences, then in the free-ranging sentiments of connection / resonance / relevance, a Facebook page might purport to build community. There is a point, of course. And that is, who cares? Do communities of people relate to really telling stories — and connecting with brands, online? Or, more so, in the context of communicating with a brand proposition, is it a place where not only the good benefits are expressed — or, a place for disparaging the less than savory?
"Many consumers are already sharing information regularly on Facebook—this is just one more way to quickly share information in a place where they are already spending time," says Michael Donnelly, director, worldwide interactive marketing at The Coca-Cola Company.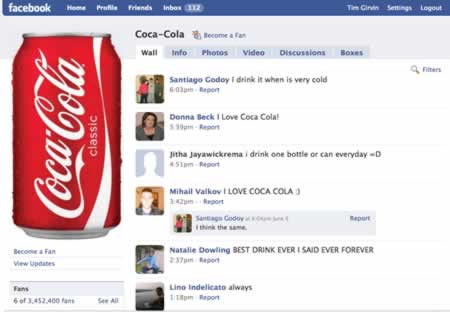 Coca Cola might be an example.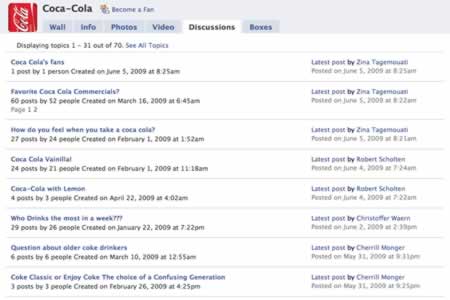 I'd ask: what are these people really talking about? Given the layering of culture and history that's wrapped around the brand, these are, essentially — forums. The density of Coke's history presupposes a wealth of relationships. And plenty of cultural richness to build upon. Grand brands are essentially about that, a cultish stature that layers in the richness of personality — and people being able to connect their personality to the brand persona. It's about reflective sharing — goes one way, goes the other. It's a mirroring that when effective, builds ever increasing rings of brand warmth, if not brand passion.
And, in the realm of brand, as stories, people can and will build stories around them.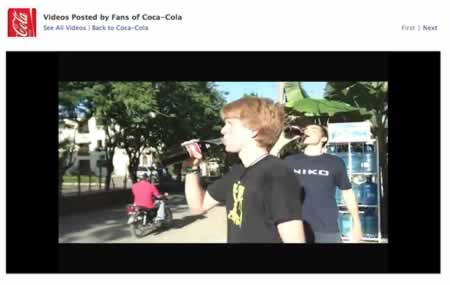 "The ease of creating content makes it so that we get very high engagement, far beyond typical page views. It also gives us a great platform to listen to the feedback we receive from our consumers. Every time we post photos, videos or status updates from the page, our fans are quick to tell us what they think. Their feedback is shared with their network of Facebook friends, exposing them to our fan page," Donnelly says. According to Vivian Manning-Schaffel — Starbuck's followed the measure. "In many ways, the coffeehouse is the original social network, so social media is a natural extension of who we are as a company," says Alexandra Wheeler, director of digital strategy for Starbucks. "Facebook helps us get a pulse on what is important to our customers. We can have a real dialog with them about the values and ideals that they share with us."
This didn't just happen. There was a strategic alignment — and motivations for more than 3 million people to sign up. And the signature of this development emanates from a move a year and a half ago, November 7, 2007, when "Facebook founder and CEO Mark Zuckerberg today introduced Facebook Ads, an ad system for businesses to connect with users and target advertising to the exact audiences they want. Through Facebook Ads, these users can now learn about new businesses, brands and products through the trusted referrals of their friends.
The premise of the ads are truly about the construct of loyalty; during these challenging days, without loyalty, without community, a brand is literally nothing. "Social actions are powerful because they act as trusted referrals and reinforce the fact that people influence people," said Zuckerberg. "It's no longer just about messages that are broadcasted out by companies, but increasingly about information that is shared between friends. So we set out to use these social actions to build a new kind of ad system."
"Facebook Ads represent a completely new way of advertising online," Zuckerberg told an audience of more than 250 marketing and advertising executives in New York. "For the last hundred years media has been pushed out to people, but now marketers are going to be a part of the conversation. And they're going to do this by using the social graph in the same way our users do." These days, there are obvious presumptions with these outcomes — Facebook has grown and is working in doing just what its premise is, for the millions of others connected to the site. Connect with someone and share.
Partners signed and the play has been on — therein the exploratory for me. Blockbuster, CBS, Chase, The Coca-Cola Company, Microsoft, Sony Pictures Television and Verizon Wireless. More than 60 major consumer and Internet brand partners were highlighted at the launch of Facebook Ads.
In expanding the concept of brand relationships, "The core of every user's experience on Facebook is their page and that's where businesses are going to start as well," explained Zuckerberg. "The first thing businesses can do is design a page to craft the exact experience they want people to see." Therein, the story begins.
As in the personal place of any Facebook user, businesses can start with a blank canvas and add all the information and content they want, including photos, videos, music and Facebook Platform applications. Outside developers have created a range of applications to enhance Facebook Pages, such as booking reservations or providing reviews of restaurant pages, buying tickets on a movie page or creating a custom t-shirt. Companies launching applications for Pages include Fandango, iLike, Musictoday LLC, OpenTable, SeamlessWeb, Zagat Survey LLC and Zazzle. Other experiments in social online community development — and note the scale of the populations.
Blockbuster at nearly 60,000.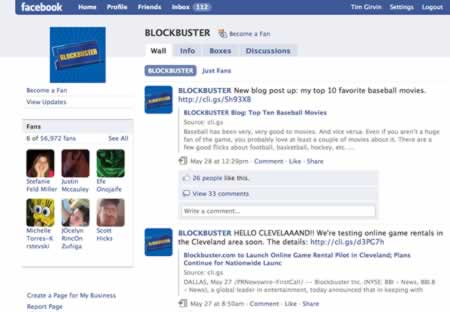 Hershey's chocolate Facebook at 160,000+.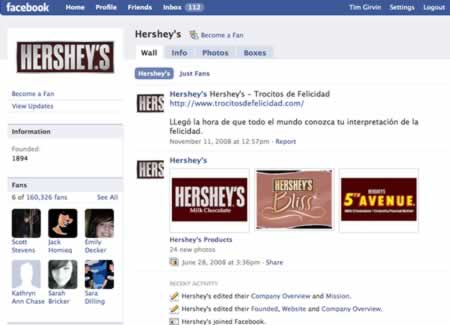 Procter & Gamble, as an overview site for multiple brands has less cultural depth, and therefore, less resonance — 6,000 friends.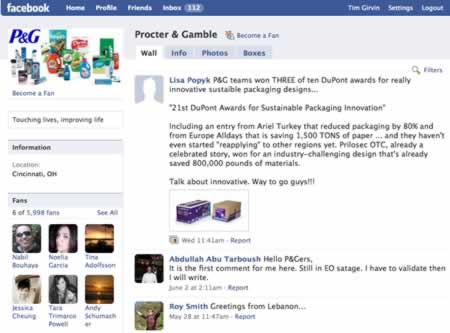 Apple doesn't have a corporate site, but does reach to students — dynamically at 1,400,000 fans.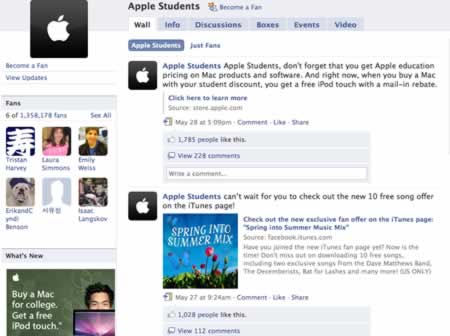 Sony had no site, but a fan built one — there's loyalty marketing:
While one of my favorite clients, Paramount Studios, has only 16,000 fans, its movies boost individual fan sites: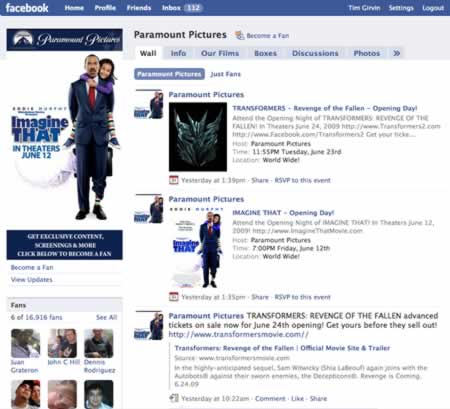 Distribution through the Social Graph Advertising messages will gain distribution through what Facebook has termed the "social graph," the network of real connections through which people communicate and share information. When people engage with a business' Facebook Page, that action will spread information about that business through the social graph.
Users can become a fan of a business(es) and can share information about that business with their friends and act as a trusted referral. There's that seminal idea again: trust — loyal magnetic connections.
All of this is relatively obvious. My premise is that the rippling nature of social networks, to my take, has at its heart story sharing. Every instant of activity, string in the sequence of living can be, and often is, recounted in narrative. Brands are made by people for people. People tell stories in recounting themselves. And brands.
What's your story? And, if you're a brand, how are you reflecting story in community?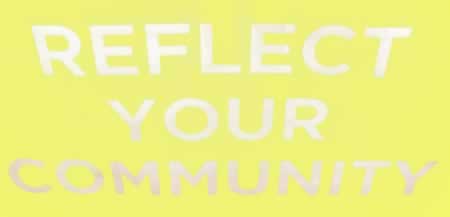 tsg | palo alto