Hi and good morning.
I went to Gabellini Sheppard to talk to them about some things. And they're right on the foot of Bond, in NYC. I walked over to 40 Bond, to see about Ian Schrager's new venture with HerzogDeMeuron. And what's happening, there?
Or is it the other way around? DM+H? I can't remember, right now.
But I did have a curiosity (that is unanswered still) to the notion of how those big slabs of glass
that they'd molded with the skin treatment for the project fit together, and clad that building structure. Support, joints, holding brackets?
But there's an intriguing quality to the character of the treatment, now seen in the sun.
It's still a little unclear. There's no evidence of the patternings. That are shown here.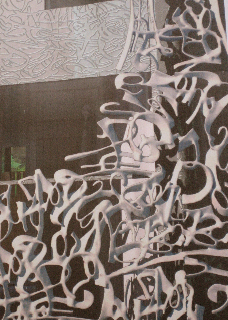 But being a lover of patterning, glass, skin, light, buildings and all that, I thought you'd like an update. I did.
Wishing well | tsg | nyc