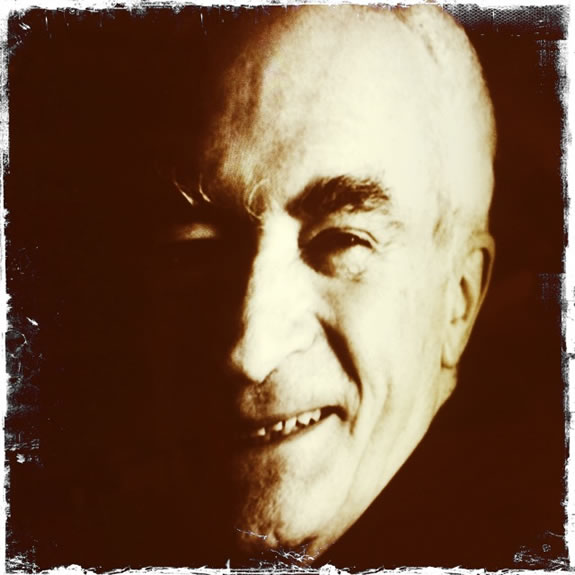 ONE STORY, ONE PERSON
It's interesting how a journey in the life of a designer will take them out to the ends of many roads in their explorations — and those roads might lead back, to the very beginning from which they first found insight into the deeper meaning of
the why
of involvement in
any practiced craft.
When I met Massimo Vignelli, a couple of decades back, I was carrying a vast black acrylic portfolio of laminated posters, art and calligraphy — sheathed in a shoulder bound carrying card, made by industrial seamstresses. It was heavy, bulletproof and a powerful blockade in cross walks. Then, I lived over on 5th, between 2nd and 3rd Avenues, just off the Alphabet Avenues, only blocks from the Hell's Angels HQ.
I was walking with a largely invented portfolio —
I made my work up, since I didn't have any.
He was more impressed with the design of the 60lb. acrylic containment than he was with the spin of color-washed calligraphic lettering, customized fonts and brush drawn art. Vignelli's was a sternly disciplined style, and I think that a lot of what we built, and made by hand was too Northwesterly, too rustically crafty — if there's a school for that sentiment of design. Still, there was another young guy looking over the work, Michael Bierut, and he later commissioned us to build a typeface in support of a building and environmental project. Shown below.
What struck me about Vignelli was his graceful presence, an international glance at how things should be — that shined in the signing for the vast utilitarian underground of NYMetro, to his disciplined product design, strictly firm strategies of identity. Grateful that he would even see me — in an office that spoke of a kind of minimalist set design — he was there, at an iconic desk, mounted like a boat in the quietude of the place. Sacred it was.
We lament his passage —
and honor to have known him,
if only for a moment.
Tim
…..
G I R V I N | RETELLING RETAIL
DESIGNING THE STRATEGY OF SELLING :
BRAND STORYTELLING ENVIRONMENTS, EXPERIENCES = PLACES
http://bit.ly/rRfwAA