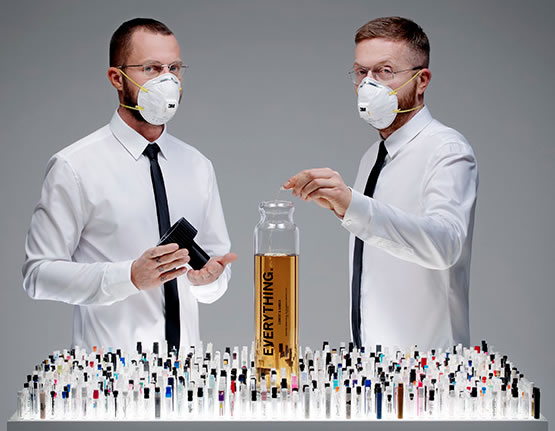 Building a Scent That's Made of Every Scent.
When I was young, even back then, I was into fragrance; I explored the idea of taking various fragrances and mixing them together — to get what I wanted. What came of that experience, generally speaking, was a fat, unrecognizable and obnoxious layering of scents that was a hammer-headed approach to the delicately artful layering of fragrances
that I admired.
Later, I looked for a classic underlayment — a scent foundation.
What I explored was the character of Guerlainade —
the scented secret fragrance DNA of the house of Guerlain.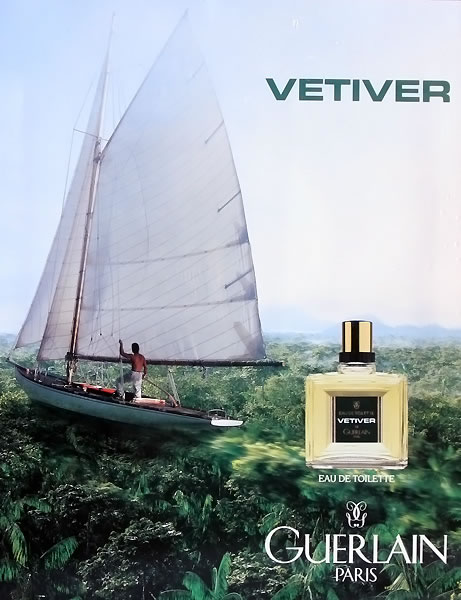 To the idea of a chromosomal brand scent foundation, I searched for something right — I started by building on, and tweaking Guerlain's Vetiver – which struck me the moment I scented it. It was designed 6 years after I was born, and sold continuously since, as a classic. 1959. Guerlain designs based on strategic legacy. According to Monsieur Guerlain2, the blogspot:
"Guerlain never starts with a blank sheet of paper, but with a blurred filigree of everything they ever built," observes perfume critic Luca Turin. "Then they stretch it this way and that, removing old and adding new features as taste evolves, before bringing it all into soft focus."
"The Guerlain perfumers are very much aware of this "Guerlain DNA", passed on from decade to decade but continuously open to slight mutations. The DNA has been termed the Guerlinade, and explains why perfume aficionados can become absolute Guerlain loyalists. If you fall for one Guerlain perfume, you have practically fallen for them all. They bear a family resemblance — there is something puzzlingly familiar about a Guerlain perfume, despite it being new or different, something that connects it to all Guerlain perfumes across their variations. "In the same way that you recognize the origin of a great wine, or the composer of a symphony, you perceive the Guerlain stamp which persists even today," says Jean-Paul Guerlain. The Guerlinade can be traced back to when Aimé Guerlain created Jicky in 1889, although Jacques Guerlain by all accounts was the first to entitle it, and is often understood as a specific accord of notes because nearly all subsequent Guerlain perfumes share certain valued aromas: bergamot, rose, jasmine, tonka bean, orris, gum resins, animal notes and vanilla.
The core of Vetiver is a profound low, base perfume note in the triangular sequencing of scents in the structuring of a per-fume; I built on top of the foundations, adding essential ingredients, roots and resins, I deepened it, made it darker, smokier, sexier, rougher.
It became mine.
In any scent, there is a tablature of– the fretwork— like a musical arrangement, and a sequence, a procession for that discovery — the first light note comes at the top of the scenting — and then, with heat, it becomes deeper, the journey, down into the heat, the hearth, of the fragrance. That artful layering isn't just a pile-on — as I'd learned.
To the work of Lenert & Sander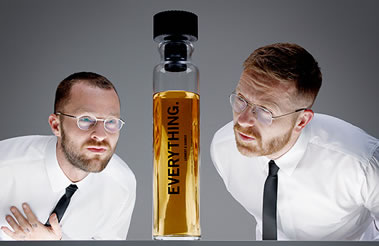 Lernert & Sander | Everything
–––––
I got a note from Colette in Paris about a show, a story, on these two gentlemen, pictured above.
They were building a scent that was simply "poured" from many scents. "Whatever," might be a better name than anything. But the sheer "project / art" exploration is, unto itself, an entertainment.
Her notes, here:
Venez humer Everything, un projet artistique de Lernert & Sander !Everything est une grande bouteille de parfum, au design rappelant celui d'une fiole d'échantillon contenant un extrait des 1200 parfums différents lancés en 2012 ! Une création unique de 1,6L pour une senteur extraordinaire.
Come sniff Everything, an artistic project by Lernert & Sander! Everything is a big bottle of perfume with a design that's reminiscent of a sample vial, containing extracts of each fragrance launched in 2012… that's 1,200 fragrances! A unique 1.6 L creation with an extraordinary scent. Meet the designers on…
From their site:
Everything is a perfume by Lernert & Sander consisting of all fragrances launched in 2012.
Over the last year Lernert & Sander collected almost 1400 samples of newly launched fragrances. By mixing the content of all of these bottles, they created 1.5 liter of Everything. This unique perfume comes in a specially designed and hand blown bottle, an enlargement of a classic sample bottle.
The bottle will be showcased at Colette, 213 Rue St-Honoré in Paris.
Visitors will have the rare chance to try it.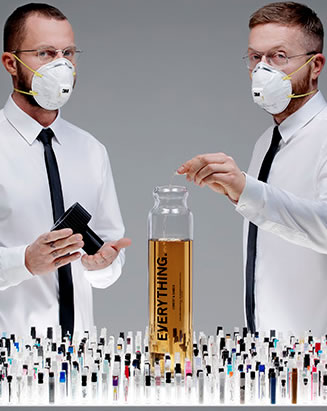 Concept & Design: Lernert & Sander
Video on the story — the mix of everything
scent on scent, story on story.
…..
TIM | NYC Design Studios
––––
EXPERIENCE DESIGN
STRATEGIES | BRAND, STORY & SCENT
New York City + Seattle + Silicon Valley | Tokyo