A TOUCHING BOOK,
CONTEMPLATING 360º
IN BRAND AND EXPERIENCE
A VISUAL MEDITATION


EXPLORING THE JOURNEY;
A LEGACY OF THE SENSATE.
The human stance
of holism.
Every journey is a storytelling of sensuality —
how you sense and experience
the grand sphere
of your transsensational input.


What you recall in a journey would, of course,
be founded on what you've seen,
but more so there are other layers to recollection.
Gather them up.
To gather again the notations of a journey,
you'll recall the sights you beheld,
but too —
tastes that were savored;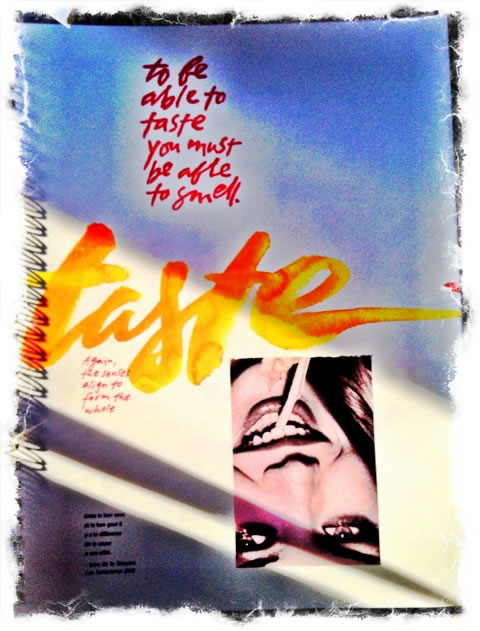 sounds that were heard,
touches in a place that culled the heart and heat of a moment —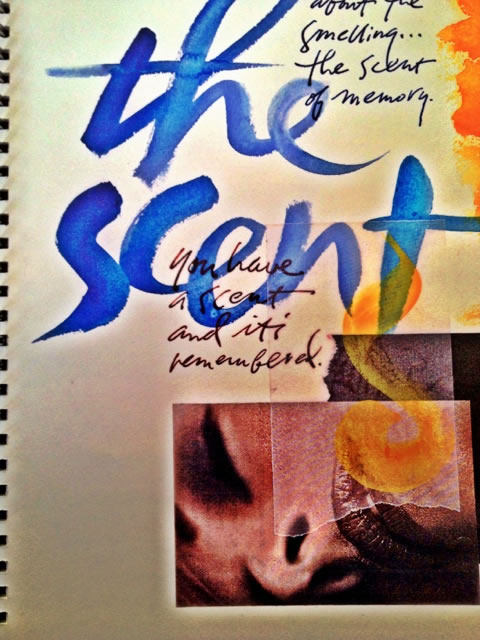 and instances of scent:
a forgotten alleyway,
a long fragrance waft of forest, sea, heated sand.
While in scent, you might be challenged to
notate the structure of a scent experience: "what exactly was I smelling?"
Never mind —
it's that you smelled
is what is important.
In the mid-late 2000s, I'd built a book of imagery and calligraphy exploring a kind of collage book, one which reached out to the realm of the sensational — design storytelling, in brand, that focused on the notion of sense
[each of them, that we, as humans, know].
I was looking at the idea of the book as a dynamic flow,
dramatic uses of type and lettered story,
in a booklet form that walked through imagery,
notations and touch points that
reached into the heart of sensing experience.
The seeing hand, tells a story of the intermixing of sensation, the synaesthetic ideal.
I see a scent.
I touch a color.
I hear a taste.
What do we hear,
what do we scent,
what do we touch,
and what do we taste?
And how would we react to it?
And in that, how might we journal that telling?
If you'd like a printed copy,
you can learn more at girvin@girvin.com;
and we can send a wire bound version, signed.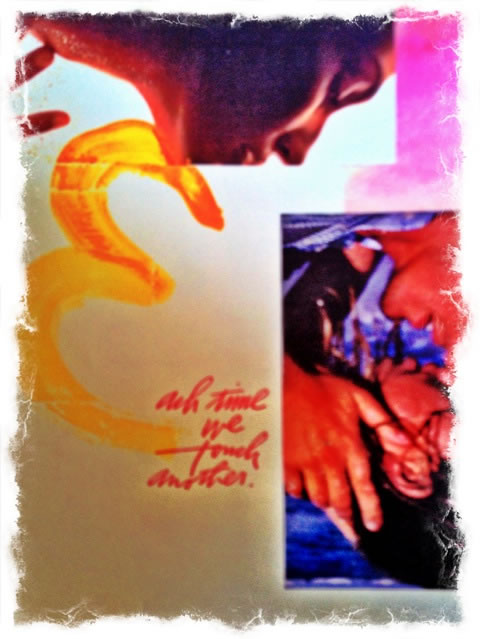 Tim Girvin | The Realm of the Senses
Limited Gift Edition
2008
–––––––
TIM | OSAKAGIRVIN
…..
G I R V I N | WOW CHARRETTES
BRAND AND EXPERIENCE
INNOVATION WORKSHOPS
CREATING STRATEGIES, PRODUCTS,
IDEAS FOR CHANGE.
http://bit.ly/vfzyEU