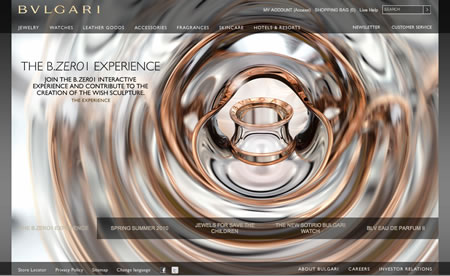 Art, branding and jewelry
I had an experience in working with the fragrance group at Bulgari, along with another friend, an executive marketing partner there, that moved on to build the brand Gilt.
Recently, the concept of exploring the art of jewelry and its relationship to brand has come into increasing study at Girvin, in relationship to a client from India. Jewelry is an ancient tradition, stretching back to four millennia; the idea of adornment with precious metals and colored stones and other materials is one that is fraught with fabulous history. I couldn't hope to offer anything in the way of new content on that front, but more can be explored here.
The concept of aligning designers with jewelry, as well, is familiar — ranging from designers like Louis Comfort Tiffany, in his creative efforts in his own studio, Tiffany & Co., as well as later attachments like Paloma Picasso and Elsa Peretti. Gehry and Schlumberger, notwithstanding, the concept of jewelry brands linking to designers is common — but what is the strategy in linking design, art, to jewelry as distinct to human brands? Legacy? Distinction? Relevance and resonance of work? All of these.
But the alignment with Anish Kapoor and Bulgari is intriguing. Kapoor is known for work of phenomenal scale, and earlier I've made some notes about Kapoor's creative heritage. Just a range, to reference, might be:
Rock Center | NYC: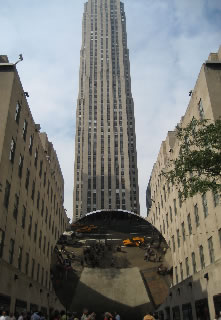 Tate | London: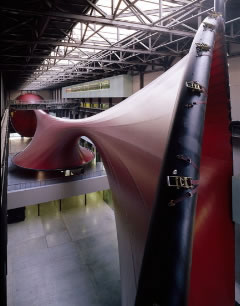 Millennium Cloudgate | Chicago: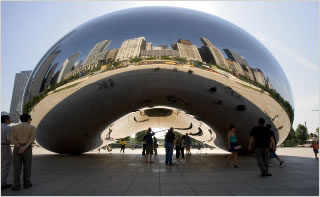 Bulgari has teamed with an artistic presence in a particularly unique manner. As described by ArtInfo, "Anish Kapoor has referred to the towering, gleaming steel sculptures he creates as "voids," and the same could describe his latest, much-smaller-scaled project — a ring for Bulgari on the occasion of its coveted B.zero1 collection's 10th anniversary.
To riff on the iconic jewelry series, which is defined by cylindrical bands sandwiched between two logo-engraved rings, Kapoor has designed a small band of reflective steel set between two pink-gold rims. (As one of the world's wealthiest artists, it's no surprise that he knows his way around the finer things.)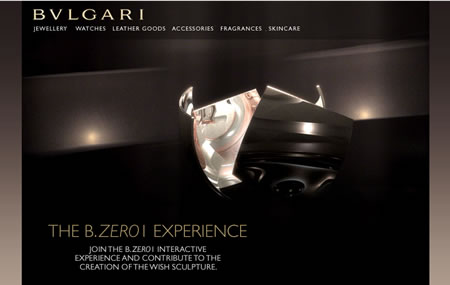 In the London-based artist's massive public commissions, the space surrounding the artwork's physical structure is emphatically brought to the fore — not merely as negative space, but as sensory experience. Though the ring may not provide the same heady sensation, its shape will serve as the basis for an additional inspiring project: Kapoor, who is currently the subject of retrospective at the Guggenheim Bilbao, will create a sculpture related to the Bulgari collaboration that will be auctioned off this spring, with the proceeds benefiting Save the Children's "Rewrite the Future" campaign."
The ring, symbolically aligned to the sculpture treatment.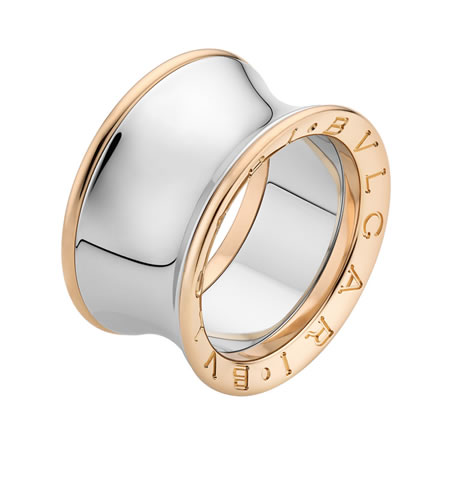 The Experience Room | Sculpture at Bulgari.com.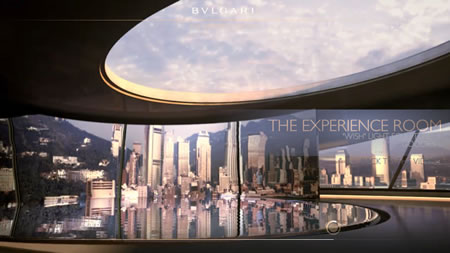 The point might be a sheer innovation of collaboration, but strategically, Bulgari, which has expanded its line of offerings even to include hotels and resorts, as a unique proposition in play that pushes the realm of luxury, design and charitable giving to another realm. To explore more, link to Bulgari.
Or Kapoor.

Drama emerges.
Design thinking empowers.
tsg | chicago
….
the reels: http://www.youtube.com/user/GIRVIN888
girvin blogs:
http://blog.girvin.com/
https://tim.girvin.com/index.php
girvin profiles and communities:
TED: http://www.ted.com/index.php/profiles/view/id/825
Behance: http://www.behance.net/GIRVIN-Branding
Flickr: http://www.flickr.com/photos/tgirvin/
Google: http://www.google.com/profiles/timgirvin
LinkedIn: http://www.linkedin.com/in/timgirvin
Facebook: http://www.facebook.com/people/Tim-Girvin/644114347
Facebook Page: http://www.facebook.com/pages/Seattle-WA/GIRVIN/91069489624
Twitter: http://twitter.com/tgirvin