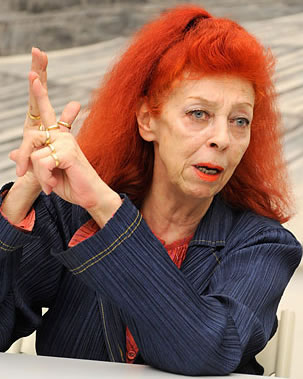 Dominic Favre/European Pressphoto Agency

Examining the idea of art, branding and passage
Being one that focuses the symbolic character of design, and branding, I note with sadness the passage of Jean-Claude, the long-running partner of Christo. Theirs was an especial alliance, and over the years, emerged as a talent that started as one, in the work of Christo himself. Then later became a kind of conjoined effort — a brand, actually, as they defined themselves. Jeanne-Claude, an artist in her own right, collaborated with her husband, Christo, creating dozens of environmental arts projects, including the wrapping of the Pont Neuf in Paris and the Reichstag in Berlin. A recent memory was the installation of 7,503 vinyl gates with saffron-colored nylon panels in Central Park. She died this Wednesday in Manhattan, where she lived. She was 74.
In her artistic history, Jeanne-Claude met her creative partner and husband, Christo Javacheff, in Paris in 1958. The beginnings of his career, Christo, a Bulgarian refugee, was already making packaged conceptual art of wrapped packages, furniture and oil drums. In three years, they made their first work together, a temporary installation on the shipping docks in Cologne, Germany, fabricated of oil drums and rolls of industrial paper wrapped in tarpaulin.
In an intriguing opening, to the notion of human branding, avoiding confusing dealers and the public, establishing an artistic brand, they used only Christo's name. In 1994 they retroactively renamed the joint efforts with the "brand" name "Christo and Jeanne-Claude" to all their creative efforts — outdoor works and large-scale temporary indoor installations. Other selected works were credited to Christo alone.
According to the New York Times, William Grimes, the Christo and Jeanne-Claude "collaborative approach, as described on their Web site, remained constant throughout the years. After he and his wife conceived an idea for a project, Christo made drawings, scale models and other preparatory works that were sold to finance the final project. With the help of paid assistants, they then did the on-site work: wrapping buildings, trees, walls or bridges; erecting umbrellas ("The Umbrellas," 1991); spreading pink fabric around 11 islands in Biscayne Bay near Miami ("Surrounded Islands," 1983)".
"We want to create works of art of joy and beauty, which we will build because we believe it will be beautiful," Jeanne-Claude said in a 2002 interview. "The only way to see it is to build it. Like every artist, every true artist, we create them for us."
My line, to exploration, is the idea of several details — one, to the notion of the human brand; two, to the conceptions of collaboration; three, the character of experience and joy. They're intertwined. Glee. Passion. Love. Doing things that you like. And in a way, as a design strategist and observer, the work that we do — as designers in enterprise, creating movements that tell stories between the positioning strategy of a product, an offering, what it looks like, what the story is — and who relates. This is a bridge to just that state of experience development. Glee. The art of brand is about creating a sense of compelling relatedness. And the work of the Christo's speaks to that sense of joyful "production". The ductile character, the flow through, of ideas and ideals that are wondrous. They are spectacle.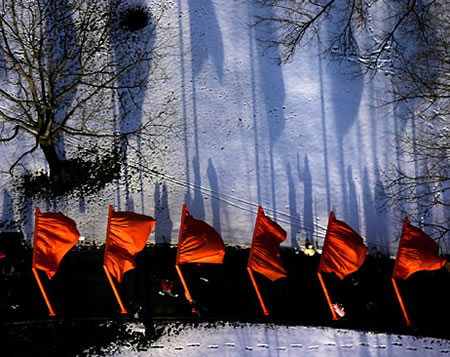 Photo: Vincent Laforet/The New York Times
A rather consistent visionary in comprehending the power of the art (consider, for example, the Waterfalls installation) Mayor Michael R. Bloomberg, in a statement released this past week, praised "The Gates" as "one of the most exciting public art projects ever put on anywhere in the world — and it would never have happened without Jeanne-Claude."
Art, person, brand, story, message.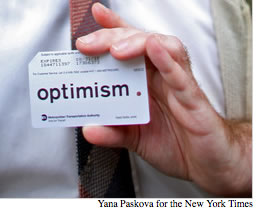 That brings me to another aspect of this bridging sentiment. The "optimism" Metro card, created by Reed Seifer, a graphic artist. In a manner that might suggest Milton Glaser's "I love NY". This fall, seven million MetroCards distributed with a single printed word: "optimism." A modernist composition in clean, bold, sans-serif letters, elegantly positioned in a white spacious field, just beneath the boilerplate fine print. Another seven million are on the way early next year.
According to Christopher P. Boylan, who oversaw the project at the Metropolitan Transportation Authority, "God knows people want to feel good, they want to feel up, they want to feel positive," said "If I can make a couple of customers smile a day, that's nice."
For Seifer, this was a string in a sequence of optimistic distributions, a designer who first printed the "optimism" logo on small buttons that he distributed as a college student.
"I've always loved art that exists in unexpected places," he said recently, near his home in Hell's Kitchen. "I like that maybe not everyone's going to see it. Or maybe one day you just look and say, 'Oh.' "
That alignment, between impression and emotion, is a powerful disposition of design. There's a story in the rendering of "optimism" — like another form of art fullness — it's something that can be interpreted in a variety of ways.
Sometimes, as in the potency of a massive installation, there is a compelling — even overwhelming — intimation of the grandeur of a potent visioning. Same, too, the beauty in revelation of the small.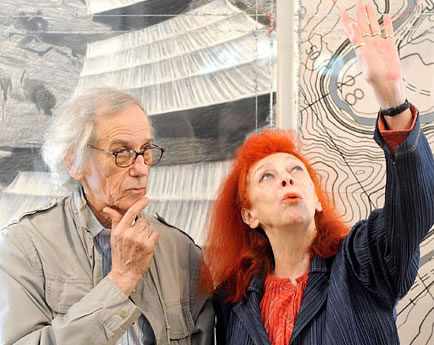 Photo: Dominic Favre/European Pressphoto Agency
Big, or small, it's a gesture that reaches across of the domain of place — made — in the small expanse of a white card the size of a small wallet, or the size of a gigantic installation. Same story. Beauty full. While Jeanne-Claude will be missed, legacy cherished, the stride goes on. Big, or small, in place — a brand, the fire of story — beauty emerges.
tsg
….
It's all about the human brand:
https://www.girvin.com/subsites/humanbrands/
the reels: http://www.youtube.com/user/GIRVIN888
girvin blogs:
http://blog.girvin.com/
https://tim.girvin.com/index.php
girvin profiles and communities:
TED: http://www.ted.com/index.php/profiles/view/id/825
Behance: http://www.behance.net/GIRVIN-Branding
Flickr: http://www.flickr.com/photos/tgirvin/
Google: http://www.google.com/profiles/timgirvin
LinkedIn: http://www.linkedin.com/in/timgirvin
Facebook: http://www.facebook.com/people/Tim-Girvin/644114347