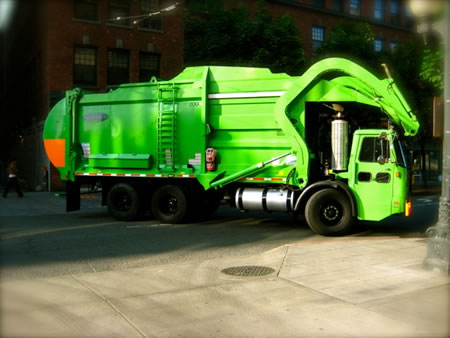 There's a story about beautiful garbage, based on the idea of one person's — a team — visioning of a litter free place. That being — an alley. In Seattle, the founder team came up with the notion of "dumpster free" alleys, by engaging community members in seeking a sorting approach, to building out that system.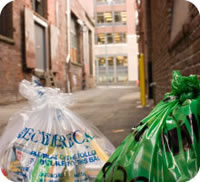 thinking outside the bin
It started with disgust. Rank alleys, overflowing dumpsters, garbage on garbage — compressed; rats — and awful offal spewed — scent from the bricks of the downtown back of house corridors. We've written about that scent admixture — rot. It was Chris Martin that tired of the alley waste behind the place that he lived, Pioneer Square, Seattle. As the site notes, "founded CleanScapes in 1997 in Seattle's Pioneer Square area. His innovative approach to solid waste collection and focus on customer service has since transformed the traditional waste management industry in the region. Mr. Martin sought out and built a team of veteran solid waste professionals, public sector policy staff, and business executives to successfully execute municipal solid waste contracts." From there, he brought on partner, Chris Husband to build out the emerging strategy.

As a designer, the notion of using graphical experiences in telling informational "stories" like how to sort, organize garbage created a kind of community connection with place. To history, "CleanScapes began operations in October 1997 providing exterior cleaning and maintenance for Seattle's Historic Pioneer Square District. Today, we proudly provide solid waste collection, Keep-It-Clean Services, and community programs in Seattle, Shoreline, Portland, and San Francisco. With 24/7 operations and friendly, uniformed, professionally trained crews, we're ready to help communities move beyond waste." But it was the link to involving community — people, their streets, their alleys, to engage commitment in keeping their place clean(er).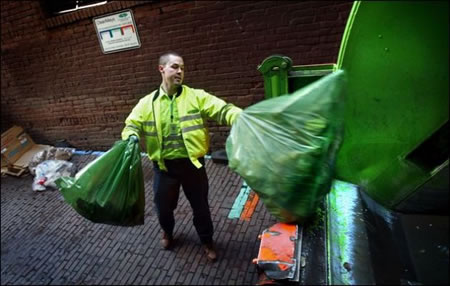 CleanScapes employee Jeremy Simatic tosses trash contained in prepaid bags. Seattle's new Clear Alleys program will ban the permanent storage of Dumpsters in alleys or sidewalks in downtown, Belltown and Pioneer Square. Businesses will put refuse, recycling and compost in prepaid bags that are collected up to three times each day.
Photo: Andy Rogers/Seattle Post-Intelligencer / SL
According to the site overview, CleanScapes developed and piloted their innovative Dumpster Free Alley program to improve safety — and reduce the cluttered refuse and unsavory hidings between the dumpsters — in the Pioneer Square district in Seattle.
And the program was built as an aligned effort — CleanScapes partnered with customers to remove dumpsters from alleys, replacing them with daily bag pickup service. In the markings below, see the demarcations of refuse type, the color coded bags systems. Instead of overflowing dumpsters providing concealment for criminal activity, Pioneer Square alleys were returned to their intended pedestrian and utilitarian uses. Parties were had, dinner parties in the alleys — and they were scrubbed clean, in a sense of personal reward and place-value-building.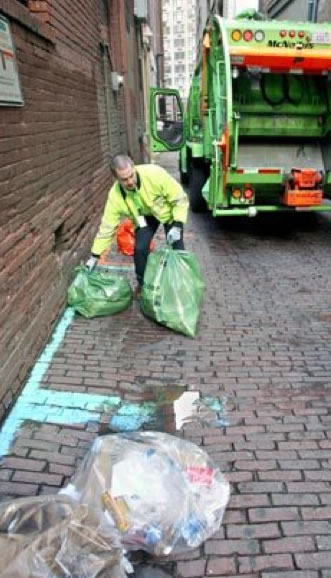 Greg Gilbert, Seattle Times
The pay-as-you-throw system helped smart customers reduce waste and cut costs. The opening of their inspired, successful program catalyzed Seattle's new Clear Alleys Program which is in operation today.
Being a person that frequently cuts the alleys, to speed cross avenue walk-throughs, I study the alleys, and I noted something. Where there's mess, there's more mess. A note from the HBR offered a testing confirmation, from SAGE Journals Online. Litter begets litter. Mess, sprawls mess.
No-Littering Signs Have Opposite Effect If There's Already Litter
When an anti-littering sign appeared on an alley wall, the proportion of people who littered there declined from 47% to 39% if the alley was clean—but rose from 61% to 70% if the alley was already strewn with soda cans and candy wrappers, say Kees Keizer, Siegwart Lindenberg, and Linda Steg of the University of Groningen in the Netherlands. A prohibition sign can become counterproductive if people see that its instructions have already been ignored, the researchers say.
Source: The reversal effect of prohibition signs
While there was improved presentation, the alleys — as a designer, I study how things look, and what messages and visuals brought a person there. Like attracts the like, and alignments occur — messages, visualizations, storytelling bring people there to be in the space that attracts them. In design, attraction, beauty and the scribing of the emotional motivations of attractiveness — magnetism occurs.
TIM
––––
THE STRATEGY OF LUXURY
BRAND DEVELOPMENT + DESIGN