Uniqlo brand glow
BIG Japan, made elegantly small:
UNIQLO CALENDAR: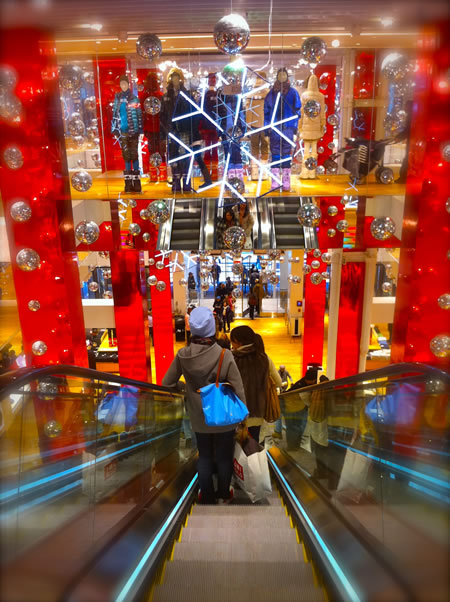 NYC uniqlo | holiday | 2011
I embrace attitude.
I like people that have attitude. Employees, friends, clients. And brands.
I ponder, what is attitude?
300 years back, it was "posture and disposition." Push further back, in the etymological string of meanings, and it becomes — "promptitude or aptness." That ring of meaning is — "apt." A natural capacity to learn. That's openness. That's beginning mind. That's uniqlo brandmind — so young, so open. So agile.
That sense of layered intelligence lends itself to a rich personality — and the richness of relationship. I am you, you are me — we are sharing — connected and reflective, if not reflexive.
And not only brands that could be loved, but brands that seemingly love back. Uniqlo has a kind of enchantment with people, what they do, how they contribute, the nature of engaged, eccentric and reflective experience. Uniqlo celebrates their audiences. People love them, Uniqlo loves them — they love the swirl of consumer, relational culture around them.
Traveling and working in Japan — I savor the micro-cultures and places — the sheer sense of activity.
http://www.uniqlo.com/calendar/
Being in NYC, at the new Uniqlo flagship, I marvel at the detailing of this micro-cultural experience — big store, laden with micro places to study, watch — and savor.
In a way, a store is a story, which is a multiplicity of tellings — these are experiential tellings, and guided journeys of impressions and attitudes. Being there — the journeyer — should get [and either "hold" or discharge] the story — and most importantly, the why.
Why am I there?
What is the story?
Who's telling it?
Why should I care?
It's clear that uniqlo cares about its community. And — they care, they tell stories, about their connection with them.
Reflex brands — they go out, they reach out, they come back.
That, too, is how the story works. I tell you a story, then it's your story [from me to you] and you share it — it's "your story" that is "my story" that is yet another's story.
Onwards, it goes.
TSG
…..
G I R V I N | DESIGNING MOVIES
THEATRICAL BRANDING + ENTERTAINMENT
IMAGINATION: AND THE TOOLS TO MAKE IT HAPPEN
Tim Girvin | founder + principal
mobile direct. 206.890.0621
teams: New York City + Seattle + San Francisco & The Bay Area | Tokyo