The BMW | Oracle Trimaran for the America's Cup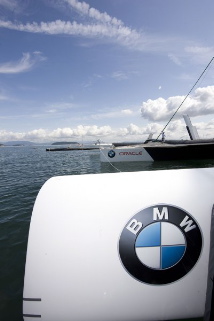 I've been a fan of BMW design for a long time. But I had a recent encounter that was breathtaking. I'll get to that.
The car of my beginnings was a 1972 2002. And what I savored about that car was working on it. I've never really worked on cars before, aside from my earlier vehicle — an old Dodge pickup called Ruby.
But what I was taken by was the character of the engine in the BMW. And working on it. And driving it. From there, I moved onto other cars – but I had an ongoing fascination with the evolution of the design ethos of Bayerische Motoren Werke. Being a member of the TED community, their sponsorship is enlightened, in their involvement in these events And they've offered innovation unveilings as part of their sponsoring involvement.
The spirit of design is virtually everything that BMW stands for.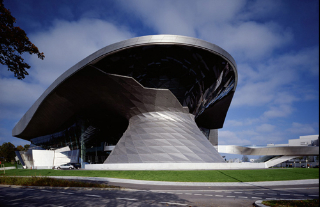 Their BMW Welt is an exemplar of their standard. Michelle Anderson, Girvin's Strategic Marketing Director actually went there. It's not only about cars, but the architecture that serves them — and how people interconnect with brand, product, experience and environment. And embrace that telling. To the link between architecture and brandstory — Nicolai Ouroussoff comments, on BMW's design strategy: "Rather than turn their backs on this world, the architects revel in it.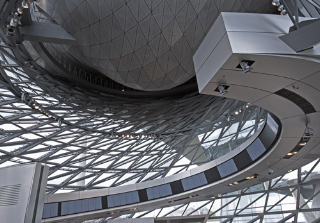 Like many of their contemporaries who came of age in the 1960s and 70s, the Coop Himmelb(l)au designers try to locate the strands in recent history that are worth preserving, and then weave them into a composition of genuine civic stature.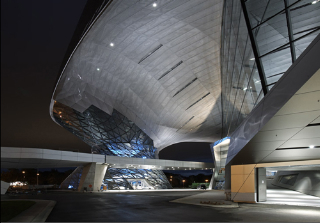 An hourglass-shaped events hall grounds the building at one end, its torqued glass-and-steel form evoking a tornado drilling into the earth, sucking up energy from the passing cars.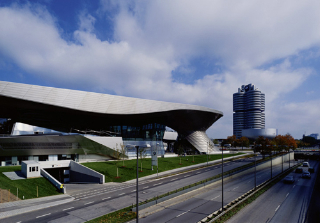 From here, the roof unfolds like a gigantic carpet draped over the main hall. Its curvaceous form billows up at some points and then sags at others, echoing the contours of the nearby park.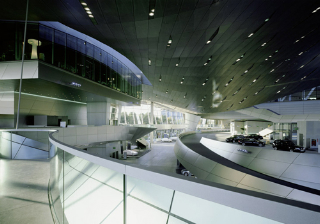 A vertical band of glass cut into the main facade is set on an axis with the corporate tower across the street, locking the composition into its surroundings." Amazing altar for automobiles — and the ingenious design that goes into their envisioning.
The spirit of wildly careening, on-the-edge, motoring industrial design innovation, as noted by Bill Breen in Fast Company, is everywhere in BMW: "Chris Bangle and his design gurus are the creative engine inside the hottest car company in the world. But BMW's most breathtaking design may well be its strategy for growth. At the height of its success, when many of its rivals are hunkering down, BMW is making risky bets and unveiling a collection of bold new models. Who says you shouldn't mess with success?"
Clearly, their ultimate passion with design has lent itself to other projects and alliances. Like the opening of this blog reference — the BMW | Oracle trimaran — that I'd encountered last weekend, while trials unfolded in Anacortes, Washington. This just happened to be on my path heading home to my house on Decatur Island, in the San Juans archipelago, north of Seattle.
Crossing the San Juan channel, west of Anacortes, and heading into the eastern edge of Decatur, I'd spied this distant spire — almost like a derrick rising from the sea, something being hauled — drifting in the quiet line of the ocean.
This was the one time that I didn't have my camera, literally, in several years. I carry a Canon PowerShot SD1000 everywhere I go. So I used my computer, instead, shooting with my PhotoBooth lens on the MacBook, that I also carry pretty much everywhere, all the time.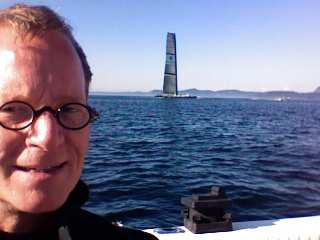 BMW, the design team, and Oracle, the software group — and their combined and racing team, have been building this multi-hulled, ultra sleek trimaran, in Anacortes, running trials after launching it. Just now, the last couple of weeks. To comprehend a sense of scale, here are some images from BMW.
The construction site: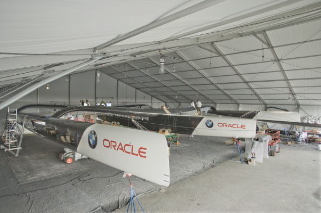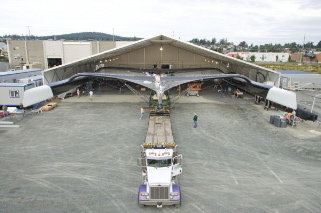 Prepping — sail unfurling: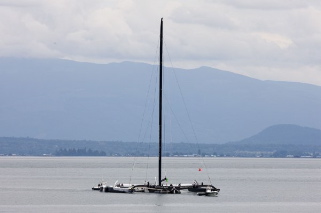 Under sail — beating: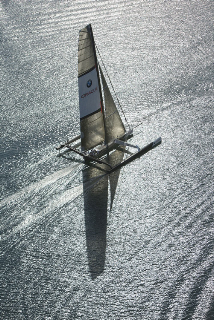 Dramatic heeling, starboard akas out of water, with a view to the south sound: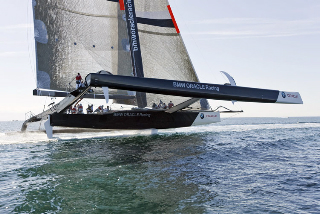 Western tack airborne: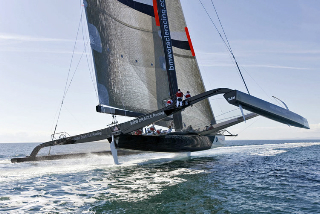 Sail array: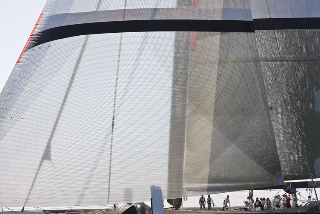 There is a great deal of exploration (mostly by designers) of the value of design — that design properly conceived — boldly redefines markets and captures the attention of the marketplace and achieves enduring, measurable outcomes benefiting the character of brand development and consumer perceptions.
That design holistically positions brands is unquestionable. Without design, the sensate signature of the brand enterprise, there's no form to identify — and this, whether it relates to industrial, graphic, architecture, motion and interactive, interior communions — is about telling the story in a manner that is graspable, palpable and emotionally memorable.
The idea of storytelling, in design, is about considering communications based on the concept of how people's minds work. They connect in a narrative fashion — tales are told and shared. This might be in the context of an object, a styling of service, something to eat or taste, or it might be in the motion-animated signature of MGM's snarling lion, there might be the impression of an interior experience — restaurants, hospitality, entertainment and there might be something to the visual vocabulary of a liveried truck wheeling by.
They all reference design experiences — that are sentiently (and perhaps silently) observed and experienced to varying degrees by participants. That's the premise: that design is asserting (and hoping for) participation. And BMW's presentation of its products is all weaving around the elaborate strategies of participation. And, most importantly, absolute passion and commitment about these premises.
True brands are about gathering the sentiment of a person — psychically — deeply connecting and evolving their relationship to involvement. That takes commitment — from both sides; it's reflective.
What's your take on the BMW brand? What does it mean for you? Do you care about it?
TSG | Decatur Island
BMW Welt
BMW / Design
Fast Company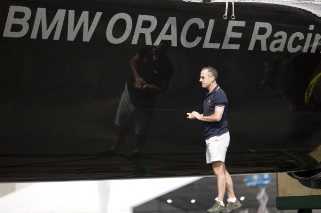 BMW Welt photos: Gerald Zugmann and Ari Marcoopoulos/Coop Himmelb(l)au
BMW | Welt
BMW | Oracle
America's Cup | 2009
Oracle imagery: Gilles Martin-Reget