The wheel brandstory: art brand or brand art
There's an art to brand, and brand to art — I've noted that idea before, in the work of Koons. But this story is different — and if you go no further, then at least look at this link: Anyone savoring the idea of sketching — then heading out and "driving" that sketch, would find this captivating.
In a way, the real point is there is brand — as story and collective expression in experiment; and this might be art full — a fullness of experience that implies artistic consciousness. And there are forms of art that link so distinctly to engines, pardon the pun, of commerce, that they suggest they are brand. What is that for BMW?
BMW's premise is about design — as the supreme and superior weaponry of relationships — that the community (long-standing) is captivated by for brand recognition. My personal positioning is that I have no relationship with BMW other than design. I've written about BMW|Oracle, out of fascination and respect (and surprise, actually). Another Girvin marketing strategist, Michelle Anderson, has offered another telling on BMW design showmanship. My car, that I tuned and worked on myself, previously owned by a litany of Seattle über|cool enterpreneurs, has gone on to other pastures. I got it in trade from a client that owed me money for this. That was back when a job by hand was the only way that was done — dream it, design it, draw it. So, after that white 2002 BMW was gone, I'd moved on — but still studied the strategies of BMW design with friends — people, like Chris Bangle, for example, that worked at BMW Design in Los Angeles — those, that worked there, that ultimately became employees of Girvin, and the connections that TED maintains with the brand.
What I'm curious about is the bridge between the artful brand, and the brand as art. There's one thing to a brand that speaks of art, like — for example — Absolut, where the campaign sequencing is all about art. You might say that the Google identity, itself, is all about art. There's another distinction, Murakami — to art in production — and production in art; where's that stop and start?
What I believe is that brands can be art — their patterning, their language, can form a legacy, like this reference to Vuitton. And, too, the brand of the product itself can be a form of art, as many claim — Chanel's Zaha exhibit, for example. But, there's a curiosity in the concept of the brand — the product — being the actualizer of the art; something here, something conceptual, that relates to the motion and grace of the product, but doesn't necessarily suggest the notion of art on brand, like BMW's earlier "car paintings" ideas. That legacy alone is fascinating, given the choices of the BMW curation — worth looking at.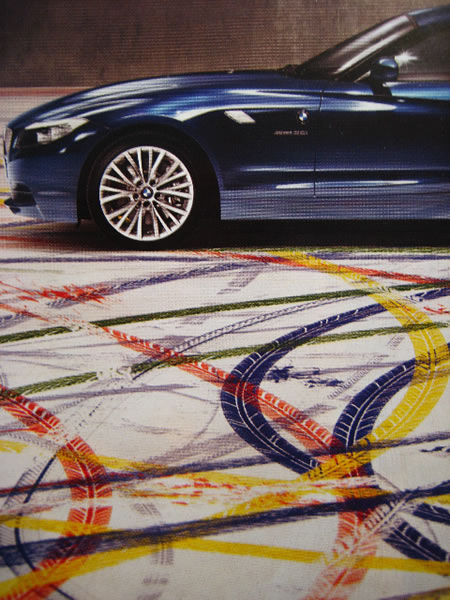 BMW has launched a new advertising campaign, Art of Driving, using a BMW Z4 Roadster as a paintbrush on a canvas the size of a football field. The campaign builds on the historical association BMW has developed with cars painted by artists such as Andy Warhol, Alexander Calder, Robert Rauschenberg and Roy Lichtenstein (below, 1977).
Jake Scott, from RSA Films, worked with artist Robin Rhode, a South African artist, to use the BMW Z4 Roadster as a paintbrush — and that's a differentiating stroke, so to speak.
There are special paint nozzle points for applying the pigment to the tires, while the vehicle spins and turns. That alone, the spattered brilliance of color, is enchanting.
The brand expression is that product itself as the maker of art — the tool to lay the story, as opposed to BMW's earlier efforts in working with artists to paint on the vehicle.
Robin's performance is mirrored on the larger canvas as the car, mounted with special paint dispensers behind its wheels, releases paint in circles of joyful, if not calligraphic spinning. Filming was shot from 40 separate remote-controlled cameras stationed both overhead and around the mural to capture Rhodes' movements. The mural was separated out into a grid of twenty panels. Rhode choreographed the Roadster from a tower 30 feet above the canvas.
That rhythmic calligraphy reminds me of another, smaller scaled graffiti.
Looks more like Twombly, my take.
Another art, and markings, measure — for BMW:
But whether car, or tool, or brush — it's one long string of stories, branded or not. There's a sizable community, wrapped just around this — brand: the art of the car | car: the art of the brand.
Videos of the driving art, brands…
http://www.youtube.com/watch?v=5fpJ7NdWjoM
Artists as brands (and surviving)
http://www.seattlepi.com/business/255779_artistsbizplan16.html
TSG
…
Exploring the art of brands:
Hospitality
Twitter: http://twitter.com/tgirvin