I was recently in München (May 2008) with my family visiting friends, and trying to decide where to go with our 8 month old after hitting all of the usual places. Our friends suggested the BMW Museum – and my first reaction was to suggest to Paul that he take our baby whilst I hit Kaufhof and S. Oliver on Marienplatz! The fact that I speak German and that I lived in Munich influenced the ultimate decision. Instead of a shopping day, we were riding the U-bahn "Richtung" Olympiazentrum. Upon arrival and, much to my surprise, BMW Museum was closed for renovation (reopened June 21, 2008). BMW WELT, however, was open.
The architecture is a sight to behold. My first impression was – wow. We made the right decision. This is RIGHT up my alley. We arrived at a disneyland for adults – for those thirsting to own their very own BMW. The architects, Coop Himmelb(l)au and their teams were tasked with the opportunity to truly create a brand experience. From the moment you walked toward the structure to the instant you entered, you knew, felt, smelled, and tasted the brand. What did it taste like? Well, metallic, clean. From the exterior to interior design, it had all of the attributes of "Innovation".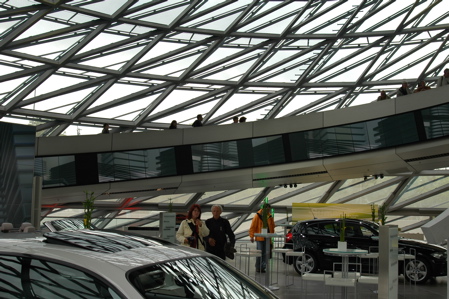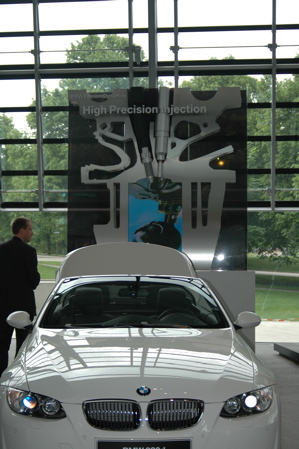 Placemaking – 101: When further reading about the project, I discovered that there had been a contest between 275 architectural firms, and that one of my favorites – Sauerbruch + Hutton (adac Headquarters, Brandhorst Museum, tied for first place but that their final design ultimately took second to Vienna based Coop Himmelb(l)au.
Upon further discovery and what really drew me into the space was the comprehensive plan to connect Olympia Park to the new structure, which would create a destination within an area that screamed for attention. The Olympia Park has lost a lot of its luster over time, and this new project (completed in 2006) would (and successfully did, in my opinion) re-ignite the desire to frequent a pedestrian friendly space.
My background: I studied art history and architecture in school – the most notable time was spent in Munich, where we would stand in front of a Van Gogh and our erudite professor would point to the paintbrush strokes of his famous Starry Night painting and annunciate 'pinsel strich-en" to the American students learning German. We would walk in and out of every museum and structure imaginable, whether Romanesque, Rokoko
or Gothik (to name a few) and marvel at the "Bau Hütten", "Rosette", "Pfeilen" and "Stern Gewölbe". I knew most of my art and architectural vocabulary in German – not very useful when I later tried to impress a friend who only spoke English. The knowledge that I gained during this time helped me create a fundamental understanding for how buildings are conceived and how people influence structures and art – good and bad.
Since joining Girvin where we specialize in placemaking, and branding environments, the stars began to align for me – and I could apply my past understanding of construction and design, working for a project management engineering company in France and Switzerland, and my understanding of branding/marketing accumulated from the time I worked for Portland and Toronto based adidas America/Canada and for creative companies. I felt I'd hit the jackpot at BMW Welt where Coop Himmelb(l)au really created ingenious design and a way to experience everything the BMW brand stands for. I could look through a lens and see the night driving technology and the navigational system in play, or watch my husband crank on the winches of BMW/Oracle's sail boat simulator to experience the actual conditions during the America's Cup regatta.
The absolute best part was watching from the second level of the building, as each new BMW owner was given the specifics of the anatomy (engine, etc) of their new car, handed the paperwork and keys and they drove their new automobile one lap around a track before exiting the building. Now that is one fantastic way to sell a brand – watch others revel in their personal excitement and anticipation, and give "us" onlookers something to aspire to… (the hydrogen powered car is pictured here).