EXPLORING RETAIL DESIGN / PLACEMAKING EXPERIMENTS IN STORE STRATEGY AND CHARITABLE CAUSES
Notations with the iPad | Journal Making + Site Explorations
TRAVELING
We're always looking. With Girvin's connection to Nordstrom, we went to explore more — the West Broadway, NYC: Treasure & Bond. This journal is a iPad sketchbook gathering.
From mid August, they've opened for business — the concept is a market learning store, sharing the premise of Nordstrom spirit — creating this store to connect with and understand New Yorkers — and, in generous exchange, they offer 100% of their profits in return to charitable causes in the city, like:
b l o g   n o t e s
100 FEED NYC bags. Done in partnership with ROBIN HOOD, each purchase of this new bag will feed 10 meals to New Yorkers in need. It's a fact that last year one in six New Yorkers [1.4 million people] relied on a soup kitchen. Please click on the links to learn more about both of these great organizations working to eradicate hunger–then come in and purchase a good looking bag that invests in New York's future.

iPad journal notes and pictures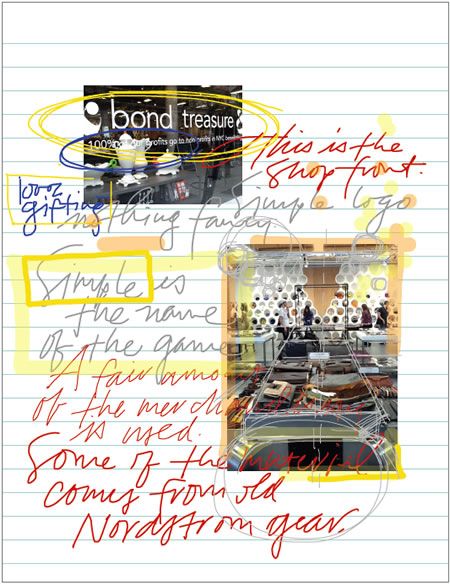 TIM GIRVIN | DAWN A. CLARK, AIA
…..
GIRVIN | IMAGINATION +
EXPERIENCE = PLACE
DESIGNING ENVIRONMENTS:
PLACES | RETAIL | RESTAURANTS
http://bit.ly/i7b7EN