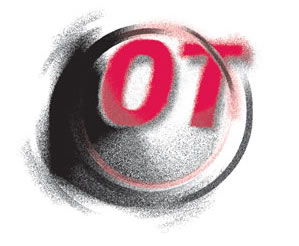 An emerging positioning: be a man, smell good.
During an earlier brand development and product innovation program at P&G, Girvin created a product that was designed to speak to young men — and those just following behind, the tweens, to explore and build on the concept of smelling better. The product, in a licensing agreement, had its challenges, the most significant of which was capitalization. Going from a brand built at Procter & Gamble, to a wholly self marketed and funded launch enterprise is a terrible price to bear.
After openings in the Ohio area, and another grouping of markets, during a down economic cycle, the product dissipated. But the opening idea was profound, create a grouping of product offerings that bridges categories and — to an emerging market sentiment — move the scent and masculine care lines down into new age demographic sectors. They were ahead of their time.
Their positioning:
OT Over Time – a new company founded by former Procter & Gamble employees – thinks it has found a niche market in the highly competitive personal care sector. The US company is to target 'tween' boys between 9 and 16 years old.
So called 'tween' and younger teen boys may be one of the last untapped markets in the personal care sector, which has already successfully sold soaps, shampoos, deodorants and scents to women, teenage girls, men and older teen males.
We named the product, named the support products, created the brand strategy as well as all the packaging. That was then, this is now.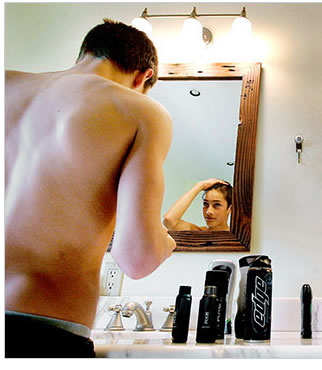 Sandy Huffaker for The New York Times
The concept of scent, during the 90s, for this demographic segment was nearly unheard of — and even the masculine fragrance market overall has been slowing evolving to catch up to the global power of women's fragrances.
What might've started out as scents in the relationship to haircare, then soaps, this has dramatically expanded, as the view of OT's founding leadership in the category, several years back, in product groups like body wash. Face wash. Exfoliator. Exfoliating wash. Body hydrator. Body spray. Deodorant. Shaving cream. Shampoos and conditioner. Hair gel, of course. All scented, all tested, to meet a new criteria that one might find in the spirit of later aged markets, like an earlier reference to a fragranced voyage into the new retail modeling of Hollister.
Scent is big there — really big. And this audience, 15 to 24, in recent years, the products, ostensibly marketed to older teenagers, have reached into the turbulent, vulnerable world of their little brothers, ages 10 to 14.
Mike Dwyer, brand development director for Axe, the bane of the adult scent vocabulary, said, "We're clear that the Axe target is 18-to-24-year-old guys, but we recognize that we have older and younger users." There's been an enormous surge, since the days of OT's launch, with many psychologists, parents, market researchers and middle-school principals (with drawers full of confiscated spray cans), report a significant expansion in the last few years of the use of grooming products by tween boys. Three years after OT, a December 2007 report on teenage and tween grooming products, Packaged Facts, a market research firm, projected that worldwide retail sales for boys ages 8 to 19 would be almost $1.9 billion.
Boys grow and change in ways that are inexplicable to them, and "More insecurity equals more product need, equals more opportunity for marketers," said Kit Yarrow, a professor of psychology and marketing at Golden Gate University.
In a published study, "Gen Buy," a new book she co-authored about marketing to tweens and teenagers, Ms. Yarrow held focus groups with boys. "The 10-year-olds are copying the 14-year-olds, trying to be cool," she said. "Everything is moving down the spectrum. It's getting younger and more pronounced."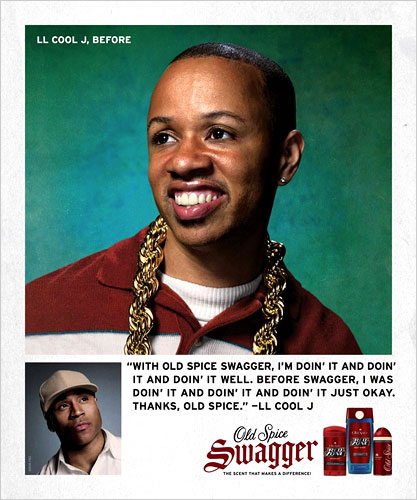 And like the reference to Hollister (and Abercrombie & Fitch), the pitch drops down the line, emulating the messages from above. The smart branding strategy is for extant brands to create solutions that will draw the younger audience in, with hypermasculine guideposts like Instinct from Axe, Swagger by Old Spice and Magnetic Attraction Enhancing Body Wash by Dial. Scents are way over the top of conventional scent strategy. In working in the past with legends like Pierre Dinand, scent container and master packaging designer, or celebrated fragrance designers, noses like Pierre Bourdon and Betrand Duchaufour, these groupings of "fumes" are overpowering and definitively not subtle.
Brands are, as ever, linked to nearly "onomatopoeic" character (Swagger!), with some associations between sound, action, concept and scent. Packaging signifies something to tweens, who are extraordinarily aware of brand image as a kind of personal index. George Carey, the leader of Just Kid Inc., a market research firm, said, "More of the brands that market to kids are doing so by trying to own a human value or characteristic."
LIKE the Sorting Hat from the Harry Potter books, the bottles and cans telegraph how a boy can sort and identify himself. Old Spice advertisements for its Swagger line featured the rap star LL Cool J as a nerd in school, then being transformed into his fabulousness by you-know-what. Anthony's Body Essentials are available in Energy, Strength, Spirit and Courage. Abercrombie & Fitch's popular cologne: Fierce. The reach, to marketing, is similarly in the right space, building into the digital world in which they thrive and communicate: interactive Web sites, engendering communities of young fans. Axe has a page on Facebook, as well as an avatar in Pain, a PlayStation game.
Swagger sponsors Xbox team competitions. Dial for Men offers advice from "sexperts." Brands create downloadable apps, have lengthy "advergames" on their Web sites, and urge fans to text friends with coy messages about the products. Commercials just for YouTube, filled with commercials made by boys themselves — some of whom are self-anointed reviewers.
What next? Scent for pre-schoolers? It's already here. Starting with girls, which are always the adoption leaders in any market, it will soon be sliding down the age ladder. As a student of fragrance, I have to ponder, how sweet, how "edible" the modeling of the these positioned notes?
tsg | sarasota, florida
….
the reels: http://www.youtube.com/user/GIRVIN888
girvin blogs:
http://blog.girvin.com/
http://tim.girvin.com/Entries/index.php
girvin profiles and communities:
TED: http://www.ted.com/index.php/profiles/view/id/825
Behance: http://www.behance.net/GIRVIN-Branding
Flickr: http://www.flickr.com/photos/tgirvin/
Google: http://www.google.com/profiles/timgirvin
LinkedIn: http://www.linkedin.com/in/timgirvin
Facebook: http://www.facebook.com/people/Tim-Girvin/644114347
Twitter: http://twitter.com/tgirvin