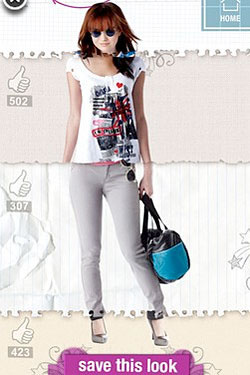 The concept of the haul — get out there, shop, and video the story about what you've bought. If I was doing a haul video, it would have to be in a bookstore.
I was thinking about how this might apply to me, what would I do – if I was doing a haul video.
"So, I was in Powell's books, and this is what I bought…
Or: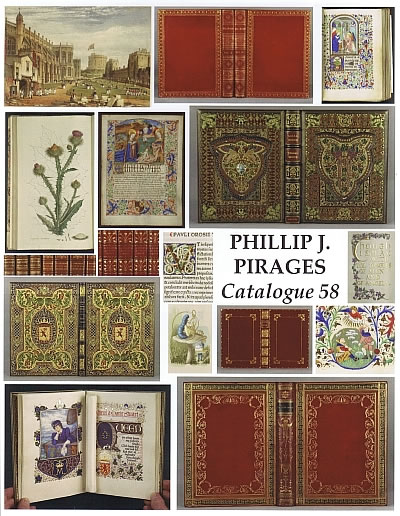 I went shopping…
Down at the Mall, I'd connected with Phillip Pirages, and here are some of the rare manuscripts and books on design that I'd picked up — "let's start off with…let me tell you the story — this classic, can you believe it?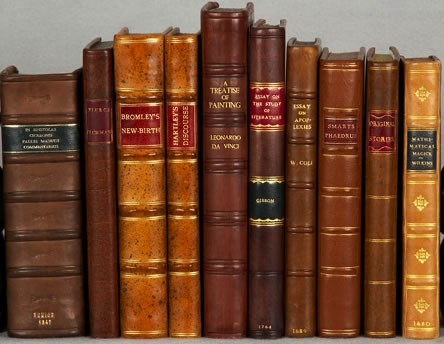 "Okay, PAULUS IN EPISTOLAS CICERONIS AD ATTICVM. Wow! Quick backgrounder — (Venetiis: Apvd Aldi Filios 1547) How big — ? 165 x 102 mm. (6 1/2 x 4″). 6 p.l. 469 [1] leaves — yes!
"Hey, this is a FIRST PRINTING. Now this is a really pleasant late 18th or early 19th century dark calf reasonably sympathetic rebacking in the 20th century covers panelled with gilt rules front board with later blindstamped centerpiece escutcheon with owner's name in surrounding oval (Hon. George M. Fortescue) raised bands spine panelled in blind with floral centerpiece black morocco label and date at foot in gilt marbled endpapers and edges hinges neatly reinforced with blue buckram. Woodcut Aldine device with border of cupids cornucopias and a ram's head on title page and verso of last leaf. Front pastedown with engraved armorial bookplate of F. Hare Naylor. Okay, the corners a little rubbed older calf a bit marked and flaked otherwise the stoutly rebacked volume completely sound and still pleasing. One opening a little soiled very small faint dampstain at head of last several gatherings a few leaves with other trivial flaws but still — OMG — IN FINE CONDITION INTERNALLY the text very bright and fresh, just the way you'd like it, as surely I do…"
I'd keep selling, more from a scholastic positioning:
"Ok — I'm sure you want to know about the imprint…Paulus Manutius (Paolo Manuzio 1511-74) developed a lifelong devotion to the works of Cicero. While his famous father Aldus had specialized in the publication of Greek works Paulus was fonder of Latin authors. In 1533 when he took over the press from his maternal grandfather Asulanus Paulus published two volumes of Cicero's works the treatises on oratory and the "familiar" letters. As the years progressed his publications of Cicero's opus were enriched by commentaries shining the light of his erudition on the difficult textual and historical problems of Cicero's orations and letters. It is in the present book offered here in its first edition that Manutius issued his definitive interpretation of the letters; it is a work that long retained its usefulness and was frequently reprinted."
Kidding…
But really, what about that — if the haul video brand story / shopper storytelling slid to you? What would you sell?
The principle is simple, according to Eric Noll and Lee Ferran's notations, "the first thing every tween or teen girl does right after getting home from the mall is show off her shopping spree. But thanks to the Internet, girls are doing more than bragging about their fashion finds to their best friends."
The growing phenomenon, generously called "haul videos" allows the genY shoppers to celebrate to their — and the entire — world on sites like YouTube. Major retailers — ever eager to discover emerging methods to build community by marketing to teens and tweens — are embracing the haul video makers in a aggressive commercial makeover by actively recruiting a teams of them for back-to-school marketing campaigns. And this surely isn't any micro campaign strategy. 150,000 haul videos — in an ever growing melange are currently showing on YouTube, and some videos are gathering fans and building tens of millions of views.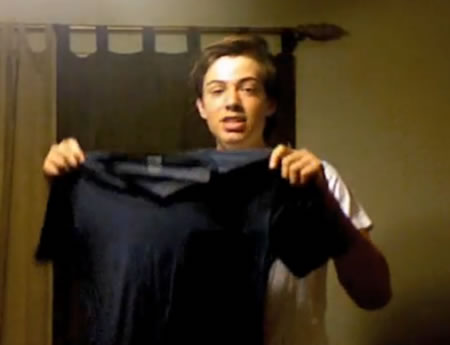 Lydia Dishman observes "A teenager walks into a store, shops 'til she drops, comes home, turns on the Flip camera and gushes about the loot. Moments later, the booty's uploaded to YouTube and the store(s) she's trawled get some serious (mostly free) viral promotion. Hauling is igniting retailers such as JCPenney (JCP) and Forever 21. But now that Urban Outfitters (URBN) joined the haul blast, competitors are going to get schooled." There's a challenge in the modeling that's begun the haul conception — one, most of the haulers are incentivized to trawl their stores. That positioning can lend itself to disenchantment.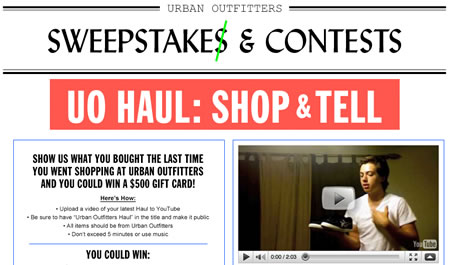 Urban Outfitters has deftly slid by this positioning with a social media contest. Vloggers have the to win a $500 gift card by uploading a haul to YouTube. Then, a forum, the videos are judged on the balanced parts of creativity, energy, stylistic presence and the character of the complete presentation.
"Haul videos are the perfect marriage of two of Generation Y's favorite things: technology and shopping," Kit Yarrow, a consumer psychologist, told "GMA" in March for an initial report on this phenomenon. "It's a vicarious pleasure. You don't have to spend the money and you still get the thrill; it's a bit like pornography."
There are rules, now, given that the FTC has stepped into governance. Presuming that fans and advertisers are hanging on their every cyber quote, vloggers now must comply with new Federal Trade Commission governing sponsorship. The trawlers are allowed to accept free merchandise, but haul video vloggers must disclose if they are being paid by a company to review a product. With a webcam, any person and YouTube audience can become a professional — being paid as a haul vidpert.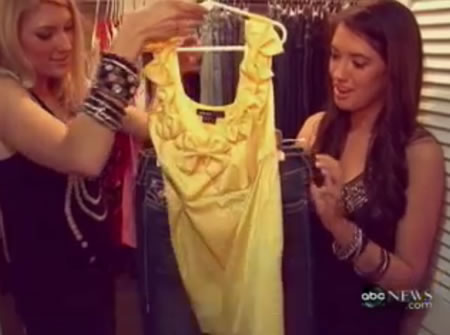 Two of the phenomenon's biggest stars, sisters Elle Fowler, 21, and Blair Fowler, 16, from Tennessee, offer this consulting strategy:
Don't brag or boast.
Identify trends of the new season.
Offer versatility.
Look for bargains.
Don't duplicate what you already have.
Show off your personal style.
Don't take yourself too seriously.
Combined, their videos have been viewed 75 million times. Speaking of hauling, that's a real audience.
What this really suggests is the idea of brand ambassador positioning — to the retailer — presuming a customized grouping of offerings that can't be had anywhere else. The idea of retail singularity, in whatever manner it can be managed, is the hint of building a relationship that can be sustained because of the magnetism of the story. That distinction is discrete, the reach is direct: JCPenney gave six haulers two $500 gift cards each in exchange for making JCPenney haul videos averaging ten minutes in length. Placement: the JCPenney website and Facebook page. Haulers are free to speak openly. Penney's executive vice-president and chief marketing officer Mike Boylson spoke to WWD: "Hauls is the next evolution," Boylson said. "They're starting to replace bloggers."
And there's one brand story that bridges to another, told by a lover, endorsement: building it out, one person extends that narrative to another community, embracing another. Onwards, it goes, that infection affection.
What's your story, how will it be told, and who's listening?
Who cares?
Tim
….
GIRVIN | SOCIAL MEDIA BLOGS
E X P E R I E N C E + D E S I G N + M E M O R Y
https://www.girvin.com/blog/?s=SOCIAL+MEDIA
the reels: http://www.youtube.com/user/GIRVIN888
girvin blogs:
http://blog.girvin.com/
http://tim.girvin.com/Entries/index.php
girvin profiles and communities:
TED: http://www.ted.com/index.php/profiles/view/id/825
Behance: http://www.behance.net/GIRVIN-Branding
Flickr: http://www.flickr.com/photos/tgirvin/
Google: http://www.google.com/profiles/timgirvin
LinkedIn: http://www.linkedin.com/in/timgirvin
Facebook: http://www.facebook.com/people/Tim-Girvin/644114347
Facebook Page: http://www.facebook.com/pages/Seattle-WA/GIRVIN/91069489624
Twitter: http://twitter.com/tgirvin