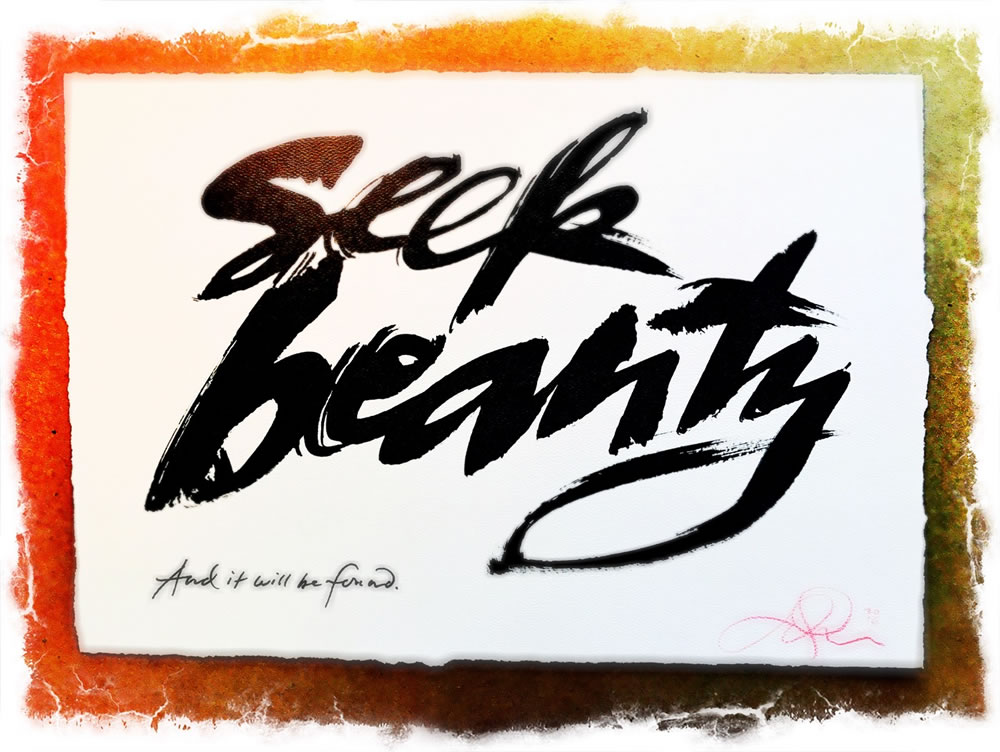 AS A DESIGNER, A BRAND PERSON —
A CREATIVE, A STRATEGIST, A MARKETER —
YOU WORK
IN THREADING
ALIGNMENTS OF CREATIVITY.
THAT COMES TO THIS PARALLELISM: THE SYNCHRONY OF
HOW YOU THINK, WHAT YOU'VE WORKED ON
AND WITH,
AS WELL AS WHERE
YOU'VE BEEN.
IT COMES DOWN TO:
WHAT YOU ACTUALLY KNOW,
AND WHAT YOU UNDERSTAND —
which I'd play
as two different things.
WHEN IT COMES BACK TO YOU — THINKING JOURNEY, what comes to mind? WHERE WERE YOU? Where did you go? What did you see? Why was any of that inspiring?
What do you know — that which you've really been-through, places you've been to, experiences that you've touched directly.
And what do you understand?
As I talk to new talent, new relationships in GIRVIN's team roster — people that we work with, what we need, people that we are looking at for new GIRVIN talent, I'm asking about knowledge, experience in the real, and understanding.
Not theory. Action.
I search between these words —
what do you know?
And what do you understand?
Knowing is being.
Understanding is being in the midst of — it's putting things together, being in the middle of comprehension as a transaction in learning, grasping and holding.
—
Knowing is to be-in.
—
Understanding is
to stand in-between.
At this point in my career
what I find
[literally: "what are you finding / what have you found?"] —
is the going back
to the life points where key ideas
find their moments
of revelation and flowering.
Aha!
Lightning strikes.
I've been doing that, wandering the long creative journey, the working practice of my life's "work."
And going back, asking — "what is the work?"
Literally:
what are you doing,
what have you done?
For our line of work, questions worth considering.
You got here in the range of your creative work for a reason — you were driven to come here.
And that would be why?
Ask your self:
Why this work?
How this work?
I go to moments,
I think of instants
that set momentum
in the unfolding of
my creative —
making / working —
efforts.
That work is magnetized in drawing just-now stories,
drafting energy,
spattering brushes,
colors — hand-ground pigments
on
hand-made paper,
torn by hand.
That came in a series
of meditations that showed them as
the metaphor of journeyer,
the Wanderer.
This figure came as a meditation
on the meander, the sojourn into a place where you
could
know
more.
For not everyone who wanders
is
lost.
The
wanderer
is the one,
the two together,
the crowd of wanderers,
the caravan.
For my journey, the Wanderer is
the explorer that lies within each of us.
I painted 32 in a meditative retreat.
There are 4 seasonal and directional cards.
And twenty-eight wanderers in the puzzlements of:
The Wanderer in the Mountain Series.
The Forest Wanderer Series.
The Desert Wanderer Series.
Cave Wanderer Series.
And these Wanderers:
The Sea.
The Air.
The Fire.
You wander alone, or with another — close, far.
But there will always
be another Wanderer.
With you.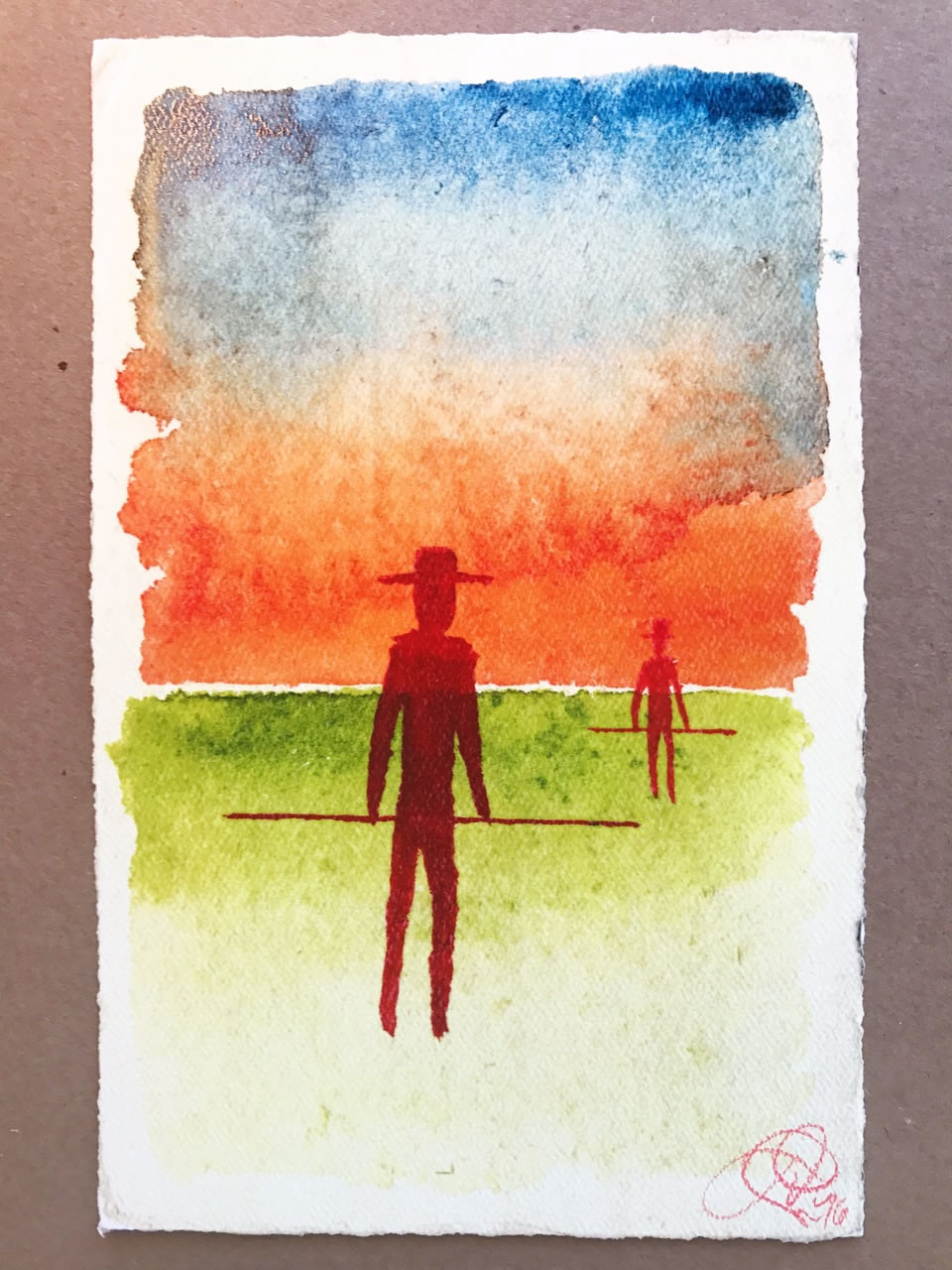 The echo.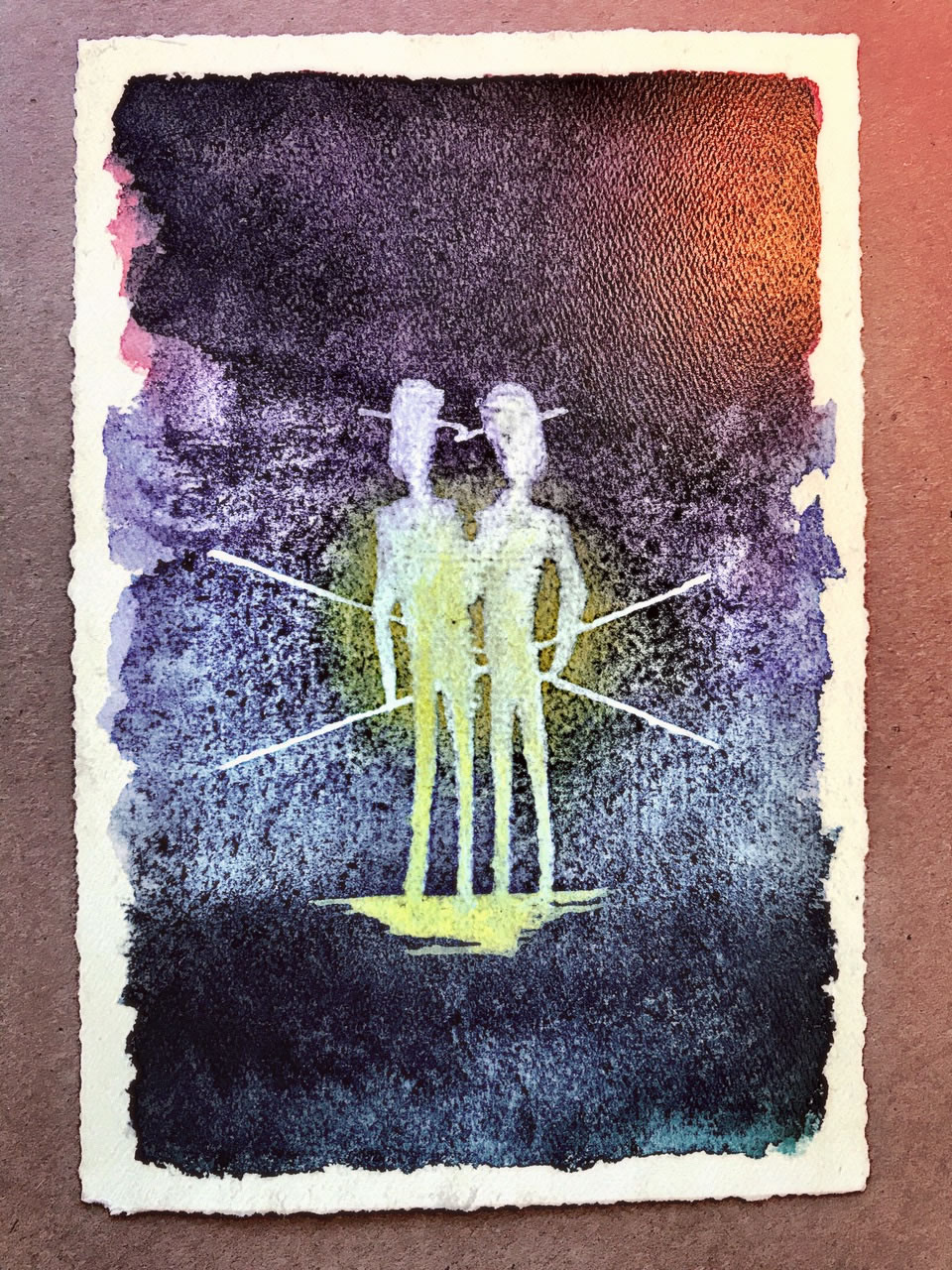 The closed journeyer, the opened pathway.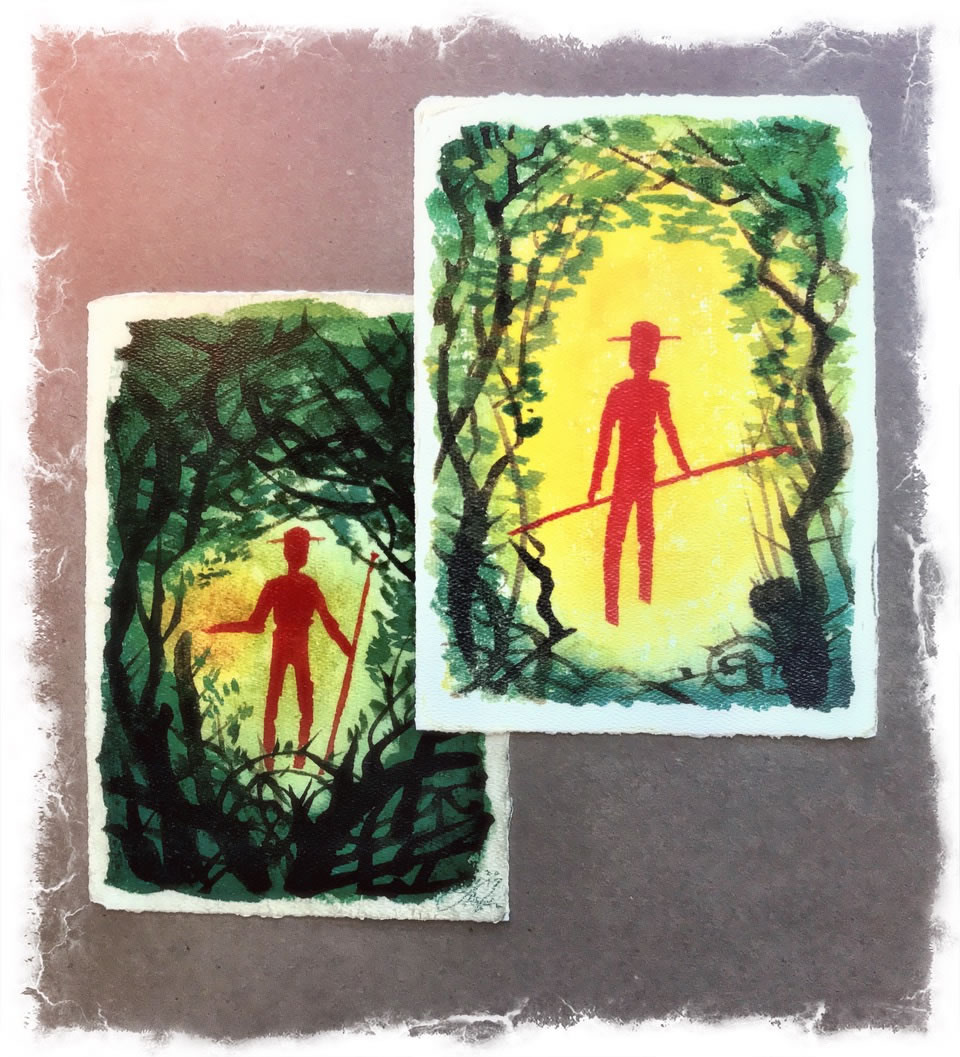 The Journeyer, the Raven, the Horse.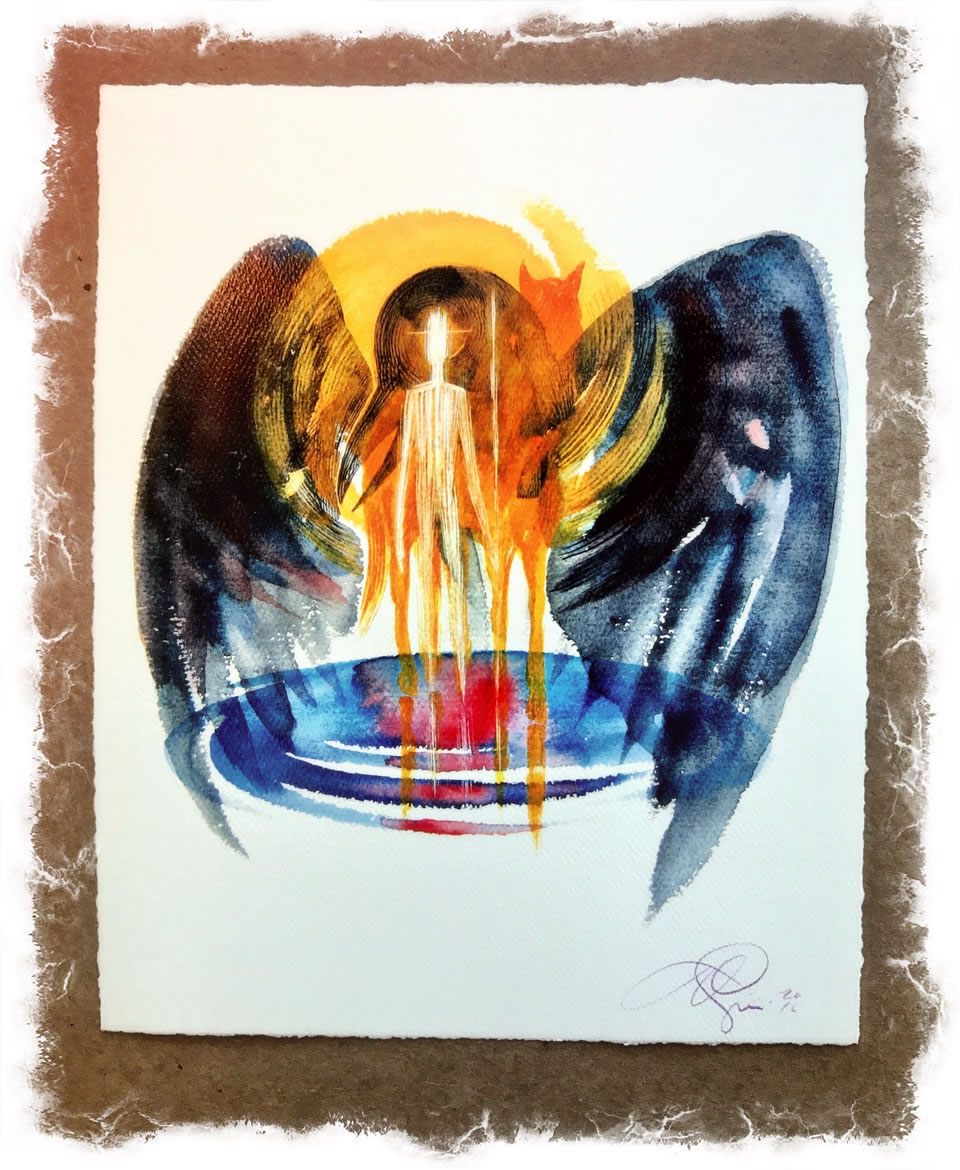 The ice fire —
one finding the other:
a communion.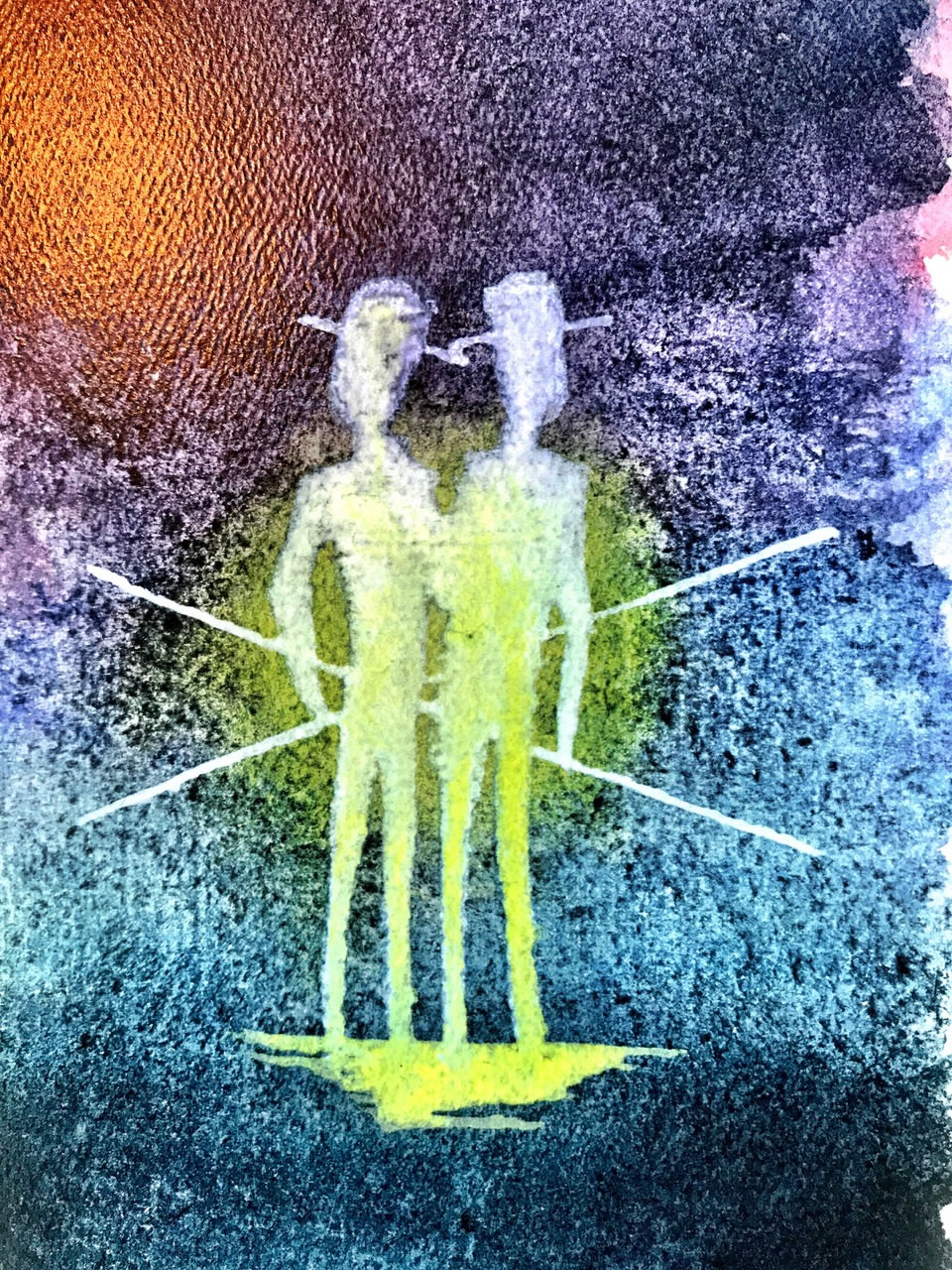 Wave watcher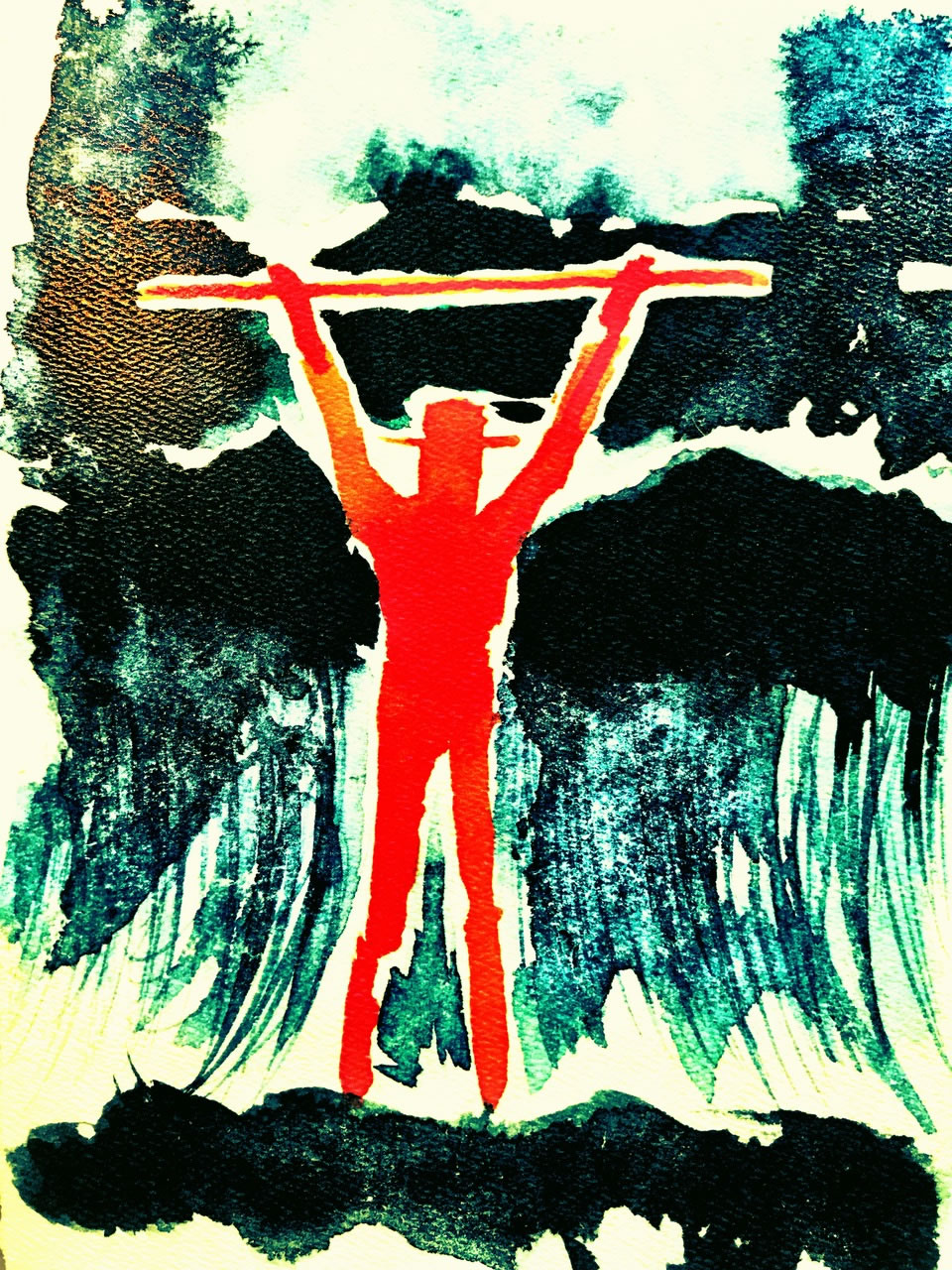 CHAOS
Embroiled in the storm
A cleansing recharge
Destruction of knowledge
Of course, this is only a handful of these 28 studies, but the point was drawing meaning from inspiration — designing storytelling and illustrating the character of the outcomes; finding energy in journey, in opening doors unopened, sharing partnership in crossing, walking into
the super-naturality of
The Forest,
The Sea,
the Cave, and
forces of
air and fire.
But what is
that
to the work?
In any creative journey, we contemplate and build strategies towards emotionality — style and persona, we lean into storytelling legacy and evolvement, we meditate on the patterning of metaphor, allegory, symbolic context.
We all wander.
The answer is never a straight line.
It wavers. It's labyrinthine. It goes right, left, straight, turns back.
That's the Wander.
and the wonder.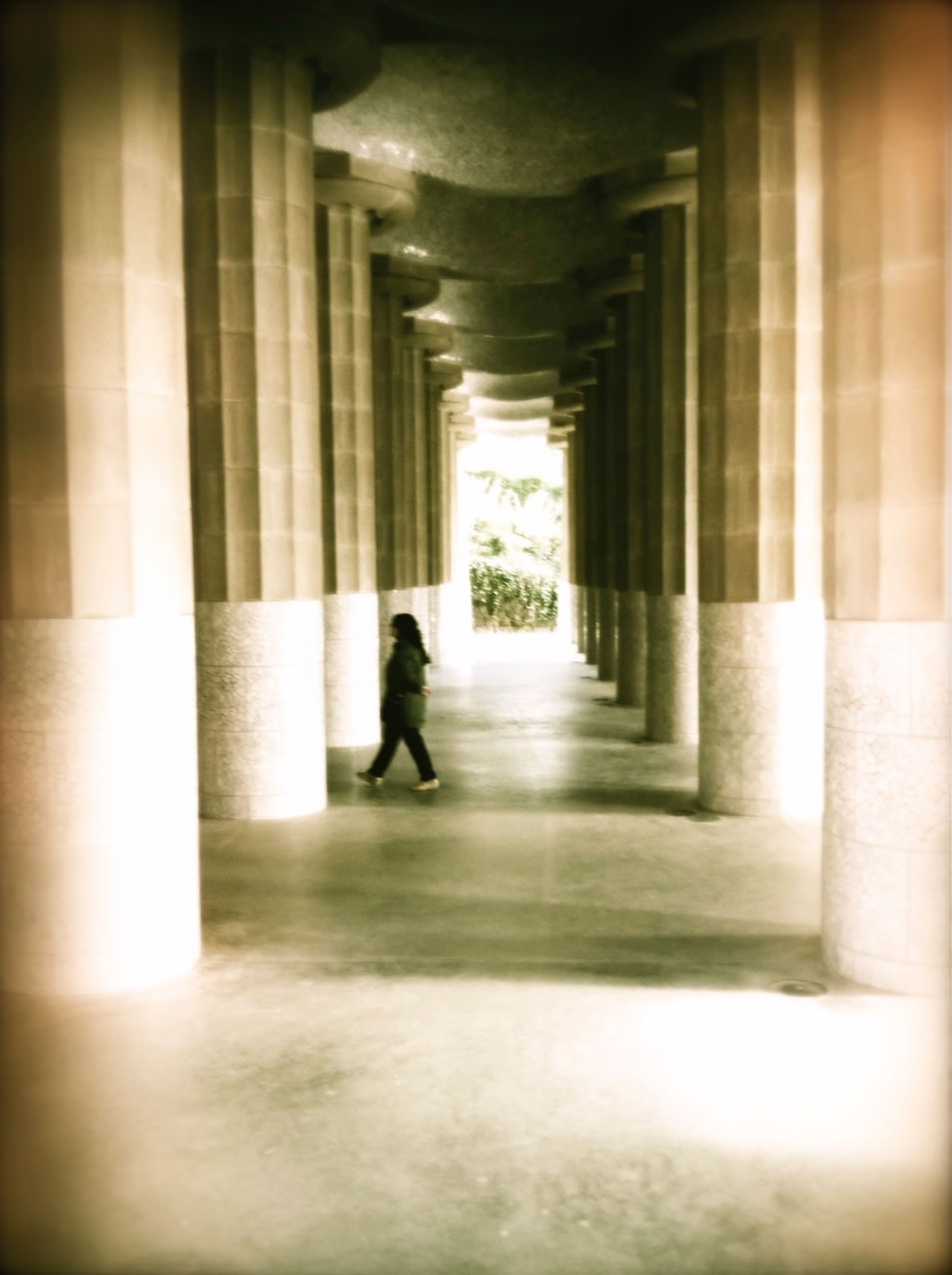 B a r c e l o n a, Gaudi Hall
Why,
and how,
for what,
to where?
These would be
queries for me.
Why not apply
the meditations
on symbolism
and context
to our own history?
Your design, your work, stewardship, brand-making.
Y O U
A R E
W A N D E R E R
S E A
RHYTHM
Listening to the waves
A flowing quietude
Illusion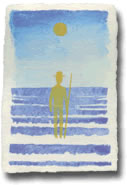 What else, in the articulation of points of inspiration — you find a point of Light, what would you do with it?
That would be Ravens for me.
Tricksters, intelligent, resourceful, playful, black beautiful.
Drawing them is like calligraphy, listening to them is like magic,
watching them is a way in the world.
Which is:
laugh
more
often.
And the story, there.


Have an inspiration?
Draw it out,
mark it on stone,
draft on wood.
In the beginnings, I drew — the 70s — on found wood, to practice, save money, experiment, form improvisationally, draw free.
What does that mean to now?
I did a logo, drawn in sand.
No trial.
Just make it.
As in the beginnings of the work, it's about finding that point of expression in design — the signature of storytelling, to illustrate that one idea, in the best manner possible.
S O U L
F U L L Y
L O V E
on a seafound driftwood 2×4"timber.

Seek beauty
on an old plank.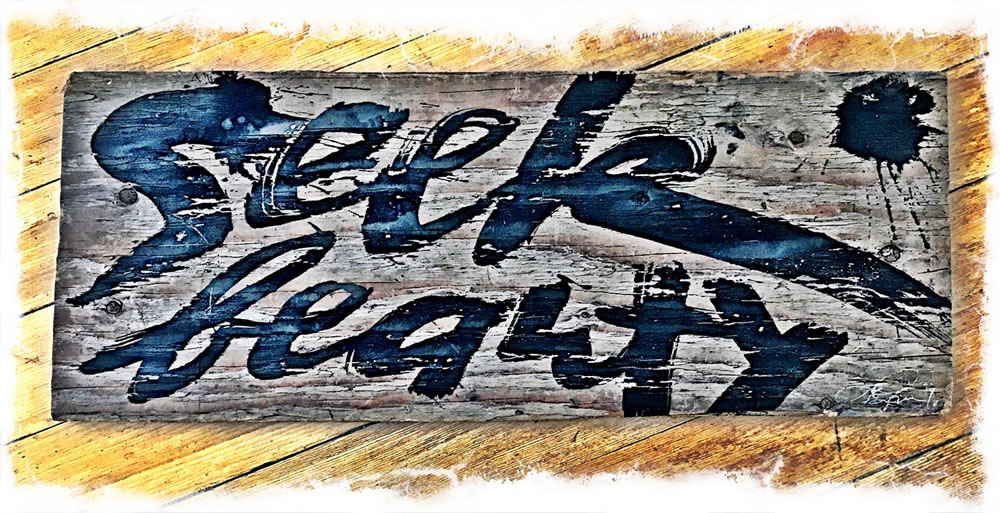 Eye see you on an abandoned timber.
I contemplate the movement through
other challenging movements
in the wander.
As a Creative,
when things don't go well,
what do you do about it?
I draw them in.
And draw them out.
There are two periods of darkness.
Death.
I go back.
I can remember the first time that I was exposed to a Tibetan vajrayana teaching presence — a human distillation of Himalayan spirituality.
It was Sogyal Rinpoche, decades back. Sogyal Rinpoche (born c. 1950, several years before me ) is a Tibetan Dzogchen master of the Nyingma tradition. He is the founder of Rigpa and the author of The Tibetan Book of Living and Dying. That book came out sometime after my connection with him.
He was a relatively young man.
And I'd been asked to create some art for him on a poster.
That was all about death.
And breathing.
And exhalation.
And the quote that I'd rendered, with a kind of wet brush, was about breathing in, breathing out. And you keep breathing. You keep breathing till you can't. And you exhale. And that's that.
And business challenges.
What would the meditations be for these travails?
I worked with horses, and they walked me through.
Somehow, they hold
sentient observation that is calming,
looking into them.
Being around them,
riding them.
Working with them.
You know that sensing, I'd imagine.
These are dreams of wild horses of fire.
In my earlier years of studying Chinese calligraphy and painting, what I learned from my research on the 6th century canon on painting by art critic Hsieh Ho was that the real work was about energy, finding the energy that flows through everything. And drawing it out.
Imagine, 550AD and setting these
as the two top principles of painting?
"Spirit Resonance," or vitality, and seems to translate to the nervous energy transmitted from the artist into the work. The overall energy of a work of art. Xie He said that without Spirit Resonance, there was no need to look further.
"Bone Method," or the way of using the brush. This refers not only to texture and brush stroke, but to the close link between handwriting and personality. In his day, the art of calligraphy was inseparable from painting.
The Bone Method also sets an alignment that should be familiar to all designers — the personal spiritual presence of the "you" in your work.
That is, if you're going to draw a horse, draw them out.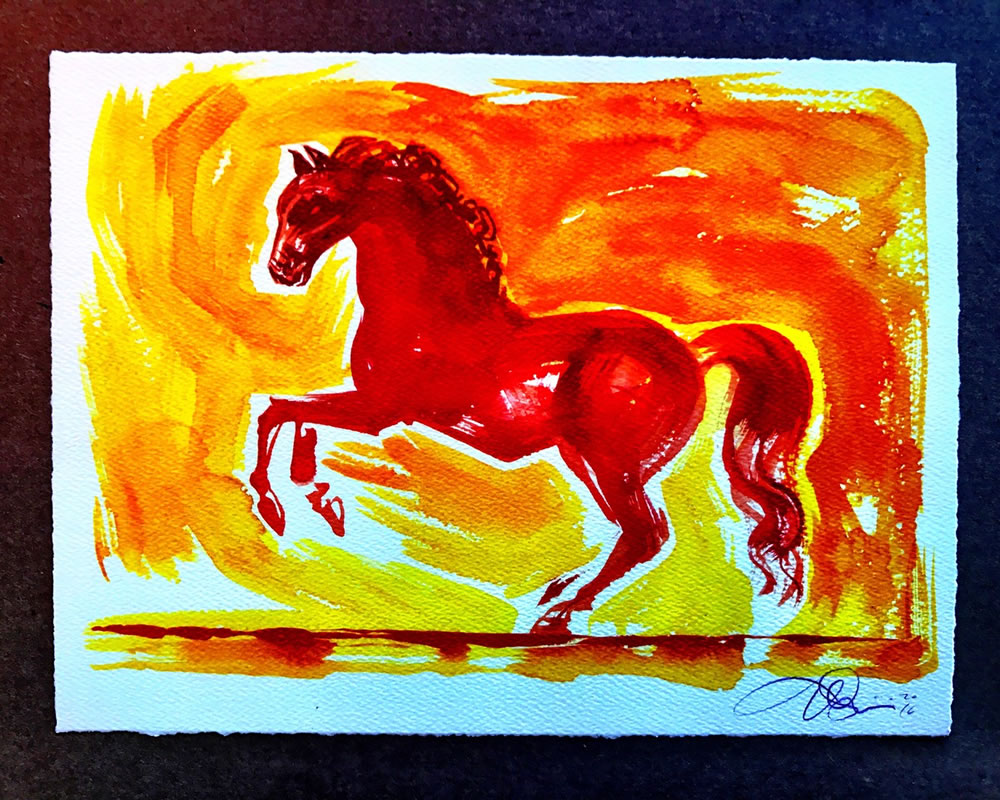 And I went to the ancient Gods.
Drawing a string of dozens of beings —
and this as a gathering of forces —
a meditational drawing set.
That set of watercolor contemplations took me to a better place.
Months of paintings — 108 beings.
I've been offering all of these —
all of these meditations on Etsy.
You can explore here.
The point is the finding
what lies beneath and
behind the
youness
of
you.
The why of your work,
the deeper side of design,
the soulful side of brand.
Marketing as a conversation, a contemplation on humanity,
the knowing exchange of ideas, of ideals, of that which is made
for another.
Or many others.
Walk to the deeper.
In questioning your self, you can ask
better questions of
those that you work with.
TIM
…..
G I R V I N | BRANDS BASED ON GENIUS
BUILDING STRATEGY AROUND PEOPLE
goo.gl/unZAED