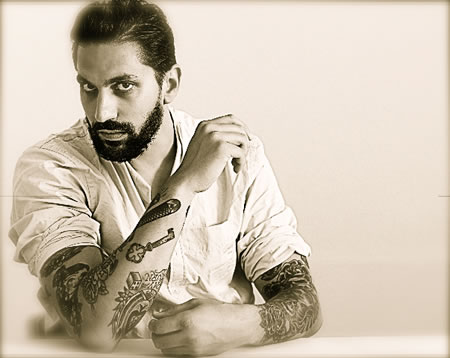 Brand as Dream
(Image from the Fabulous Nobody's blogspot)
In the decades of working with the inspired, the dreamers, the lovers, the ingenious and the intrepid — I've learned something: people — they make the brand.
Brand is the fire of passion — brands are made by people (predominantly) for people; so in any work to comprehend brandstory and positioning there must be a link to the person. We've talked, written, about that, a lot.
In my search for brands with soul, I'll use the sensing of my order to find renewed charges and inspirations. Like scent. There's a long fascination for me and fragrance — going back to my childhood. And in that sentiment, there's a distinct link to the early experiences and mnemonic connections to Ben Gorham, Byredo founder.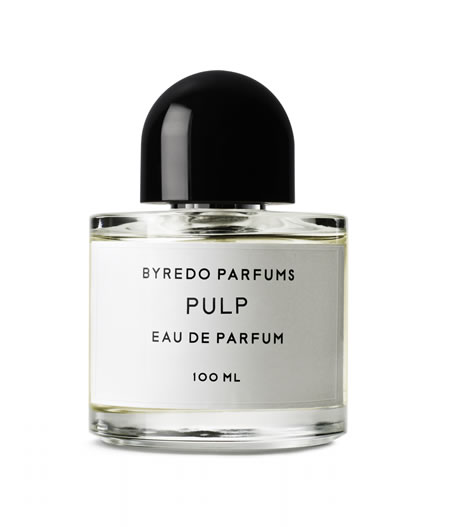 Courtesy of Byredo
In 2008, during an exploration of scent houses in Italy, I'd sampled a striking scent called "Pulp." There wasn't much told about the source — just "smell this, what do you think?" I was struck by the density of the fragrance. I'm not a lover of floral scents, leaning to the darker, dirtier side of things. But still, there was something remarkable about the layering of this design. Basenotes builds this sequencing:

A woody undertone with the pulpy sweet of crushed fruit, left in the sun — a kind of umami of ripening. A reviewer (Jimmy Guo) from the homeland (Sweden) of the brand describes it as:
"Pulp is one of those holy grail scents for all fruit lovers out there. The name couldn't be more fitting as it really smells like juicy, ripe fruit flesh.
The opening is mainly a HUGE fig note combined with some tartness from bergamot and what I'd call grapefruit. It remains rather linear in its drydown though, the fig is there to stay, although the apples and spiciness from cardamom becomes more evident.
It also deserves to be mentioned that it has amazing longevity and is a sillage monster. Which always is a good thing in my book."
But I was particularly curious about who would craft such a scent, the layering of designed notations of fumes. In the realm of fragrance design, with hundreds of scent designers in the mix, distinction is a complex rarity. So, in the midst of studying the design of scent in place — and in the presence of the human skin — it's a complicated admixture: talent, ingenuity, chemistry and the drive to build new solutions to the age old symmetry of scenting structure — one note, another, an other and the alchemy is ignited. Who wins? That might be, to the one — those that function in the place of more conventional scenting rules by the expectation of male winners, or female champions. Even these collections are entirely subjective. The fragrance world is one of strategy, definition of scentient direction, marketing and desire — that mix will build either resonance or the off smelling notes of failure.
"With a Swedish father, an Indian mother and a childhood shared between Canada and Sweden, a degree in Fine Arts, and a career as a professional basketball player, it's almost an understatement to say that Ben Gorham is an unusual fragrance designer. Presented as an eclectic artist, this tattooed design-school graduate has set off on an olfactory adventure with the launch of a new brand christened Byredo." OSMOZ.COM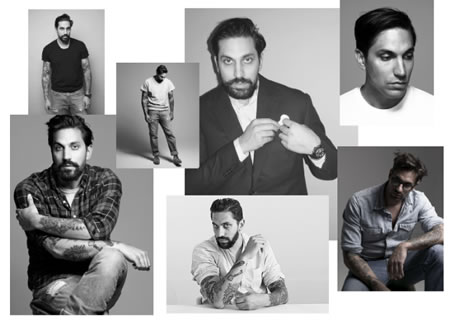 Ben Gorham | Courtesy of Byredo
That scent comes from Ben Gorham. I've not met him — but will. I'd tweeted some notes, picked up by his communications director, Adrian Mörner Hansen — reaching to him, I'd gathered their brand communications materials. But there's another layering to that telling: Sweden. Being a recent student of the spirit of Swedish brands, Gorham's group: Byredo is equally fascinating.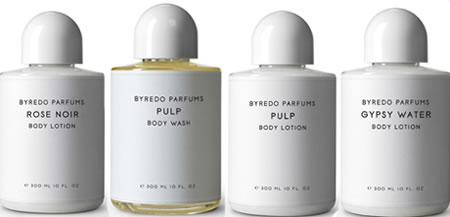 Courtesy of Byredo
From Hansen's overview, some notes on the principles of the brandstory, Gorham's dreams (my bolding):
BYREDO is a Stockholm based fragrance house founded in 2006 by Ben Gorham. Alongside world renowned perfumers Olivia Giacobetti and Jerome Epinette, BYREDO has developed a style of perfumery that reinforces an understated approach through simple compositions and the highest quality raw materials available.With a distinct focus on craft and quality, all products are manufactured in Sweden.
In contrast to Scandinavian esthetics, BYREDO carries clear ethnic influences from Ben's Indian background which has given the brand a unique identity. The full range of eau de perfumes and room fragrances are available at BYREDOs Stockholm store, set in a turn of the century building in the city's retail centre. The eau de perfumes and fragrances can also be found at select stockists globally such as Barney's, Colette. Bon Marché and Liberty.
My notations suggest some characteristics that might be differentiating, if it were not that others in the trade try some layering of these conditions. It is, however – the human brand Ben Gorham that adds the deepening details. These site explanations begin to reach, but beg more to personality and less to fluffy press
This reference cuts to the dream, from Ben, "
"I have always been fascinated by the world of fragrance and its effect on my memories and impressions. Through BYREDO I want to communicate my own personal experiences — to contribute to an almost collective memory of time and place. I also believe in a modern approach without loosing olfactory techniques — of simply bringing together the best of old and new."
More, the site:"A native swede born to an indian mother and a canadian father, Ben grew up in Toronto, New York and Stockholm. He graduated from the Stockholm Art School with a degree in fine arts, but a chance meeting with perfumer Pierre Wulff convinced him that he'd rather create fragrances than paintings. With no formal training in the field, Gorham, a 31-year old , sought out the services of world renowned perfumers Olivia Giacobetti and Jerome Epinette, explaining his olfactory desires and letting them create the compositions. As an outsider in the beauty industry, Ben is somewhat of an anomaly and has been recognized for his personal style and connection to fashion and art in several international magazines such as french Vogue, Vanity Fair, Elle, V Magazine and Fantastic Man to name a few.
With his solid background in creativity, Ben has created a modern, unique, and logical approach to creating fragrances. By limiting the numbers of raw materials, each fragrance is given a clear identity and reason of being. Though based in Sweden, Ben's idea for each fragrance is often sprung from his many travels."
The point of empowerment, for me, in the link to Gorham, is about the dream, and inspiration, of the emerging age (his youth) — influence, connection, power. But the syncing embracement between recollection, scent and creativity and design. He relates in an interview with Vanity Fair, Beth Landman, "I was determined to explore my creative side," he explains. It was at a dinner during that time, when Gorham was 27, that he met renowned Swedish perfumer Pierre Wulff and became fascinated with his work. "I thought about it for quite some time after our meeting; then I contacted him and we talked about the creative process."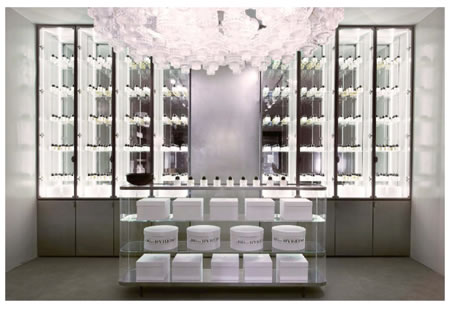 Retail Stockholm | courtesy of Byredo
It the link between the concept of smell and the layering of experience and recollection that is the root of scent consciousness. He continues, "I remembered the fragrance my father wore when I was a child, I told Pierre that it smelled like the essence of green beans, and he was able to tell me what the fragrance was. It's a bittersweet memory for me, because my father left when I was six or seven, but I wanted to re-create that scent in a modern way."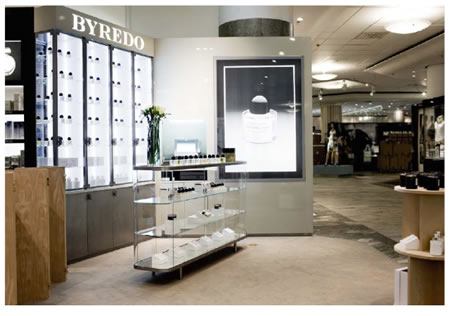 Shop in shop concept | courtesy of Byredo
Ben's discipline runs to the fuller integration of his brand modeling — the look and feel of the brand is inherently cool, disciplined and understated. That idea of beauty — supreme refinement — is one that lies in a certain contrast to his aesthetic on the scent front; that is laden with more robust complexities; the perfumes that he's designed have a strength to them that is long lasting spirited by distinct presence and craft. The store interiors and industrial design sentiments are sharpened; he's contrasted that with his alliance with artists, to build on the holistic variation of the brand presence, for example in his M|MINK, described as "The new Eau de Parfum M/MINK is a collaborative effort between Byredo and creative partnership M/M (Paris).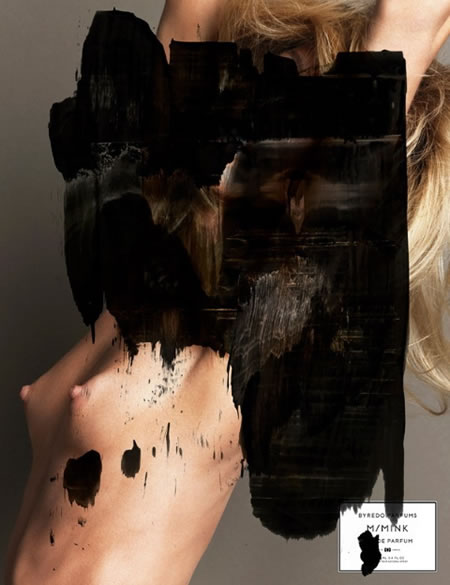 Courtesy of Byredo
In 2009, reversing the usual idea of receiving a brief from a client, Michaël Amzalag and Mathias Augustyniak of M/M (Paris) invited Ben Gorham of Byredo to their studio in Paris and presented him a creative direction and concept — a block of solid ink purchased in Asia, a photograph showing a Japanese master practising his daily calligraphy, and a large utopian formula that Mathias drew on Korean traditional paper.
Together with renowned perfumer Jérôme Epinette, Ben translated these three images into a fragrance – a hypnotic composition opening with adoxal, the heart consisting of incense and finally revealing a base of patchouli leaf, clover honey and dark amber. At first it truly smells like ink before giving way to the idea of the creative ink that held together the three images Ben received."
The notes? Ingredients:
Top: Adoxal
Heart: Incense
Base: Patchouli leaf, clover-honey, amber
What my take — studying the soul of the brand Byredo — is invention, explorations, openness and purity and focus of intention — a reach to the authentic truth of the roots. And the scented root of Byredo is Ben Gorham.
I admire that.
Tim | Vancouver, British Columbia
–––
THE BRAND, THE STORY, THE HUMAN, THE SCENT:
INTEGRATED DESIGN STRATEGIES
https://www.girvin.com/blog/?tag=scent
the reels:http://www.youtube.com/user/GIRVIN888
girvin blogs:
http://blog.girvin.com/
https://tim.girvin.com/index.php
girvin profiles and communities:
TED: http://www.ted.com/index.php/profiles/view/id/825
Behance: http://www.behance.net/GIRVIN-Branding
Flickr: http://www.flickr.com/photos/tgirvin/
Google: http://www.google.com/profiles/timgirvin
LinkedIn: http://www.linkedin.com/in/timgirvin
Facebook: http://www.facebook.com/people/Tim-Girvin/644114347
Facebook Page: http://www.facebook.com/pages/Seattle-WA/GIRVIN/91069489624
Twitter: http://twitter.com/tgirvin