THE STRATEGY OF EXCAVATION,
BRAND ARCHÆOLOGY AND JOURNAL WORK
CREATIVE MAPPING THE JOURNEY OF BRAND FUTURITY
THERE'S WHERE YOU ARE.
WHERE YOU'VE BEEN.
AND WHERE YOU'D LIKE TO BE.
HOW COULD YOU GET THERE—
IGNITING THE FUTURE?
WHEN WE'RE STUDYING A CHALLENGE,
WE'LL BUILD A JOURNAL AROUND IT.
WRITE AROUND IT AND GATHER IMAGERY AROUND IT—WORKSHOP IT, BRANDQUESTION IT
IT'S A WAY OF ORGANIZING THE KNOWN AND THE UNKNOWN—
AND WHAT LIES BETWEEN AND BENEATH.
In the legacy of my leadership of teams at GIRVIN, there is an integration between what I've done personally, and what that could be for team-based projects and ongoing review of creative pathfinding. "It's what I do, could this work for others?"
Sometimes yes.
Sometimes no.
Strategy plays to the everything in the work, what is the path to build that strategy? For tactics to uncover, explicate and deploy, how do you get there? In the working history of the brand GIRVIN—the marking of journeys, the better path is exploratory, a wandering circulation and meander that allows different sight—and builds towards a new vision to the investigative mindset in the stringing of discoveries, insights and directional intention.
Of course, going there, being there, is the best—being anywhere live, in place, in situ, you can sense surroundings, circumstances, vibes—people and their languages of body and voice.
My entire education, such as it was, and is—is about going there.
My mother is a painter, an artist in every sense of the world, the word.
My father is a farmer, a physician, a tree planter, a surgeon.
That engendered a kind of strange amalgam in me, my work—part of the legacy is entirely artful; and part of that heritage lies in the fevered curiosity of science.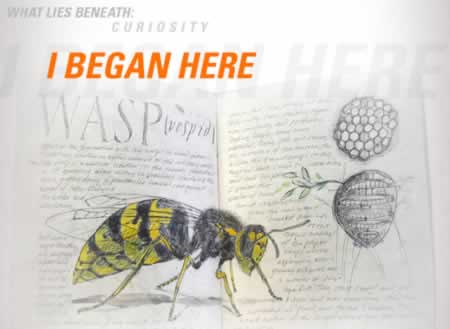 For a while, I'd really thought of myself as a scientist, a biologist in my earlier career examinations, decades ago I thought I would be a marine biologist.
But, in building-out my scientific and laboratory journals, what I came to explore was something that—in more of a scholarly way—spoke to global art, architecture, culture and the bridging adhesion that holds them together. The science journal took me to other journals, other ways of gathering ideas and inspiration—and that drew me, literally, from science to art—its history, its meanings: its spirituality and mysticism. I built books around what I was learning, like these study pages from my work around the work of art historian and scholar, curator of the Boston Museum of Fine Arts, Ananda Kentish Coomaraswamy, when I was studying in the libraries at Harvard University. That work can infuse the work of the work—brand-building—gathering content to define strategy and to formalize tactical outcomes.
What we draw in, we draw out.
But the key for me comes down to using journals and messaging and textual content, as well as metaphors, imagery and team strategies in a form that creates foundations, rings of planning pathways and ideals. We walk that way, defining journeys as narrative pathways of examination, contemplative study—gathered, woven, looms of ideas and ideals—and journals imaginatively track that journey and collection.
And journals can be our outcomes.
These books walk around ideas, gather key insights, organize and illustrate them, as well as thinking around the challenge that's being presented.
Listen. Study. Observe. Transcribe. Notate. Visualize.
Summarize. Formulate. Orchestrate.
The college journals, at Harvard—exploring ideas, writing around them, gathering and weaving—looming out: direction.
What about you, your work—could that—the journaling—work around brand development? It would be: how do you think, listen, ideate—rePresent?
For your explorations—using journals as a kind of scrapbooking exploration and examination—pointing yourself towards directions which can be a useful creative and exploratory tool.
There was, of course, something that intimately tied them together. A love of the written word—especially, therefore, the beautifully scribed word, the hand-crafted design of the letterform—the calligraphic letter.
And that can be on paper. Or drafted and gathered in digital space.
If we'd look for anything in design thinking,
it would be beauty—the truthful answer, well-found.
Some of you, as designers and brand-working people, might think of the calligraphic legacy as: arts and crafts, old stuff, antique arts, something that has seen, truly, its time; it's out of date, an obsolete practice. Yes, it is old. About 4,000 years old.
We walk it, breathe it, use it as a tool.
But I believe that there is more to the art of the beautiful letter than might be quickly surmised. It is what lies inside the archaeology and symbolism of the letter and the alphabet: I believe that the mystery therein—what lies beneath. There, in the 4 millennia of its evolution, lies the bones of language and design.
Which is the idea that design, by the very nature of its exploration and opportunity, is about finding and exploring what lies beneath the immediately accessible. What this really gestures to is the idea of looking beyond the normal pale of the obvious, to the archaeology and patterning of ideas that reach below the mantle of the superficial — that is, to the heart.
Working forward, your journals—branding or otherwise—can be an opening to organizing examinations and explorations, then you can, as well, ignite creative intuition and invention, as a response to challenge.
TIM | GIRVINSEATTLEWATERFRONT
…..
G I R V I N | BRANDS BASED ON GENIUS
BUILDING STRATEGY AROUND PEOPLE
goo.gl/unZAED