Istikal Caddesi / Istanbul : Camper shop.?
I liked the concept of these shoes. I bought a pair, but my daughters intimate that they look like bowling shoes. Since I mostly wear black, black, and more black, with a little white thrown in, it seemed a natural. Except to the critical fashionista offspring.?
Sprung from that, and haven't worn them since.??
—-
There's a street in Istanbul, Istikal, that is a kind of european thoroughfare. Lively at night, coursing with thousands of people.?
—-
Camper has a small installation there, a kind of little experiment, it appears. But, a good one — to concept. Simple merchandising, equal to the lighting scheme and the delicacy of the footprint.?
But there are scribblings — in red, appropriately — all over the walls. Guests, customers, own that space, it seems. And it's an attractive gesture to — pardon the pun — the retail premise of relationships. Boxes form the understructure for the merchandising — packaging package, with package.?
Like that allegory as well.?
Istanbul?

—-
Shopfront and red mission words wall.?
Main display alley.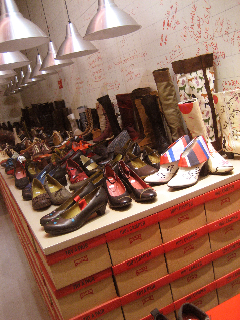 Wall treatments and lighting scheme.
Boxes as changing support bench.?
Rear wall, shopkeepers station and storage.?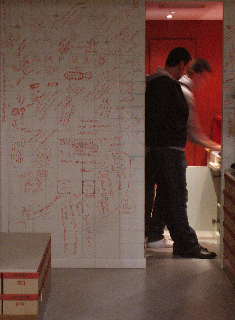 Architect's credit
Neat little space. Retail can, and perhaps should, be like that. Simple storytelling, vitalized in the concretion of something small like the clarity of the packaging and identity that concoct the spirit of the product.?
Tight shoes, nicely conceived, rich color with nice shoelaces.?