Camper [soho] new shop | Brand storytelling —
each store, and story, slightly different: a patterned retelling.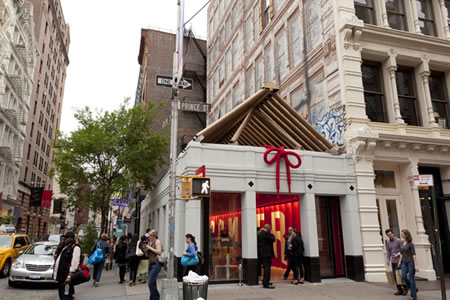 Manifesting style in the legacy of invention, the Shigeru Ban addition.
photograph above: Halley Tsai
Camper's international retail style is one of store to store, every store is "slightly different" and inventively tuned. We've commented, on Istanbul's Camper store in the Istikal Caddesi [ see: https://www.girvin.com/blog/?p=41]
Friend and brand consultant, Harry Roberts, and retail colleague + his friend, Halley Tsai, notes the following update on the Camper legacy — store-on-store reinvention + innovation. There is a core brandcode — but it's prismatically dispersed. Recognizable, but a new tuning.
His notes:
"Camper's New "House of Shoes", designed by Shigeru Ban, which opened in NYC in Soho. Shigeru Ban's signature paper tubes make an appearance in the design, in the form of a gable roof. The tubes are a temporary art installation, but they contribute to the concept of a "House of Shoes."
Using the Camper red and white colors, a design was created which has the floor to shelving at the back wall of the store. The angled fin walls of the shelving units each have a piece of the Camper logo. When viewed from Prince Street on angle the logo is read as a complete word. From the Greene Street view, the letters are broken.
The dimensions of the shelving unit correspond to red stripes on the concrete flooring and to the corrugated red and white ceiling. Furniture in the store is designed by Shigeru and fabricated by Artek.
The original exterior windows and walls between the structural piers were demolished. In place are sliding floor to ceiling glass doors which open the entire facade on Green and Prince Streets in the warmer weather, so that it feels like an open market on its site on the corner.
All photos were taken by Halley Tsai, who provided the visual overview to Harry.
The drawing below is by Shigeru Ban — a sketch imagination.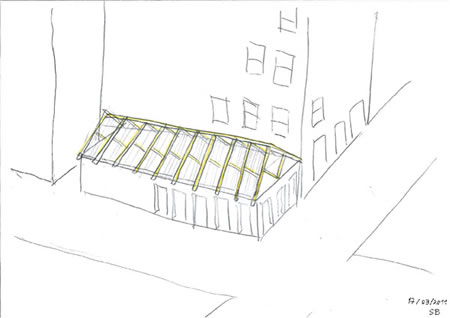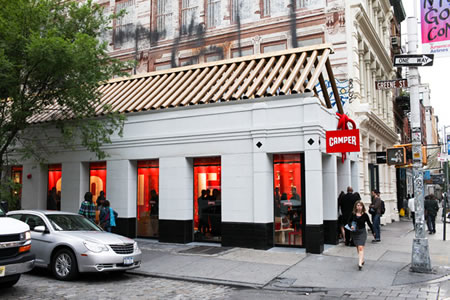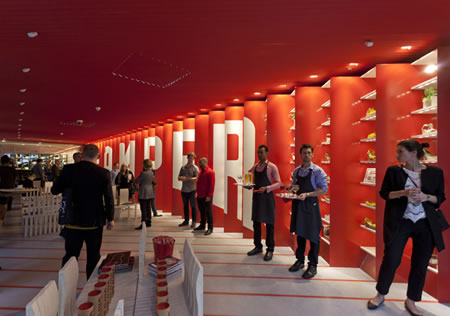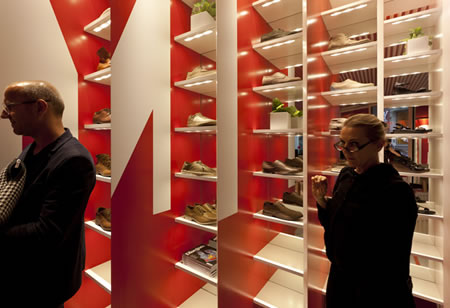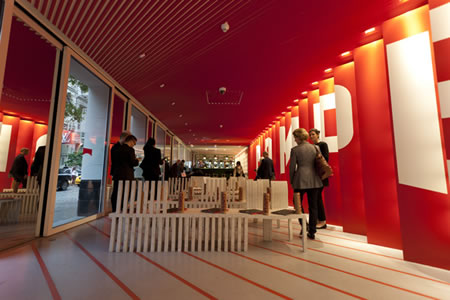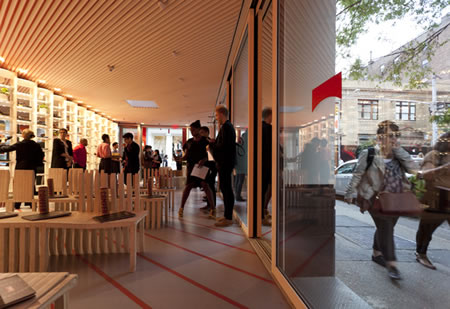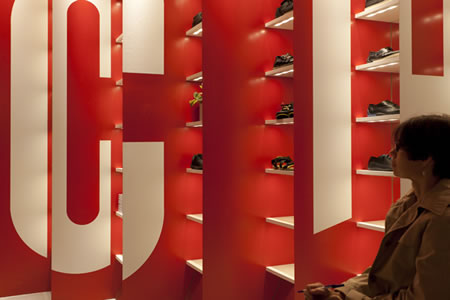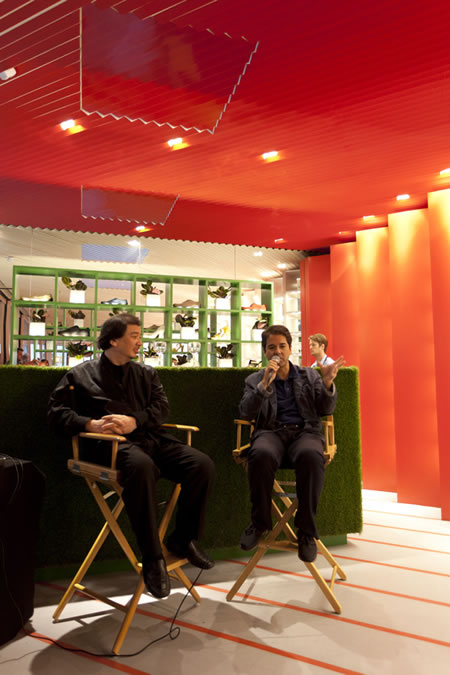 Shigeru Ban and Miguel Fluxá, Camper's general manager, discussing the collaboration. Shigeru Ban felt that the original building looked lonely, so he added the paper tube gable roof to visually suggest a home.
Retail — even "primitive marketplace retailing" is a retelling [https://www.girvin.com/blog/?p=2287] — one store becomes a stage in an environment to retell its story. The beauty is, with a core brand patterning [https://www.girvin.com/blog/?p=2289] that implication becomes fluid and vital — each store is a surprise. That, rightly managed, is pleasurable and deepens the impressionability of the brand to its relationships. Liking something is about embrace — one
TSG | NYC GIRVIN studios
…..
G I R V I N | BRANDS BASED ON GENIUS
BUILDING STRATEGY AROUND PEOPLE
http://bit.ly/s1PEyI