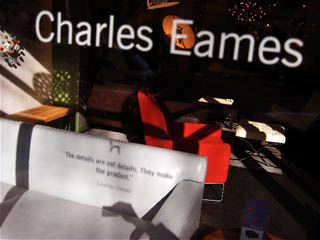 I was thinking about things floating, ideas that are on one level, then another. And that idea of the interconnection of the idea on the surface, and the idea beneath.
"The details are not details. They make the product."
So says, Charles Eames.
So you might be looking at something, thinking about the character of it – the design of it. And on one level, you're looking at the big picture. Like this couch. But the real deal is the detailing for how it's put together.
And somehow this exemplification came to me as something startlingly combined in this shot.
Ideas on the surface, that are shadowed in the detailing of its manufacture: surface, shadowed. How things link up – the big, the small – and the touch that makes them special.
What's your take on that?
tsg