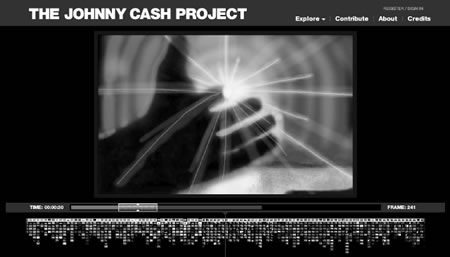 The Animation of a Story, the Human Brand: Johnny Cash
What to the idea of drawing on drawing — the draftsman overlaying the drafted line; one stroke expands yet another; each, a stroke, telling that story? There's a distinct fascination in watching someone draw — and in that drawing, there could be a story. And if there's a crowd — a cloud of minds and hands — working on that story, it's a edifice of ganged storytelling illustration. Many minds shine.
I can recall, working in teams on drawing — brainstorming, innovations, product designs, resolutions and evolutions — tunings and confederations of visions. But that idea of sharing — for me at least — goes back as well to the idea of drawing collectively with my children. And when I was a child, in Spokane, I used to draw with friends — Jim Cox, for one — drawing on drawings (and making sound effects while we drew). It was a kind of primitive animation, examining the idea of another, and drawing on top of it.
To the idea the moving cloudmind, it's about a collective surge in the idea. Chris Milk has taken that stride in something remarkable (again) with his "The Johnny Cash Project."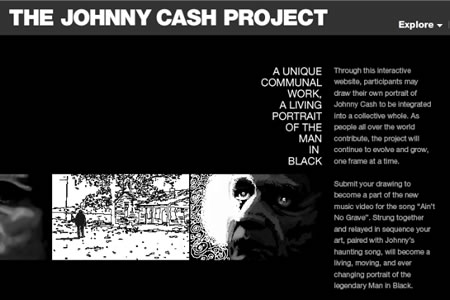 He describes it, "THE JOHNNY CASH PROJECT IS A UNIQUE COMMUNAL WORK, A LIVING PORTRAIT OF THE MAN IN BLACK
Through this interactive website, participants may draw their own portrait of Johnny Cash to be integrated into a collective whole. As people all over the world contribute, the project will continue to evolve and grow, one frame at a time.
Submit your drawing to become a part of the new music video for the song "Ain't No Grave". Strung together and relayed in sequence your art, paired with Johnny's haunting song, will become a living, moving, and ever changing portrait of the legendary Man in Black."
The point to the work resonates in the nature of combined, collective creativity, celebrating the passion of many in their love of the man, the legendary human brand that Johnny Cash was — for each of us, in our own way — the man in black.
t i m
–––
B U I L D I N G
L O V E B R A N D S
the reels:http://www.youtube.com/user/GIRVIN888
girvin blogs:
http://blog.girvin.com/
https://tim.girvin.com/index.php
girvin profiles and communities:
TED: http://www.ted.com/index.php/profiles/view/id/825
Behance: http://www.behance.net/GIRVIN-Branding
Flickr: http://www.flickr.com/photos/tgirvin/
Google: http://www.google.com/profiles/timgirvin
LinkedIn: http://www.linkedin.com/in/timgirvin
Facebook: http://www.facebook.com/people/Tim-Girvin/644114347
Facebook Page: http://www.facebook.com/pages/Seattle-WA/GIRVIN/91069489624
Twitter: http://twitter.com/tgirvin