David Bowie | Passionate Blood:
the emergent hunger of the darker side
and the Quest for Light.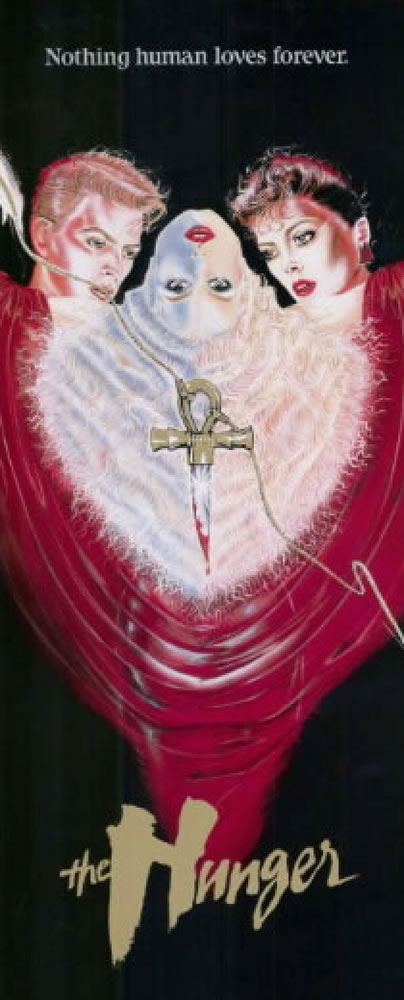 Exploring the quest of Light and the Dark — the preternatural (brand).
I've made some observations in the past, about the patterning of passage: people die; and human brands, stylistic intention and the dark side of all of our transitions, and now — a meditation on death in the passage of Mr. Bowie — the idea that in the midst, or in the emergence of difficulty, there are other expressions that seem to filter to the surface; and while this might be considered just that, I believe that there's more to the content of trend than mere superficiality.
The journey of the search for Light, and for Dark, is that they are mirrors of each other, they are reflective and reflexive — the Light fades and darkness emerges, and dark glowers and light illumes.
That creativity is that journey, the crossing guard of cooly linear discipline and unbridled wild creation, light and dark, intertwined and entangled, intermingled and woven – and in Bowie's legacy, it was journeys of storytelling that pulled from an inward pathway, and coursed out to a vast vocabulary of Bowie world-making — expressed as a free-wheeling and roving exploration of personality
I had one chance to work with him — The Hunger, which I mostly did, as a designer, for and with Tony Scott in a string of projects over a couple of decades of working theatrical advertising design.
His whole journey
was deeper.
More broadly reaching, more inquisitive and exploratory — self examining and curious — getting into it, getting out there, as an observer of humanity.
Bowie was a study in
the stepping stones to:
I N S P I R E
+
I N V E N T
+
I M P L E M E N T
Find a index of inspiration, layer a story,
invent a holistically composite style,
express a spherical, resolved persona.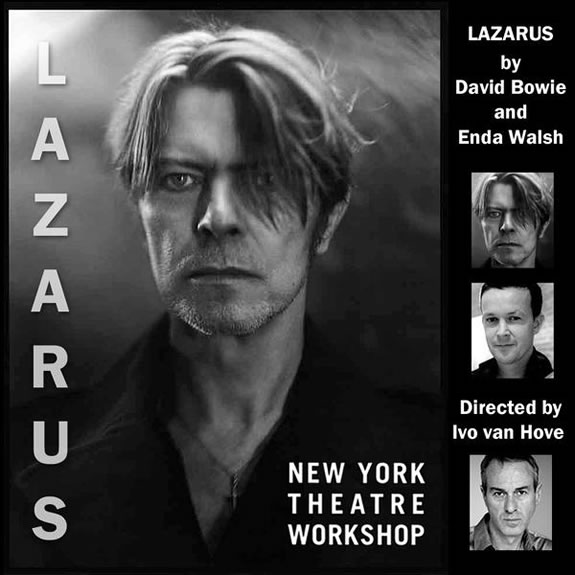 "There's a starman waiting in the sky."
It is with much pleasure and great excitement that we can confirm the Winter 2015 New York production of LAZARUS by David Bowie and Enda Walsh. LAZARUS is inspired by the 1963 novel, The Man Who Fell To Earth by Walter Tevis, and centres on the character of Thomas Jerome Newton, famously portrayed by Bowie in the 1976 screen adaptation directed by Nicolas Roeg.
Thinking about Bowie, and what he meant, and means, to me is that journeying into the personal psychic place-making of presence and mysterium tremendum — the center point of shocking, if not trembling, discoveries is — what can you, what do you pull out of it? Bowie just kept pushing and pursuing his creative leaps of imaginings — right to his quiet passage.
So in that, it might be said that light
will go to dark,
and dark to light —
evolutions are ignited.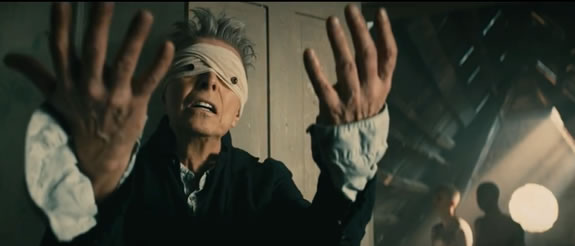 Challenging times lend themselves to a contemplation of the darker side — what numinous meaning and glimmering might be found in what lies within.
Where's the Light?
It might be said that there is a creative dark and light — and that Bowie's journeys walk both sides — a yearning to be in one place, then another — from Light to Dark, then luminous creativity to the metamorphic transitioning to destructivity. And back again, round it goes. Something comes of both.
That speaks to brand, design, performance and entertainment.
Before, in studying this idea in 2008, it was about storytelling and mixing metaphors — a space that Bowie parlayed and played as a closely-held and artful partnership; the consideration of a kind of darker character [recalling that time, The Hunger, and vampiric influences] — to reference: fashion design, that in a way exemplified the challenges in the market. Is the end, nigh?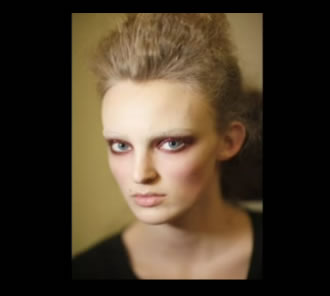 Prada Vampire Makeup | 2009
During the spring of 2008, designs in fashion from Nicolas Ghesquiere, Prada and Pilati's Yves Saint Laurent all showed designs that spoke of an unearthly, funerary darkness — albeit stylish. Dark style. A beautiful dark style. Is the concept of such fascination the idea of a symbolic design gesture to cultural closing?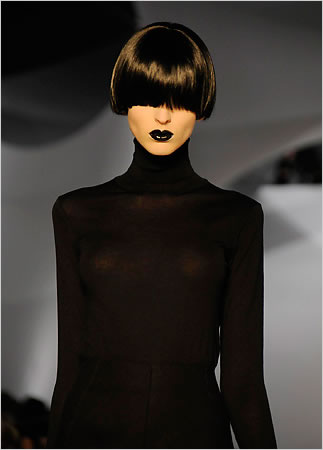 Stefano Pilati | YSL Winter 2008
Or is there another intention, to the idea seeking out, exploring as it's been expressed, "the dark force". It's been widely intoned that for every lighter side, there is a balancing contrary dark one.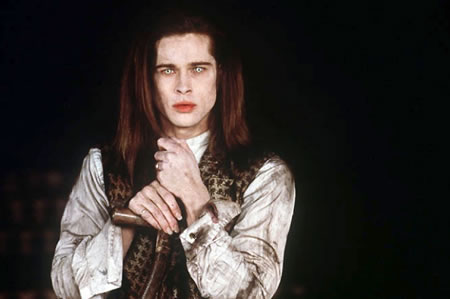 Brad Pitt | "Interview With the Vampire" 1994 | Geffen Pictures
But this impression of fashion leading the way, in design and brand, to capture the sense of the dark is generally balanced by another that relates to cinema and the intonation of storytelling resonance. That resonance is on the rise, surely. But it's perhaps part of a sultry patterning — I first came in contact with during the 80s. And that was my time in linking to Bowie in that imaginative styling.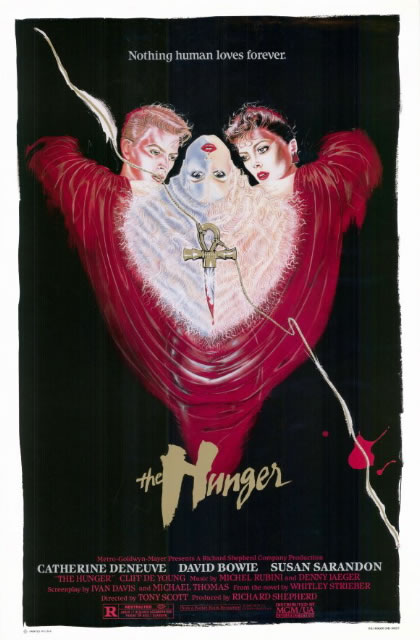 Predatory glamour is personified by Catherine Deneuve in "The Hunger." The work was this darkly stylish 1983 cult film, directed by Tony Scott, Ms. Deneuve is Miriam, a bloodsucking seductress emboldened in sharp-shouldered suits, married to a deathly pallid David Bowie. And Bowie's style shines through, darkly thirsty, lustful and languorous.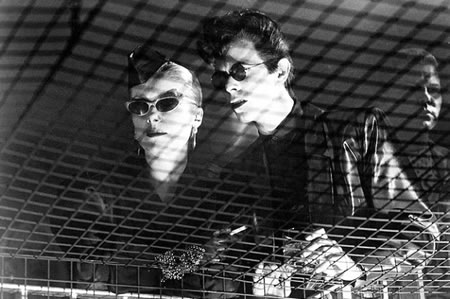 Catherine Deneuve and David Bowie in "The Hunger" | MGM/UA
That sense of manufactured, inventively-made, yet soulfully-inspired style [a dark wisdom] you might find in other inventions that could be said to be embraced in a deeper wellspring of soul diving. Go in, go deep.
He walked in,
strode deep
and left.
The Man Who Fell to Earth.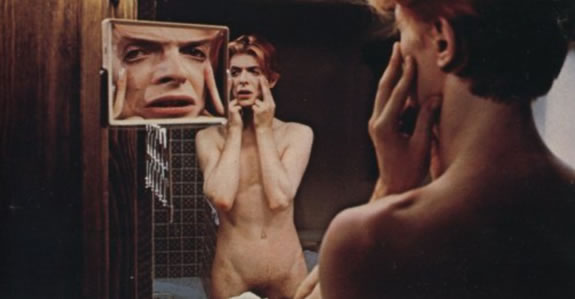 Any creative is built on risk – exposure of ideas to criticism — Bowie simply strode ahead — with an absolute
willingness to risk it all.
Everything, every time.
There was no one else like him,
willing to take that
visioning as
an exploration of
maximally creative risk, preserved as steps in performance,
that is life,
this journey.
We are blessed to have
shared in his wisdom.
tim | GIRVIN waterfront studios
….
Brandstory: Trends: Sex, brands, stories
http://blog.girvin.com/?p=2825
the reels: http://www.youtube.com/user/GIRVIN888
Twitter: http://twitter.com/tgirvin
Added references:
Vampire glamour
A History of Vampire Style
BBC's "Being Human" and Undead Fashion
How to: Runway Road Test | Prada's Vampire Look
Still Undead: 100 Years and 40 Vampire Films
A History of Dracula
A Brand Recurrence: The Repeating Trend of Vampire Fashion
Tim Burton, Johnny Depp and Dark Shadows