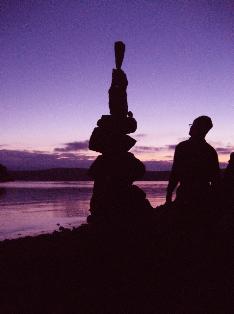 There is a mythic dimension in the character of storytelling; it's an ancient tradition — it reaches to deep archetypes and cyclical patterns that show themselves repeating ways in which messages can be understood and shared — and how they can be embraced. But it's inherently human, to recount and create links from one telling to a personal connection. It's a way of establishing resonance in narrative construct.
And the nature of the archetypal character of human personality and psychic dimensionality, the patterning of the psychological being — and how that can be reflected in brand — is something that is being explored and examined in the concretion of brand and message, internationally; but now there is an added component in the quest for truth. Audiences and recipients of services, products, ideas are tired of the endless parable of false invention and superficial character. So the story is less so something speaking to a concept of innovative positioning, and just "something we made up" but more about creating pathways in which corporate enterprises get closer to being human — and showing a dimension of this character in their offerings and how they relate, "humanly", to their relationships and community.
Vastly experienced consumer product groups, like Procter & Gamble refer to this as the First Moment of Truth, or Product ephiphany. It's that moment when the story is realized — it's articulated in form, content and semantic outcome.
Examples are increasingly plentiful; and this truthfinding is a methodology that our teams use in brand development. "What is the true story, the heart of the tale that enchants and compels an opening relationship?– what method, its telling — and who cares about it?" And if the story is told, then what does it look like, what does it feel like and what resonation might be found? If there is a story, then how does the role of design embrace the character of the telling and emotional dimension of that sharing?
Design is an embrace of the chant of the story. It reaches back to find that code that resonates in the heart of the person.
Our teams at Girvin have presented this line of thinking and brand development not as theory but as practice for clients such as Johnson & Johnson, Procter & Gamble, Paramount Studios and numerous others. Client List
Girvin has worked in defining resonance in storytelling in an international design consulting regimen and empowered by curiosity, driving the branding principles — and the group creative efforts for 30 years continuously, seeking that which lies beneath the obvious brand reference to new levels of deeper resonance.
A story can be nearly mythic in dimension — it can reflect archetypal patterns of the collective unconscious, that filter to global manifestations in the human spirit that drive strategy, design tactics and visualization outcomes. Ignited with the creative intelligence in offices in NYC and Seattle, and a liaison link in Tokyo, our teams innovate new approaches with nearly every assignment.
Be curious.
tsg | decatur island
—-