Doing goodness.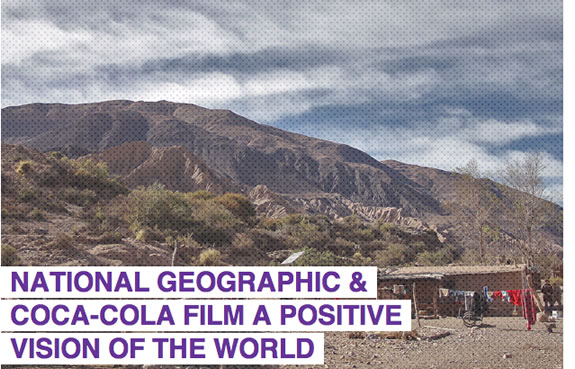 Surely, some do.
Sometimes the celebration of goodness would seem the higher calling, in the flurry of the unrelenting challenges we face.
From our friends at PSFK:
In the words of Fernando Semenzato,
SVP of Content for FOX International Channels Latin America:
We found in each protagonist a powerful human and social value that deserved to be documented and shared with society. Nat Geo and Coca-Cola share a passion for sustainable development and environmental preservation, and we're thrilled we had the opportunity to work together to produce special content that aims to inform, entertain, and educate audiences about our world and the environment in which we live
For more information on
Coca-Cola's Live Positively program,
visit http://livepositively.com or
https://www.facebook.com/viviendopositivamentegt/.
For more information on
National Geographic Channels,
visit www.natgeotv.com.
Live Positively
TIM | Pike Place Studios | GIRVIN
….
THE STRATEGY OF IMAGINATION +
HOLISTIC WELLNESS = PLACE
DESIGNING ENVIRONMENTS FOR HEALING + HEALTH:
PLACES | RETAIL | RESTAURANTS | SPAS | WELL CENTERS
wellness experience design, storytelling + brand = http://bit.ly/XIQ0vm