A calligraphy for a Lama's retreat in the Himalayas
In recent months, Girvin | Seattle had a blessing of place with a long-reclusive Lama Jigmela a practioner of prolonged retreats in absolute silence and deep meditation in a cave-like grotto in the Himalayas, powerfully sited next to the meditation cave of the founding teacher and transmitter of
Tibetan Buddhism,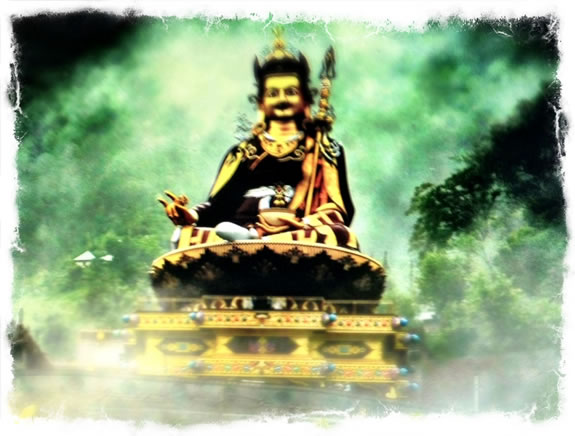 Padmasambhava, Guru Rimpoche, པདྨ་འབྱུང་གནས།.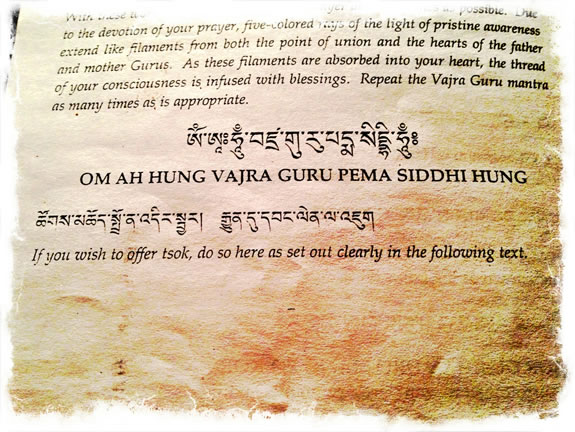 B L E S S I N G S O F P L A C E
L A M A J I G M E L A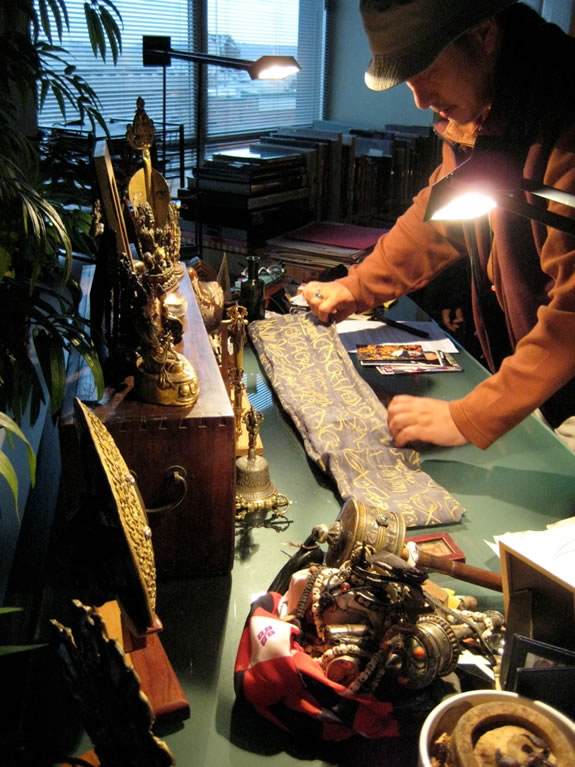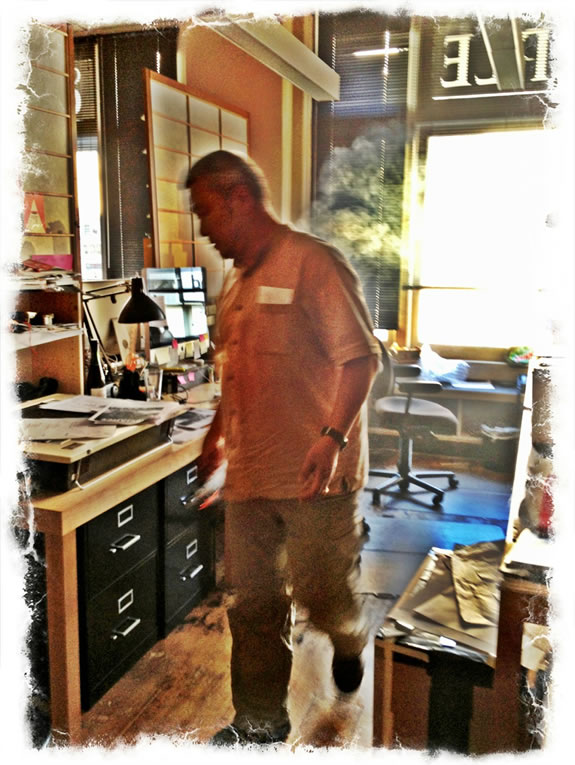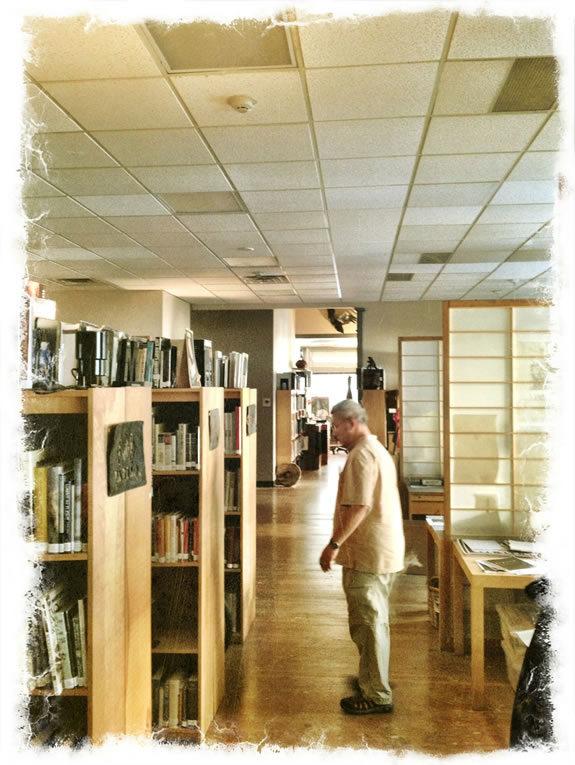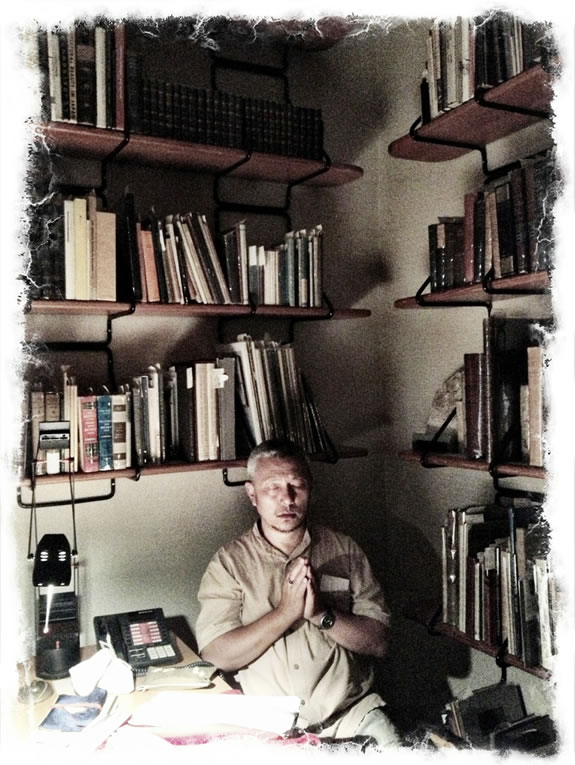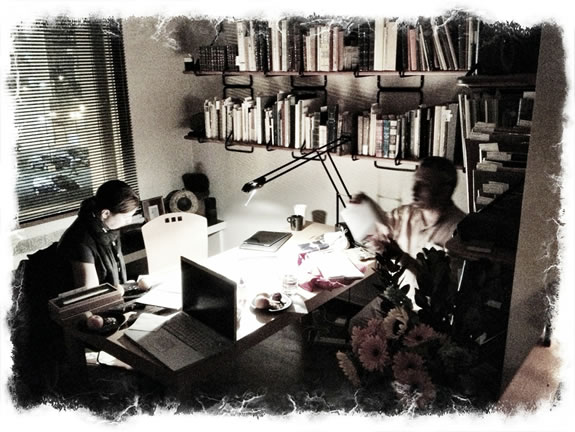 Dachen Kyaping (a former Girvin designer, and Tibetan)
making offerings in the Girvin Rare Books Library altar,
Girvin | Seattle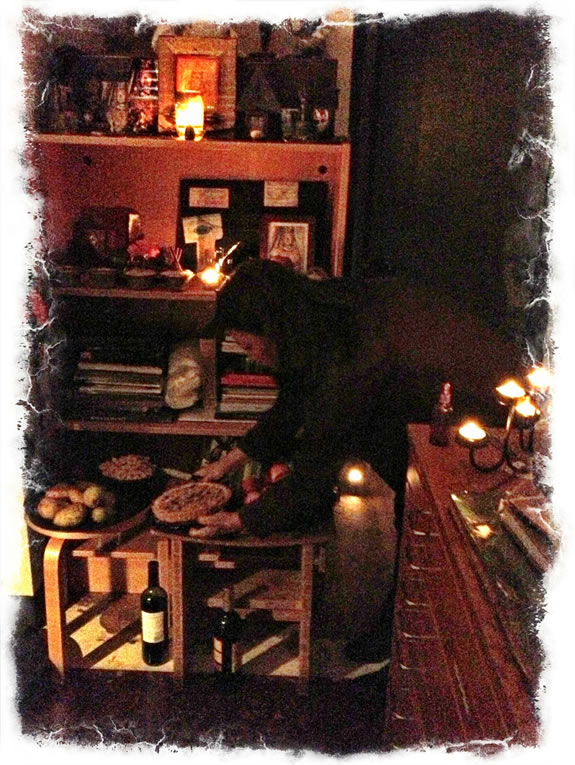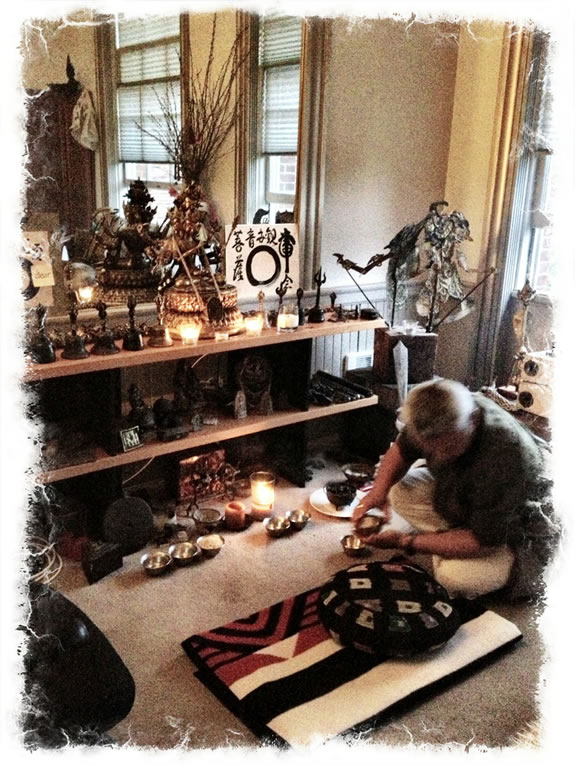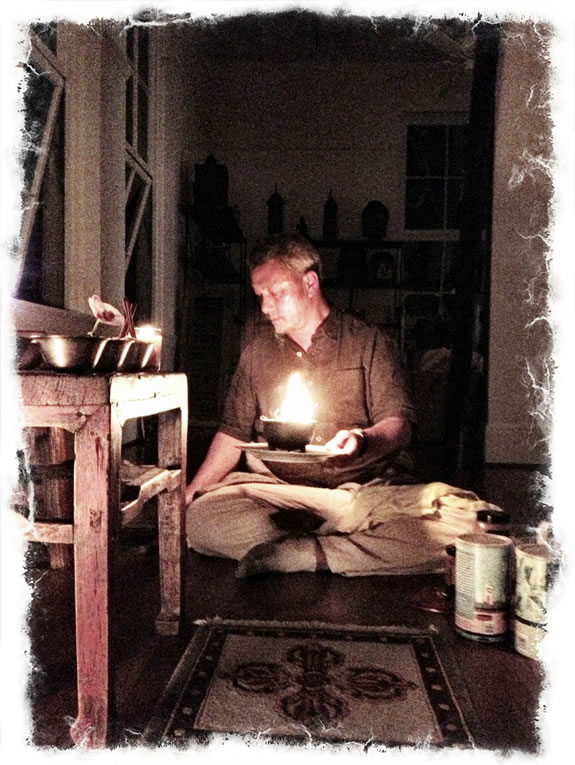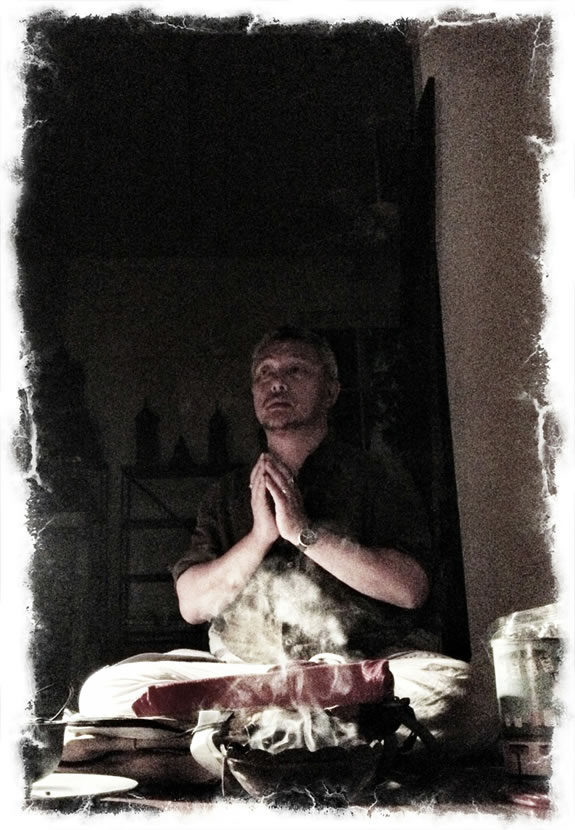 In his closing encounters with me, he'd asked to have a stanza transcribed — one that would be beneficent for me to do as a practice of goodness and betterment for myself, that he could also have in his cave, designed to specific dimensions.
This is the stanza:
"O how steady and strong your mind must be
that you see substance in fleeting pleasures,
That, seeing these creatures on the path of death,
you are attached to sensual pleasures
in the midst of the most frightful dangers.
I however, am timid, much perturbed,
as I think of the dangers
of old age, sickness, and death;
I find no peace or content, much less joy,
seeing the world with fire as if ablaze."
I interpret this as an invocation of austerity, stepping aside from the earthly, as a meditation from superficial pleasure — while acknowledging
the journey that we all take, to death.
I drew the stanza freehand, without rules, then scanned the art to create a larger print to match the bigger dimensions of the installation.
I signed and sealed the original as well as the master print.
Imagery, to process, below: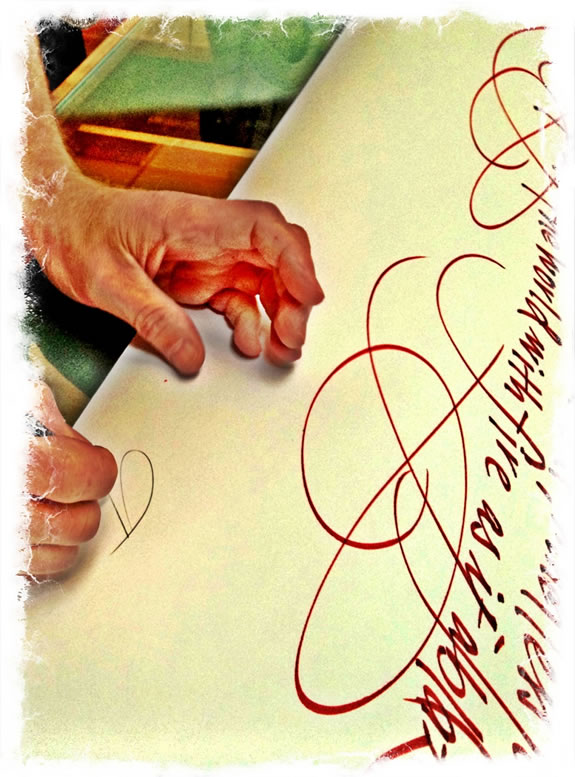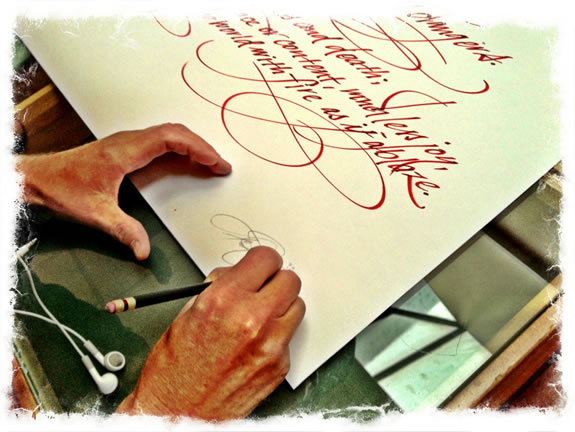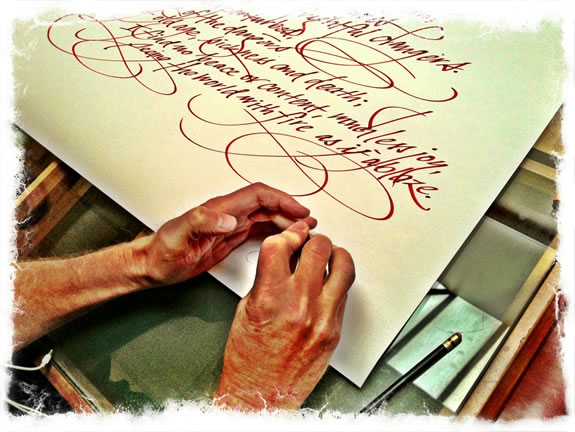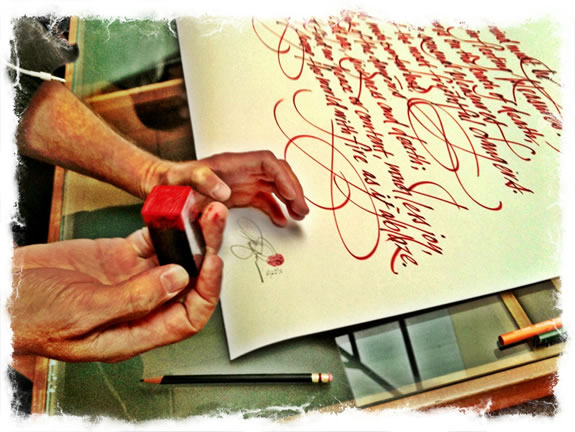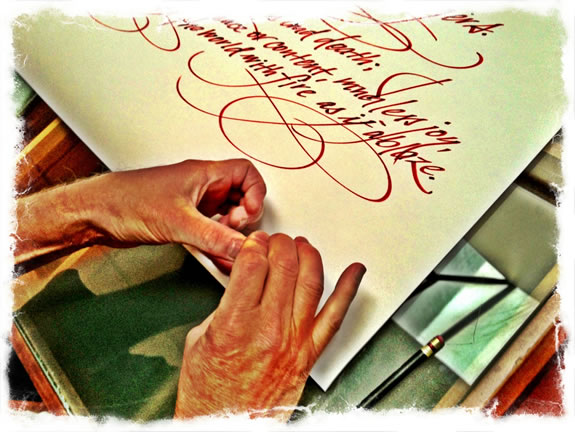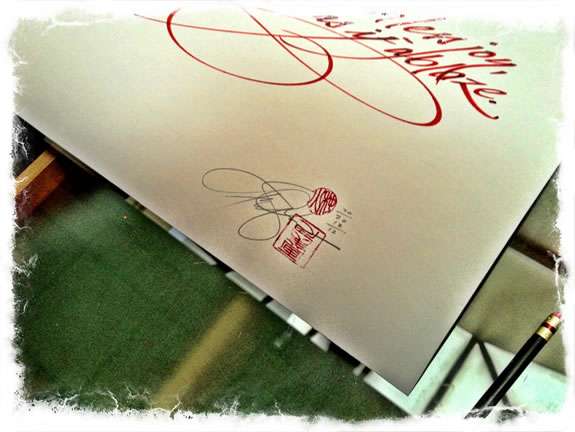 Photographs by Deanna Carroll
Long,
the journey,
from the beginnings,
the learnings, the end.
Tim | GIRVIN | Pike Place Studios
—-
Girvin Cloudmind | http://bit.ly/eToSYp
TEAM-BUILT STRATEGIC INNOVATION WORKSHOPS