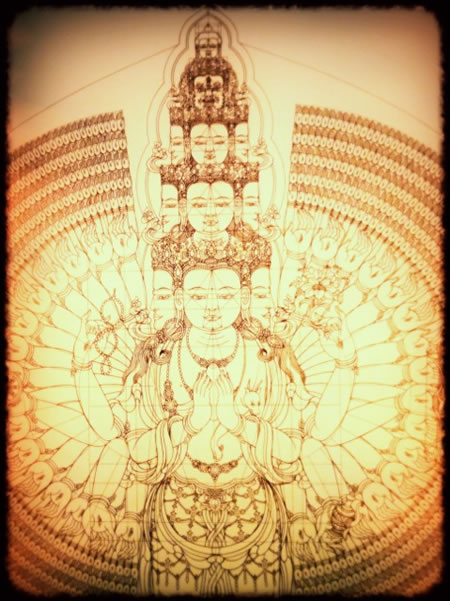 The Rubin Museum | NYC | Geometric patterning of a Bodhisattva print
GIRVIN | the digital assembly of 108 paintings of divinity — the mala, the spiritual thread of prayer.
Below is a photograph of the 16×20″ poster of nearly all the paintings of the digital gathering of the Girvin Bodhisattva mala.
Visit us on Etsy if you're interested in a custom-printed and signed edition on torn-edged laid stock of the complete poster impression.


NOTES ON THE TRADITION
In many classical drawing and iconographical traditions, there is a mapping, a geometrical cartography, that is used to define the rightful positioning and proportion of the rendering of spiritual forms and their drawings — on earth. In this manner, copies of the correct rendering of the spirit forms, can be repeated, by the observant.
A rosary, mala, Sanskrit: माला — the painted string of 108 drawings, in watercolour, on varying stocks of old handmade paper — the collected journey, a meditative path, of Bodhisattva.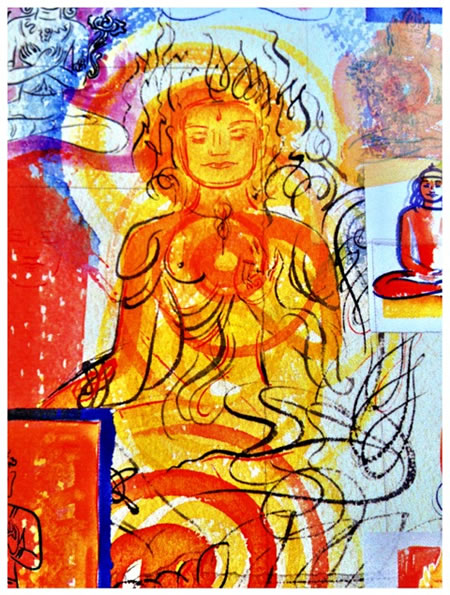 I studied them and drew them — past, passing a gloom time [2000-2002] for me.
Passed, a dark time — in doing these drawings.
Point is, the meditation of drawing and painting, to a regimen of relatively precise geometric expectation, is a good study in the temperament of contemplation. From the passage of the 90s to the 2000s was a time of darker sequencing and self-perpetuating collapse.
I sought answers to my youngest brother's death, 9/11, economic collapses and the ripple-out of challenges that emerged.
Change happens.
And you talk,
write, or paint
through
it.
TIM | GIRVIN | Decatur island studios | San Juan County, WA
…..
DEVELOPING STRATEGIES OF IMAGINATION +
EXPERIENCE = PLACE
DESIGNING ENVIRONMENTS:
PLACES | RETAIL | RESTAURANTS
http://bit.ly/i7b7EN