Brand storytelling that goes back 130 years, and pitched as a marketing strategy for merchandising sales at Barney's. Notes on selling old brands as something newly hip.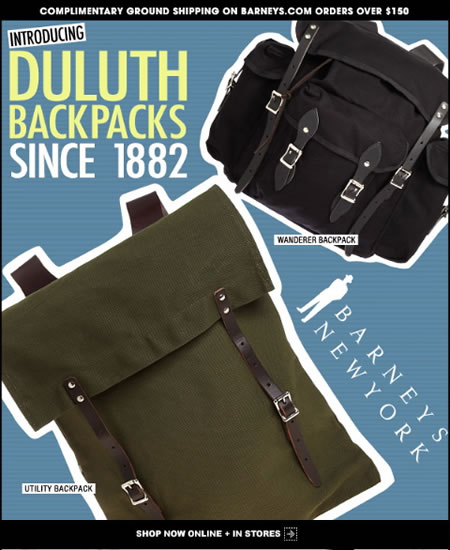 I'm looking for True Brands.
What I seek is:
A story.
A person.
An offering.
Integrity in the making.
Care fullness — in the distribution.
And a legacy that continues.
I found it interesting that Barney's would be offering, as a kind of shopper's insight, the idea of a brand that is old. What's cool about old? A great deal, actually — there are plenty of legacy brands, particularly in the luxury space that espouse hip turns on opening design innovations that are more than a century in use. Burberry, we've noted. Zegna, another. We've written plenty on the concept of luxury heritage, as well as authenticity in the commonplace. The central premise is that something old, "well — it's gotta last, so it must be good." But it's interesting that Barney's would be trying to tell that story as a promise of the Barney's brand proposition. Barney's isn't about old stuff, let alone having any perception of heritage itself, but the proposition of seeking out something of the realm of legacy is an intriguing contrast — given their proclivity to leading edge fashion and popular styling, in just about everything that they do.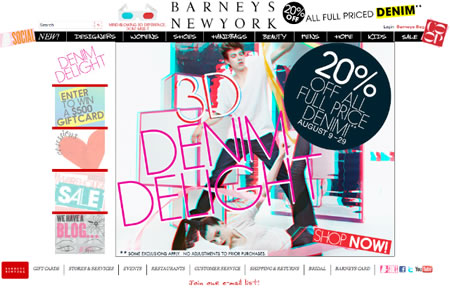 The idea of heritage brands — enterprises that are tinged with the promise of length of time in which the brand has flourished — are a theme that we've explored previously, in a string of blogged studies. But that actually isn't so, it's a brand that was formed about a half century after Duluth Packs innovation, in the 1800s. According to Wikipedia's overview, Barney's "began in 1923, when Barney Pressman opened his first store in NYC with $500 raised by pawning his wife's engagement ring in order to lease a 500-square-foot space at Seventh Avenue and West 17th Street in Manhattan with 20 ft (6 m) of frontage. Barney's Clothes was stocked with 40 brand name suits and a big sign with a slogan, "No Bunk, No Junk, No Imitations." Barney's sold clothing at discounted prices by purchasing showroom samples, retail overstocks, and manufacturers' closeouts at auctions and bankruptcy sales. It also offered free alterations and free parking to attract customers."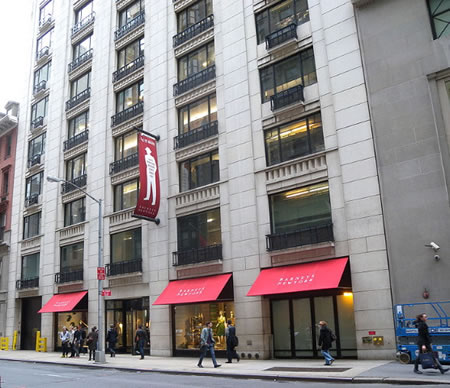 Barney's, NYC.
Barney Pressman claimed to be the first Manhattan retailer to use radio and television, beginning with "Calling All Men to Barney's" radio spots in the 1930s that parodied the introduction of the Dick Tracy show. He sponsored radio programs featuring Irish tenors and bands playing jigs to advertise Irish woolens. Women encased in barrels gave away matchbooks with the store name and address. He also chartered a boat to take 2,000 of his customers from Manhattan to Coney Island.
In a 1973 interview to Business Week, Fred Pressman became "convinced that the discount route definitely was not for us. My father and I have always hated cheap goods…. I didn't want to sell low-end merchandise. Now, many of those who chose to, are verging on bankruptcy." And to that challenge, in 1996, that's just the route that they went, seeking creditor protection, Chapter 11 Bankruptcy. What is interesting about the blend is the link between quality, heritage and in this alignment with Barney's, fashionable relevance. There's a curious balance between the heritage of the discounting days, and where the brand is now which might suggest that they are challenged in understanding where they're going as an organization, or that they're simply looking for the new, in the old.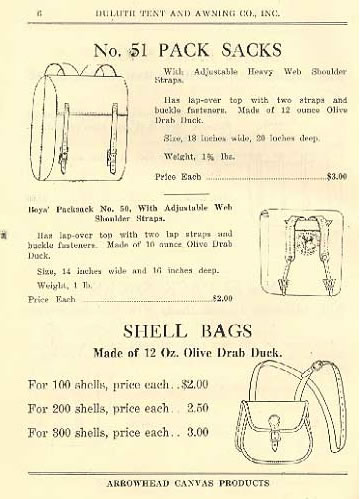 The foundational product of Duluth, the canoe pack, goes back to the very beginning of the brand — and it's still sold today.
The hardwired genetics of the brand are linked distinctively to the camping space, and it would appear that every product they offer has the same characteristics of working, outsdoorsmen toughness. Like another legacy brand in the Pacific Northwest, Puget Tent & Awning (1896), their ultimate tradition moved from back packing equipment to actual camping gear in the form of canvas tents.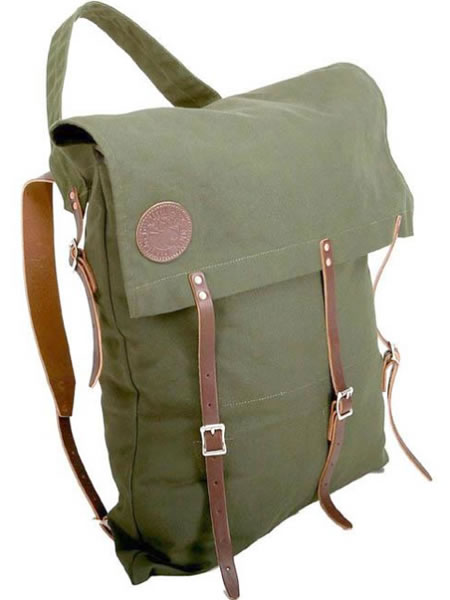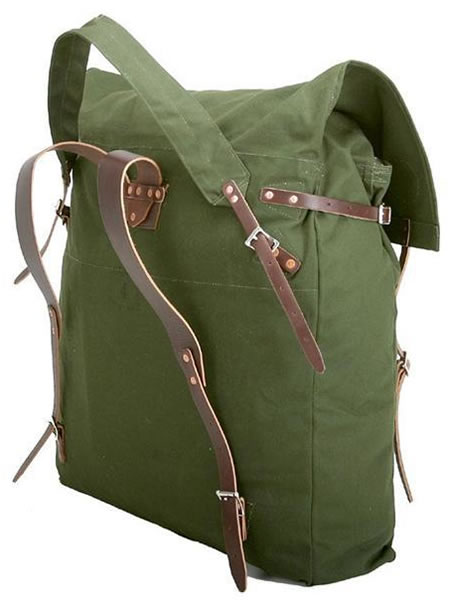 Duluth is rightfully proud of their history — any brand that survives and sustains itself on a set of foundational principle of manufacturing is worth noting. That proposition — long term and relatively "unchanging" creed in production — is extremely tough to manage and maintain. To their building on the brand story — and expanding new tellings to their community, the site proclaims that they have a mission. Not too subtle, is the spreading of their gospel: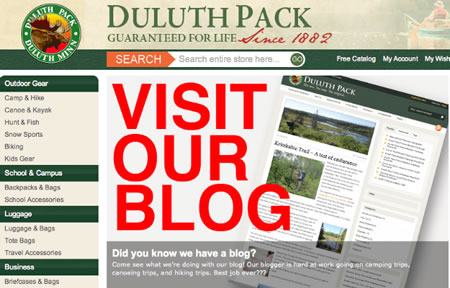 They tell their brand story, going back to the very beginning, "The Duluth Pack has its humble roots in a poor French-Canadian named Camille Poirer, who made his way west to Duluth. Arriving here in 1870 with his "little stock of leather and tools", he began a small shoe store and quickly made a go of it in this booming frontier town on the shores of Gitchi Gummi. On December 12, 1882, Camille filed for a patent on a new type of packsack.
It was a canvas sack that closed with a buckled flap, had new-fangled shoulder straps in addition to the traditional tumpline, a revolutionary sternum strap and an umbrella holder (for portable shade in this newly cutover country). Known then as the Poirer pack, this northwoods classic is referred to today as the original Duluth Pack.
In 1911, Camille sold off the pack business to the new Duluth Tent and Awning Company. We opened shop on 1610 West Superior Street in the then bustling West End. (You can still find us at this address.) In addition to the packs, we made countless awnings for booming Duluth businesses. Remember, during the early 1900s there were more millionaires per capita in Duluth than in any other town in America.
Duluth had lumber barons, shipping magnates, railroad tycoons and big shots in the iron ore business. Our early catalogs feature hay wagon covers, cots, wall tents and heavy canvas aprons for working blacksmiths.
America was changing. The Roaring 20s found the common man with more money and leisure time. Auto-camping became the rage, and hoards of adventure-hungry sportsman and fun-loving families headed for the hinterlands. Duluth Tent & Awning responded by creating the "auto-pack" that clamped on to the running boards of a touring car to carry extra gear. We also made canvas tents that attached to a car to create the first "mobile home".
Duluth Pack has always made rugged packs for working people. This was certainly the case in the 1940s with the introduction of our Cruiser packs. They were the perfect field pack for the timber cruisers who snowshoed countless miles through the great North Woods grading lumber for the logging companies. Built narrow and in the box style, they could haul a load yet slip easily between thick brush. We still make the cruisers which are popular with hunters."
Follow the link, to learn more. We like brands that have stories, and recall their legacy in everything that they do, moving from the beginnings, to the new innovations that will sustain them. We're glad that Barney's likes them too.
To a brand that has history, what holds true for you?
Tim Girvin | Appleton, Wisconsin
–––
A U T H E N T I C B R A N D S T O R Y T E L L I N G
https://www.girvin.com/blog/?s=authentic+brands
the reels: http://www.youtube.com/user/GIRVIN888
girvin blogs:
http://blog.girvin.com/
https://tim.girvin.com/index.php
girvin profiles and communities:
TED: http://www.ted.com/index.php/profiles/view/id/825
Behance: http://www.behance.net/GIRVIN-Branding
Flickr: http://www.flickr.com/photos/tgirvin/
Google: http://www.google.com/profiles/timgirvin
LinkedIn: http://www.linkedin.com/in/timgirvin
Facebook: http://www.facebook.com/people/Tim-Girvin/644114347
Facebook Page: http://www.facebook.com/pages/Seattle-WA/GIRVIN/91069489624
Twitter: http://twitter.com/tgirvin