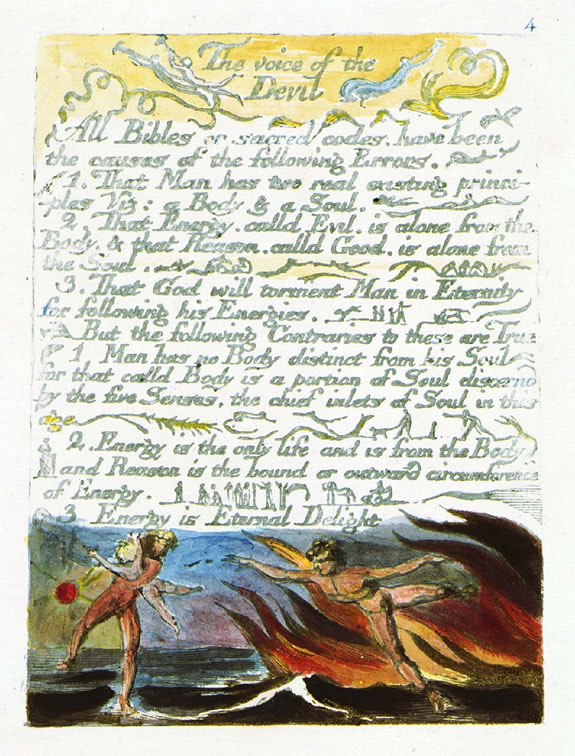 The work, the craft, the art, the energy.
In a manner, much of my journey has been about where I've been and what I've seen. And what is unforgettable in my experiences with designers, craftspeople, makers and wonderers [and wanderers]. The above image from a hand-colored print of
William Blake's "The Marriage of Heaven and Hell."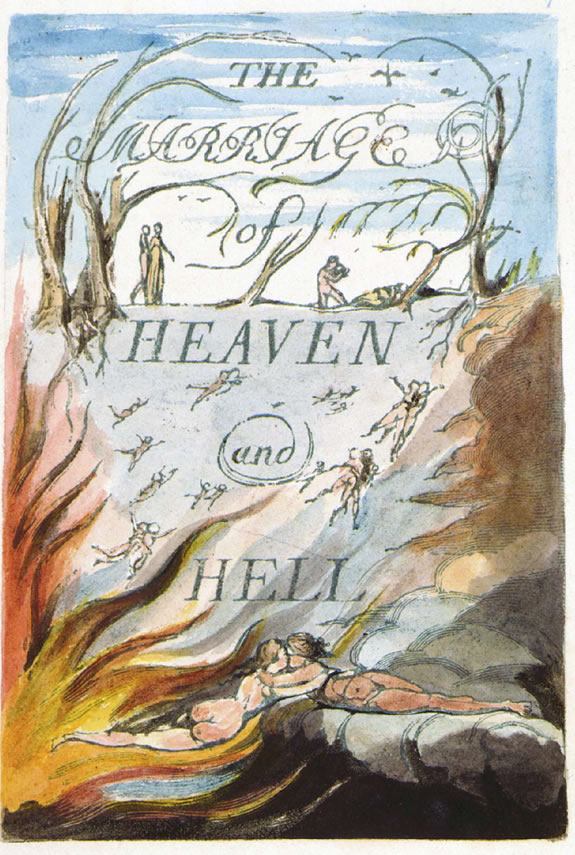 Time and time again, the telling character of the quality of work — design, architecture, product development, illustration, mind and invention shows through that telling — commitment and energy, to arrive at the newly found, and personally profound, idea.
You can never get there without committing all to that journey. Every step, each stride, each upward glance — commitment and energy, an intertwined signature of catalytic power and accomplishment. With it, journeys of darkness and stumbling failure, with it — new vistas of light and discovery.
As a journeyer in the landscape of creativity for more than four decades, I've seen those dreams come alive like wildfire, and dissipate and sputter out like so many candles, merely in the breeze of uncertainty. Know yourself, and you go.
Commit to the path, and only then with more insights gather
like moths to flame, or iron in the earth to the magnet.
With energy, you can go anywhere.
Blakes lines, to this phrasing?
Here.
And who was William Blake?
Here.
And interestingly, in William Blake's journey, for all his energy and commitment, he was mostly unrecognized in his life, called "mad" by most of his contemporaries — still, he moved on, combining drawing, poetry and his journeys into a collective, creative concatenation of genius and invention that has culled commentary that he was among the greatest of Britons.
Worth studying.
What's your take?
The journey of energy,
and creativity,
does many meanders take: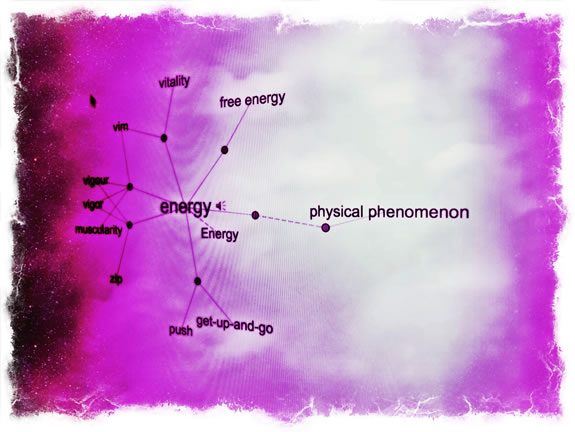 TIM | GIRVIN QUEEN ANNE STUDIOS
…..
G I R V I N | BRANDS BASED ON GENIUS
BUILDING STRATEGY AROUND PEOPLE
http://bit.ly/1opVd3F