Sometime back, after some midtown meetings, I'd been making my way back to the NYC Girvin office. And I came across this treatment for Chipotle, a McDonald's concept investment.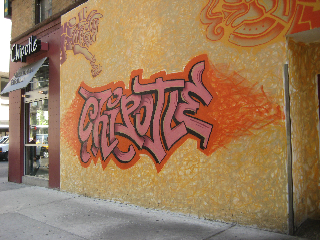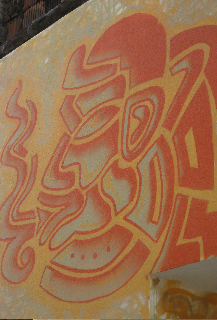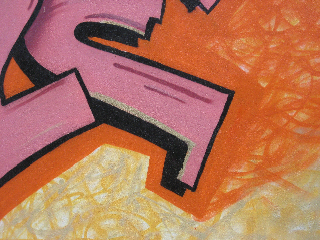 But the point is hardly about the opening collaboration in ownership (founded by Steve Ellis, 1993) – their transitional evolution and divestment – but more about story in the context of place (making).
It's really about movement and acceleration in responding to shifts in the market, quickly.
Looking over the interiors, there's a different kind of nearly industrial presence that's unusual for a Mexican-based dining conception. Not that I eat here. Might, however.
Here are some images from the website: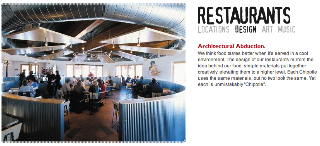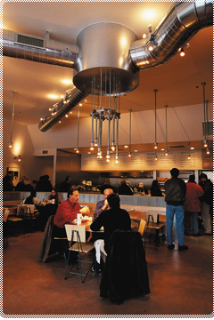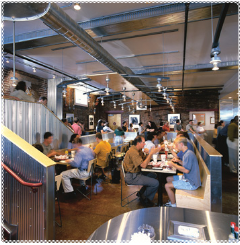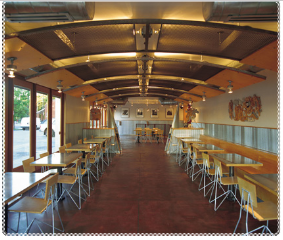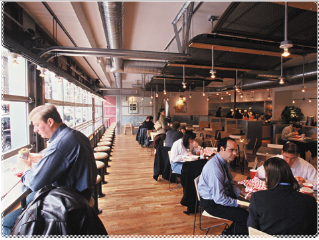 But the reference is about contemplating story, brand positioning, trending and visualizations. From the streetside, rough urban art, to the modernist industria of the inside. Food, fast and handmade, bespeaking the loft-like, artful interiors. Graffiti sneaks internally as well. The alignments are centered on each other — there is flow.
McDonald's shift: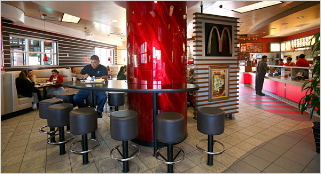 Monica Almeida
Who else is experimenting? To the McDonald's bridge in the aforementioned, they are — examining space and presence for integrating better, more thoughtful experience development.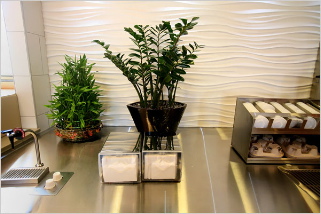 Monica Almeida
There have been some storied explorations of this trending development.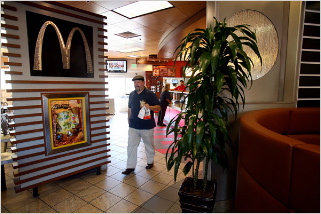 Monica Almeida
According to McDonald's leadership, there are testing models in play that are designed with the help of feng shui, the ancient Chinese art of creating mystical flow in place — evincing harmony in surrounding.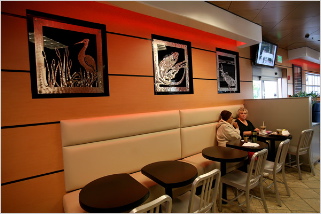 Monica Almeida
Hacienda Heights, California, reflects the first testing site — walls are dabbed with an auspicious red, circular energy grouping of table arrangements and water flow energizes the space.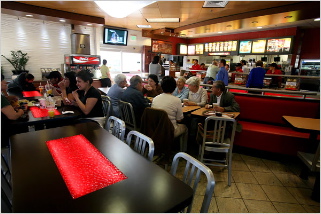 Monica Almeida
"We wanted to make the restaurant a little bit more of a destination," said Bryan Carmack, one of its franchisees, who runs 23 McDonald's restaurants with other members of his family around Southern California. "It's not so much décor as a theme, our theme being we want this to be a harmonic, peaceful place for people to be."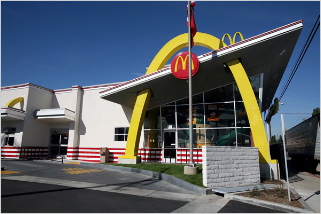 Monica Almeida
The strategy is about resonance in place — that is, the idea that people will stay, not go; obviously, the founding premise of fast food is just that: speed. Get in, get 'em out.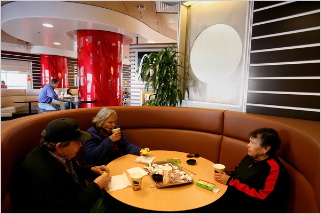 Not now. We've learned this in the past. Late 90s.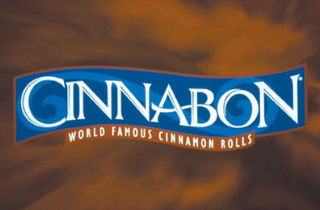 Our work, for example, with Cinnabon, was about listening to customers to learn more about their relationship to the brand — in the psychic character of experience, a return to sense, comfort and indulgence – that lead to Girvin's work on successfully redesigning the restaurants (and enhancing sales). Stay, be indulged, return to your sense of home, baking, scent — savoring sweet pleasure.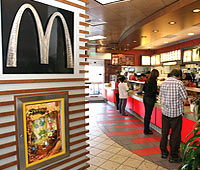 At McDonald's as well, the new McStarbucks, is further actualized — linger and enjoy.
That sense of comforting space reaches further into the serenity of place — with feng shui Asian influences like bamboo, vermillion accenting, water flow, naturally founded material mixes.
Demographic trending and shifts? "The new feng shui McDonald's is "a perfect example" of global capitalism's co-opting people's cultures," according to Gilda L. Ochoa, an associate professor of sociology and Latino studies at Pomona College, who grew up here in the 1970s. "Hacienda Heights," she said, "is a microcosm of a changing United States."
There are clearly psychic influencers — something held in the memory and sensitivities of upbringing and experience exposure — these can drive the spirit of design, brand, trend and shifting direction in tune with change.
We keep focus on the story — and what drives it emotionally, connecting people to experience and how the telling can create mutual embrace. Reflection is two way. Consumers and guests can embrace brand in story, if the connection in reflection is two-way. One connects to another.
You'd wonder – why am I talking about Chipotle and McDonald's — Cinnabon? I'm looking for stories: transformation and placing new meaning in place. Wherever. Whenever. However.
What's your thought about trend in the context of restaurants — what's the story, who's telling it, who cares?
tsg | nyc
—-
New York City + Seattle | Tokyo
https://www.girvin.com
http://www.tim.girvin.com/