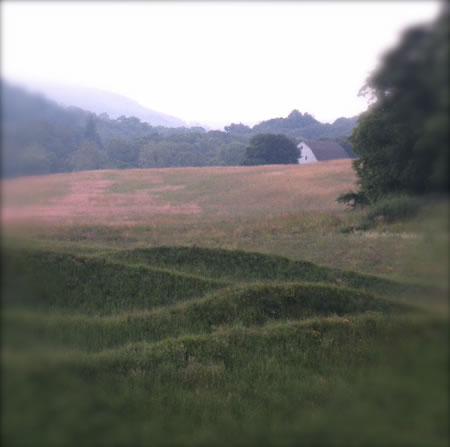 Working in NYC | Four explorations in 24 hours
The second tour was a run, the following morning, out of the city to a place in Mountainville, upstate NY, a long-running gathering of a family tradition in building a sculpture reserve.
"People ask how Ted Ogden and I came up with the vision for the art center. But it wasn't a matter only of vision, it was also about opportunity. The land was cheap. Big sculptures were just beginning to be built, and they were affordable. Engineers were available in my company to help with installation and conservation. If I'd indulged some of my other interests–seventeenth-century Dutch painting or French eighteenth-century furniture–I could have acquired one object. But Storm King was something that could be done. I was here at the right time." Peter Stern | co founder, Storm King.

The interesting thing is the familial connection to building the park might be presumed to come from a legacy of working as engineers, building bolts and wall attachment screws of the expansible type — early successes led to a large scale operation.
the Star Expansion graphic identity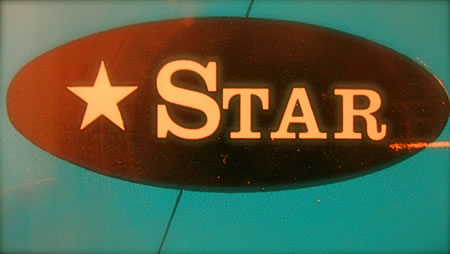 Their first entry to artistic principles of engineering might've been a water tower that was designed by the leadership team there, a bulbous simplicity of stainless steel — that, to their take, "was the beginning." I'd learned, in communicating with the staff, that the business had been sold and dismantled, but the notion of a compelling drive for engineering art-fullness is a fascinating alignment between the idea of personal vision, the practice of it, and how that might be influentially shared with others. For me, that passion that mixes the formality of a brand and business modeling, with the potentials for personal commitment and the framing of ideas. Passion, that drives. A reference in Harvard Magazine supports the alignment of man, art, passion, engineering in the foundation of Storm King — and the family sequencing in exploring the building of it.
"H. Peter Stern: "my father asked me what I thought I might study and strongly suggested engineering as a preparation for business. Everybody in my family had been in business. As a snotty adolescent, I told him I wasn't sure what I wanted, but I knew I wouldn't go into business. I thought I might do something on the international scene, like at least become secretary of state."
Stern went into the hardware business. At 28 he had formed a close relationship with his then father-in-law, Ralph E. "Ted" Ogden, who ran the family-owned Star Expansion Company, which manufactured metal fasteners in rural Mountainville, New York, in the Hudson River valley. Ogden asked Stern to come into the business. He did, in 1956, became president two years later, and eventually bought Ogden out. "'I've made enough money,' Ted Ogden told me. 'Now I want to start spending it.'"
In 1958 Ogden, through a family foundation, bought a 180-acre estate in Mountainville on which his friend Vermont Hatch '13 had built a Normandy-style château on a plateau overlooking the valley between Schunnemunk and Storm King Mountains. The property became the core, later greatly augmented, of Storm King Art Center, founded by Ogden and Stern, with Stern as chairman and president. It opened in 1960.
The opening exploration of art and installation related to initial exhibitions of work by painters of the Hudson River school. Ogden shifted focus and began to acquire sculpture; and importantly the notion of art and siting — art on the land — founded on Ogden and Stern's had deep fascination for the region's landscape. Together, they decided to transform their initial ideas of an art center into a sculpture garden. There they would explore "the challenges of harmonizing the bucolic beauty of the landscape with the drama of the sculpture."
1967: Ogden traveled to Bolton Landing in upstate New York, the home of the sculptor David Smith, who had died two years before, and "without hesitation paid what seemed at that time a very large sum to acquire all at once 13 Smith sculptures for Storm King," says Stern. "He said he would make many mistakes in life buying sculpture, but would do at least one thing right."
"Storm King has a very important collection of David Smith's work, and it is beautifully displayed," says Sarah Kianovsky, assistant curator of paintings and sculpture at the Harvard University Art Museums and an authority on the sculptor.
While that might be the foundation of the collection, it's not that which captivates me — of course, it's the siting / sighting of the objects on the land — some of which are extraordinary, and while others might be more to other's aesthetic attractions.
I'm for simple. Stern agrees. "Works of art should not be seen in isolation, they should be seen in a beautiful context," says Stern. "Every period of high civilization has shown great art in beautiful houses, beautiful gardens. That is why I have such a strong feeling about giving everything space, of putting sculptures in relationship to everything else. And of not overdoing things." Stern is on guard against overfilling the garden. And it's not merely about the idea of art on the land, but the land, too, as art.
Peter A. Bienstock, part of the leadership team — chairman of the art center's executive committee — "While Storm King contains great sculpture, perhaps the greatest sculpture of all is the brilliantly crafted landscape itself."
When you're exploring, as we did, walking the entire grounds, nearly all of the acres that span out over an undulating verdant cropland, planted with grasses and designed arrangements of trees and copses of foliage, you come on vistas of discovery. I've never been a map reader — so discovering sequences wasn't planned, in the context of exploration.
I was looking for two things — an undulating wall installation of the serpentine rock-laying work of Andy Goldsworthy, another — the wave field of Maya Lin. There are, however, vast arrays of other remarkable views — the sculpture can be seen from many angles, diverse proximate points of insight. That stance — the view — on a hillock, or the sighting through the forest, another visioning: something seen from afar, across the glen. It changes everything. Every view, a different idea.
Art critic John Beardsley, a senior lecturer in landscape architecture at the Graduate School of Design at Harvard, writes in A Landscape for Modern Sculpture: Storm King Art Center (Abbeville Press, second edition, 1996), "Cohabiting at Storm King are two of the most potent myths of the American imagination: the machine and the natural paradise. No sculpture in the Storm King collection resembles a machine; indeed, many have a lyrical, anecdotal, or even erotic significance, not to mention a formal character, that runs counter to any kind of machine–or space-age look. But many …are composed of the products of the factory and assembled by the most sophisticated techniques….Just as their forms can be seen to echo the natural surroundings, so do they aspire to evoke the same kind of exalted emotion we associate with the majestic setting. They do this through their scale, to be sure, but also through their reference to a myth of technology every bit as powerful and pervasive as that of the landscape. These myths are not synonymous; they do not converge: they are compatible instead in their magnitude and their hold on our imaginations. Storm King commits them to a respectful truce."
The Japanese sculptor and designer, Isamu Noguchi, theorizes the notion of art in the context of place is about harmony and alignment of materials. To that, he intimates that some of Storm King's inhabitants jar the eye. "I'm afraid that a lot of sculptures will be considered like a kind of pollution, like tin cans are, because they really don't belong, whereas rocks belong," he says in the video he shares with di Suvero. He wishes to work in a way that is "compatible with the landscape." Indisputably, surely, one piece of Storm King sculpture is well married to its surroundings. It is a 40-ton grouping of stones called Momo Taro, quarried, split, shaped, and polished in Japan by Noguchi specifically to sit on one of Stern's hills, reshaped to the artist's specifications. This is, says Stern, perhaps his favorite piece of sculpture at Storm King and Noguchi the living sculptor he most admires.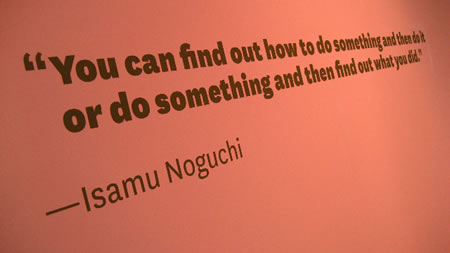 Some imagery, some ideas, and perspectives, noted below:
calder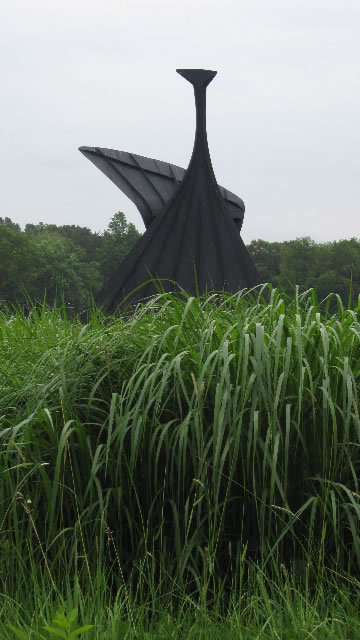 di suvero + dawn clark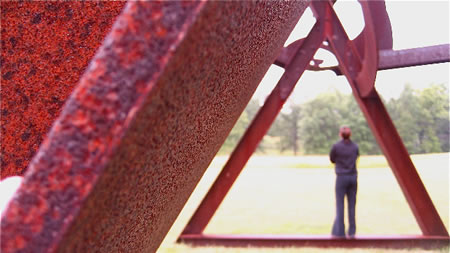 the long road, to Goldsworthy and Lin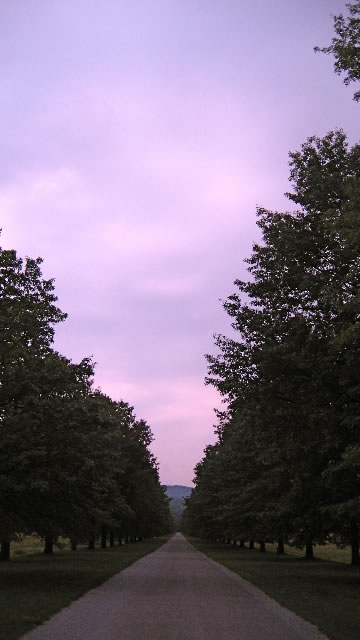 Goldsworthy, amidst the rain and forest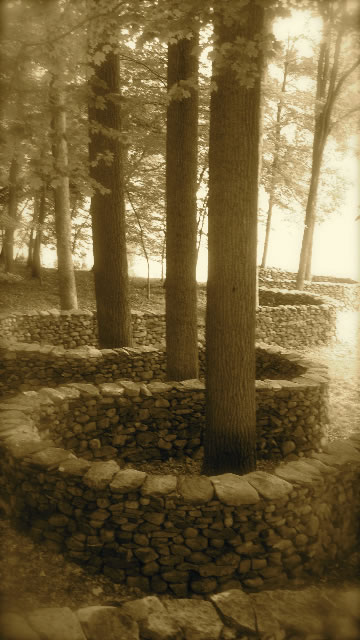 Andy Goldsworthy's six-foot-high Wall That Went for a Walk wanders and weaves for 2,278 feet, curls and wavers at trees, descends a hill, slides into a pond, ascends the other side, and runs to the New York State Thruway.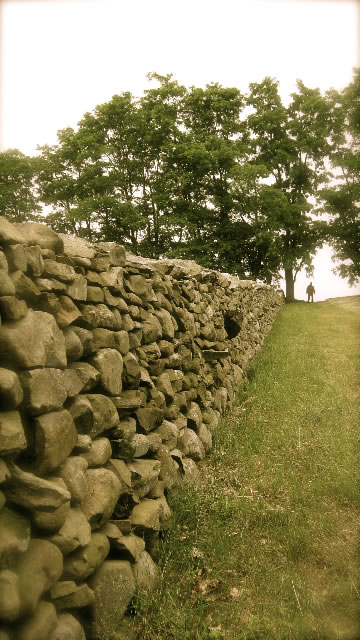 It was made by Scottish wall-builders in 1997 and 1998.
the wall, the water, Goldsworthy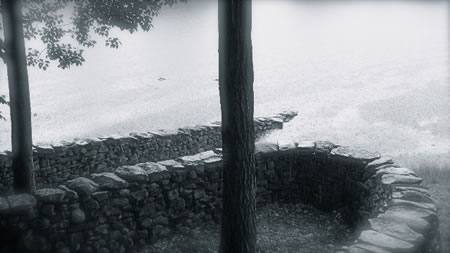 a small cairn in the road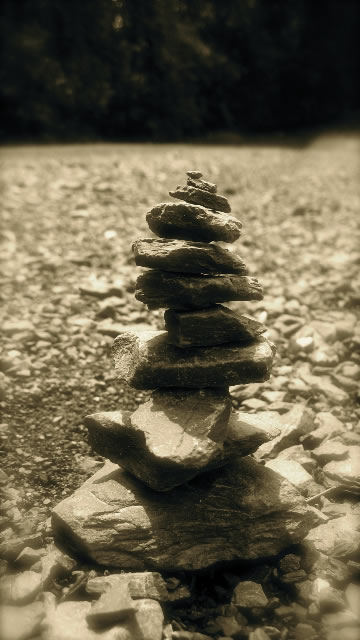 wired balls, at the main house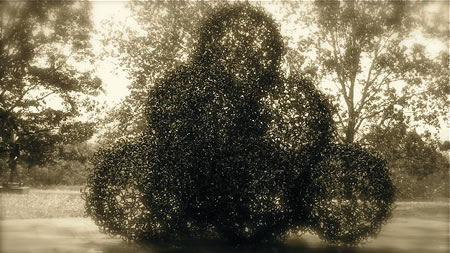 a concrete and fiberglass formed ball, of seven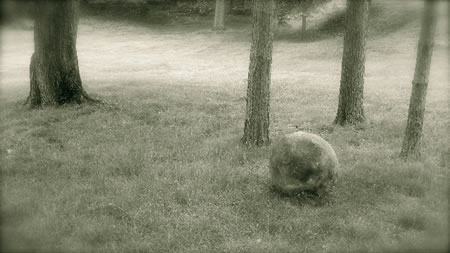 The single object in meditative pose recalls the concept of seeing, the simple, and the beautiful, in placement. I find myself (pardon the allegory) in examining (and photographing) the idea of the thing, alone, resting in environment. Striking visuals can be found in newly seeing simple things that have a kind of inherent mystery — hewn sculptures that are working objects that exist in their residence, amidst the arrangement of many other carefully considered sculpture.
Like a hay bale, an object of intrinsic and symbolic beauty, a rolled knot — woven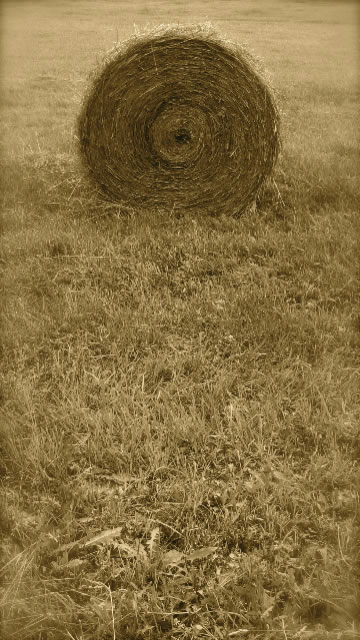 In contemplating the notion of the sense of place, the nature of siting and sight is a compelling alignment — the object as a moment of experience and the exquisite rendering of that object in, and on, that place. There's a transection between the character of the flat plains and the verticality of the installations — an object on the flat field, and finally — how that rests and rises in the standing axes of visioning the form of something that rests, and another — a statement of the active, the alive sensing of something to be experienced in the construct of holistic space.
Looking at the ground, gaze up, but don't climb here.
tsg @ storm king, mountainville, ny
….
Exploring the human brand:
https://www.girvin.com/subsites/humanbrands/
the reels: http://www.youtube.com/user/GIRVIN888
girvin blogs:
http://blog.girvin.com/
http://tim.girvin.com/Entries/index.php
girvin profiles and communities:
TED: http://www.ted.com/index.php/profiles/view/id/825
Behance: http://www.behance.net/GIRVIN-Branding
Flickr: http://www.flickr.com/photos/tgirvin/
Google: http://www.google.com/profiles/timgirvin
LinkedIn: http://www.linkedin.com/in/timgirvin
Facebook: http://www.facebook.com/people/Tim-Girvin/644114347
Facebook Page: http://www.facebook.com/pages/Seattle-WA/GIRVIN/91069489624
Twitter: http://twitter.com/tgirvin