The power of two, of community, relationships in development — and the world of fragrance.
I've written about scent — working in that brandspace, contemplating the spirit of fragrance in the worlds of commerce, personality, travel, integrated marketing experience and holistic branding.
Here:
https://tim.girvin.com/?p=348
https://www.girvin.com/blog/tim-girvin-comments-on-scent-for-exhibitor-magazine/
https://www.girvin.com/blog/scent/
https://www.girvin.com/blog/scent-shopping-experience-and-mind-fullness/
https://www.girvin.com/blog/aerin-lauder-the-private-collection-este-lauder/
https://www.girvin.com/blog/amouage-the-storytelling-25-years/
https://www.girvin.com/blog/scent-memory-package-the-perfumed-equation/
and here:
http://www.cosmeticsdesign-europe.com/news/ng.asp?id=52289-dinand-and-girvin
Sniffapalooza (http://sniffapalooza.com/) is a community that's been building over the last number of years — founded by two marvel-filled women. Women that are enthralled by the wonder of waft — the sphere of scent, the perfectionists of perfume. There is the opening visionary — Karen Dubin; and there is the operational co-foundress — Karen Adams.
Marvelous people, so completely enthusiastic, so wondrously giving, that they've founded an association of like-minded parfum lovers that has become a kind of consulting enclave for fragrance-based brands from all over the world. And a collective that is equally expansive and global.
From a sensuously-minded duo: to a community of tens of thousands. Nice, that story. And I'm happy to be part of it, working with these two grand women. Sniffapalooza permeates like some fabulous tint of scent… And that story has spread like wildfire, from the Wall Street Journal: http://www.wsj.com/articles/SB113478309430225391. to Time: http://www.time.com/time/magazine/article/0,9171,1720107,00.html.
What happened — nearly one million hits last month! That's growth of community reach — like a scented virus of luxuriance!
I first met Karen Dubin at the opening launch celebration of a new scent, the upper East side, Madison Avenue, NYC. (And I just met Karen Adams this past Fall in NYC). We've been on the phone, non-stop, since!
That scent launch was Timbuktu that we'd both attended, designed by the French fragrance consultant Bertrand Duchaufour, a "nose" for L'Artisan Parfumeur, the French perfume group headed by CEO Remi Clero (http://www.beautynewsnyc.com/). I met him there as well — just after L'Artisan Parfumeur was released to scent on its own, from the previous ownership of Cradle Holdings. François Duquesne, the President of L'Artisan Parfumeur, was in attendance. He formerly lead Erno Laszlo — and I'd worked with them (before his arrival) on some earlier brand consulting efforts.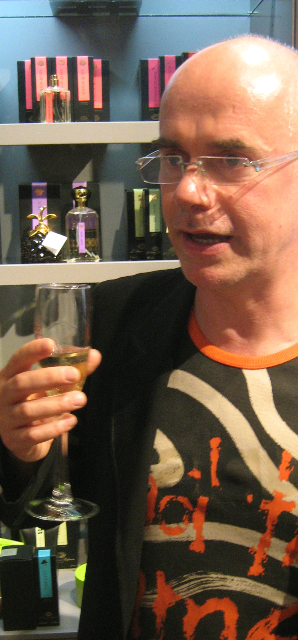 Bertrand Duchaufour | nose for Symrise, L'Artisan Parfumeur
Bertrand and I'd connected at the event, exploring the history of his fragrance development. All about travel, wandering, studying, creating fragrance developments that gather experience in scent — Timbuktu (2004), for example, inspired by a unique blend of flowers, ointments, spices and woods that is used by women in the sensual African perfumery tradition. It was then, as well, that he'd introduced me to his scent (sampled only, since the launch was months off…Dzongkha, aspiring the wafts of Bhutan). Added background — his work is comprehensive — and wildly imaginative:
For Acqua di Parma
* Cipresso di Toscana (2005)
* Colonia Assoluta (2003), with Jean-Claude Ellena
For Comme des Garçons
* Series 1, Leaves: Calamus & Mint (2000)
* Series 2, Red: Harissa & Sequoia (2001)
* Series 3, Incense: Avignon (2002)
* Series 3, Incense: Kyoto (2002)
* Series 5, Sherbet: Cinnamon & Peppermint (2003)
* Series 5, Sherbet: Rhubarb (2003)
For L'Artisan Parfumeur
* Aedes de Venustas (2006, home fragrance)
* Ambroisie Ararat (2005)
* Dzongkha (2006)
* Mechant Loup (1997)
* Patchouli Patch (2002, with Evelyne Boulanger)
* Piment Brulant (2002)
* Poivre Piquant (2002)
* Timbuktu (2004)
For Givenchy
* Amarige d'Amour (2002), with Emilie Copperman
* Lucky Charms (2005)
He's also the designer of Amouage Gold (a top of the list positioning by scent genius Luca Turin http://www.nzzfolio.ch/) And I've commented already on the spirit of story in that line of presentment: Christopher Chong | Amouage.
More on Sniffapalooza. Meeting Karen (D.). Well, we kept talking. And talking. And exploring. Sharing ideas. And I listened.
Working with the Karens, I, along with a team at Girvin | Seattle, worked on evolving the character of their branding — looking for ways to enhance their visual presence — and the alignment of the spirit and soul of their fragrant enterprise in community, to create something more distinctively linked to the power of that world. What is that world, anyway? Scent is the most deeply evocative link to memory. Scent, the power of recognition in psychic consciousness, quickly reminds a person of holistic experiences. The wafted flavoring of cut grass, the slice of a melon, the hint of sun on sand, piney breezes, burning wood and leaves — each of these attaches to a complete sensate experience. It's less about just the nose gathering content of environment, but more to the holistic feelings that are immanently attached.
So, in exploring a new visualization for Sniffapalooza, an entirely collaborative development with the Karens, led us to new treatments of the identity. What did we look for? Grace, clarity, luxury, beauty, the calling of experience that is in each of us, as we sample the notes that cross the delicate threshold of our noses — and enters our minds permanently, our memories forever.
This grouping of studies explores how Girvin develops ideas — and the spiritual character of our client's soul and community, to support the direction of enterprise. Anything we do is about capturing that sense — and the story. We ask — "what's the story to be told, how should that story be told, and most importantly, who's listening to it?"
Here are the ideas, rendered in sequence, giving the viewer the opening studies all the way to the completed rendering. Color? Well, we're still working on it. Along with the Karens.
The first group — looking to an experience that is entirely focused on a more elegant treatment array. What's the take? Too elegant! We explored designs that, to our thinking, would be appropriate for a bottle. To the Karens, the spirit is not about being overtly sophisticated, but rather to the character of fun and upbeat attributes — more accessible to the vastly enlarging group of relationships in community: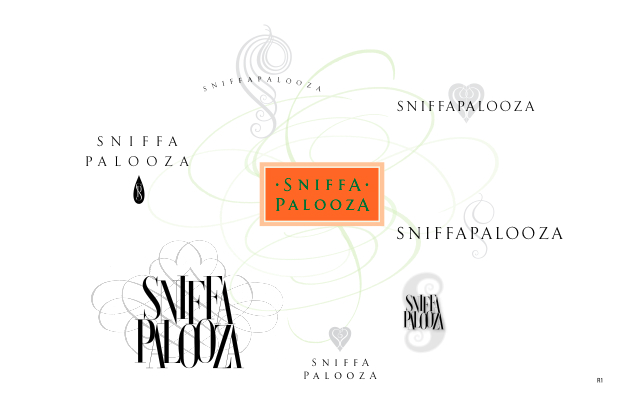 From there — a new grouping of studies that is more about elegance in typography, but simpler in tone. Bear in mind that the work of Girvin is entirely customized — much of our work is about doing things, literally, by hand. The typefaces in our roster are developed by our teams and then applied and further tuned to specific drawings. Here's the second group: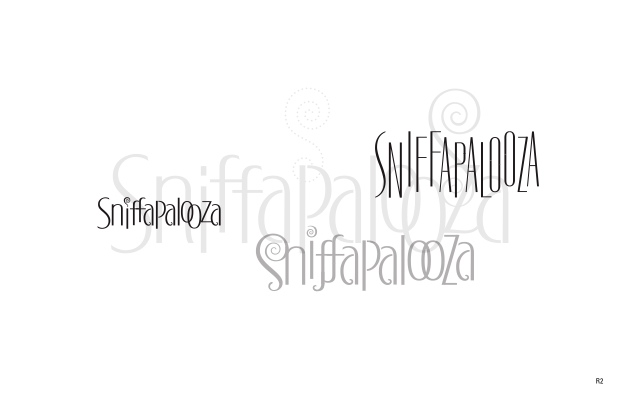 The second group brought us to another advance. We learned more! Here there were sentiments visually that captured the spirit — lean, intelligent, but playful. So, in advancing further, we came to the third grouping of studies: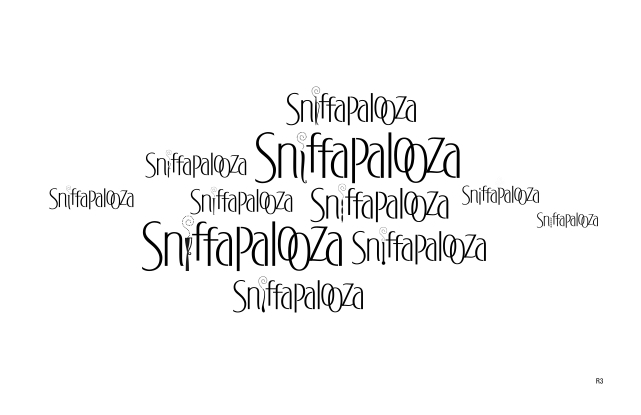 We established a good line of typographic styling, but we needed to move further — how to consider the concept of scent as actually embedded in the design vocabulary? Here, then, to the next grouping of studies: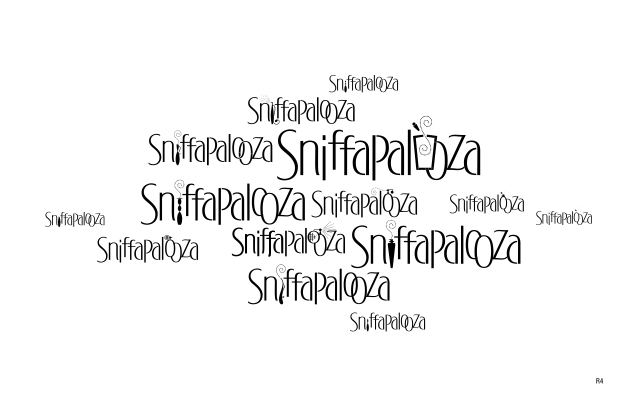 That idea, from this last round, found payment in the selection of one solution that played on the two o's in "palooza". Creating a misting device that suggested a mnemonic approach to the original Sniffapalooza mark (which actually used clip art — you've got start somewhere!)
Here's where that lead us, to the final(s):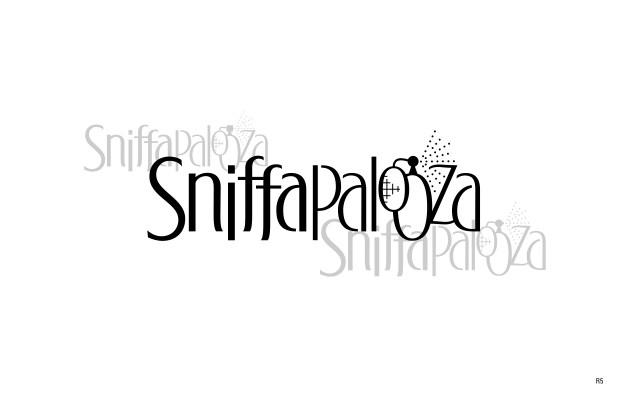 The history of this development is about listening. It's always about that, listening to the story (history!). And then building customized groupings of positioning visuals that will allow for the best way for that story to be concretely identified — the story told, the community entranced and relationships further expanded upon. It's all about that. One story becomes another, becomes another, becomes another. Just like perfume — the scent moves into the space of the mind and imagination. Memory is captivated. And people share.
That's our work.
Share the story. Share the love. Share the experience.
Tim Girvin | Decatur Island
girvin.com