I've been looking for truth. I'm looking for truth in my self — what do I do, in practicing what I tell, preach, to others. And telling the truth in the reign of the firm — what we do, what we offer, and how we go about doing it, in finding the truth and the heart of brands.
I'm looking for True Brands.
What I seek is:
A story.
A person.
An offering.
Integrity in the making.
Care fullness — in the distribution.
And a legacy that continues.
I had an opening connection with Fauchon, several years back, with former CEO Laurent Adamowicz. My link to him was Wharton | INSEAD, an alliance of colleges and universities in Europe and the US. I'd spoken to Wharton | INSEAD groups, in Paris — and finally, one morning, spoke at a breakfast encounter at Fauchon, Place de la Madeleine. With Laurent, later, we talked about the brand and its history, the legacy of the property and working together. Adamowicz, then a majority stockholder and chairman, engineered the US entry of the classic French gourmet, confections and beverage brands. Adamowicz brokered the alliance with Neiman Marcus as well. Stanley Marcus had an affection for the Fauchon store in Place Madeleine. In Stanley Marcus' memoirs, Quest for the Best, Stanley tells about his experiences at Fauchon in Paris. He enjoyed being among people who shopped at Fauchon to find unique, best quality products and to discover new ones.
To the history of the brand — the founding story. Established in 1886 by Auguste Fauchon, Fauchon might be reckoned as one of the world's leading gourmet food and specialty companies. The ultimate in French gastronomy, today, the Fauchon brand signifies authenticity, quality and innovation.
Auguste Félix Fauchon hailed from Normandy and came to Paris in the early 1880s. He was an apprentice of Félix Potin, who was known as the originator of the grocery "chain" store concept in Paris, having numerous outposts of his stores in each neighbourhood, and being the first to create manufacturing and distribution as an aligned channel. By 1885, Auguste Fauchon had become very familiar with all of the best fine food products and decided to go into business on his own. He started with a food cart on the Place de la Madeleine and then, a year later, opened his own fine foods store specializing in French products.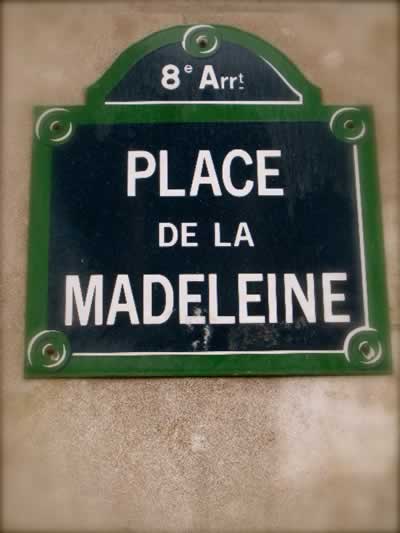 At the time, specialty epicurean stores were in vogue. Retail food halls such as the Food House set up by Harrod's in London, Dallmayr in Munich and Peck in Milan encouraged more culinary businesses. Auguste Fauchon needed very little time in Paris to do the same. The specially procured and packaged peppers, nutmeg, teas and coffees instantly became very popular. In 1895, Auguste set up, in the former post office in the Place de la Madeleine, his confectioner's shop, with its famous "Directoire" (rum plum-cake), "Saint-Honoré" and a bakery. But he had dreams of continuing his expansions. In 1898, the opening of Fauchon's "Grand Salon de Thé" was a memorable launch event — with it came the introduction of the Five O'Clock Tea, known as the French Tea — a Parisian institution that shocked the English, given their earlier century-long rivalry — and the standard "tea time," set at 4:00 p.m.
In 1923, Auguste Fauchon extended his business in the Place de la Madeleine by opening a new shop for bakery, confectionery and pastry products. It was here that his chefs invented the "Megève", the famous dessert named after the ski resort, still sold in Fauchon stores today. The following years continued the innovations, the growth, the times of extravagant luxury savored by the French visitors to Place de la Madeleine.
Written in elegant white letters on a black background, the now famous name Fauchon could be read on packages and on delivery vans crossing Paris all day long. During this time of continued expansion, Fauchon became the first company to introduce the concept of private label products in the fine food industry.
In 1938, Auguste passed away. From then on, the family business was taken over by Robert Fauchon, his son, and Robert Fauchon, his son-in-law. In 1952, the sons of Auguste Fauchon sold the most famous grocer's shop in Paris to Joseph Pilosoff, an industrialist.
Pilosoff executed an exclusive partnership with Air France, which opened new routes all over the world. The goal was to bring fresh, unknown or very rare products to Paris, as well as fruits in the off-season, from distant countries and various regions: cherries from Chile, pineapple from Kenya, limes from Brazil, white caviar, lotus root and the first avocados were graciously offered to Fauchon customers.
The Air France staff looked for the rarest products and supplied them to Fauchon exclusively. It is in this way that Fauchon became both provider and inventor — and continued the innovations in product development; in 1960, Fauchon introduced fruit-flavoured teas and, ten years later, flower-petal-flavoured teas. In the mid-sixties, the success of Fauchon's apple tea opened the gates to the Japanese market and Fauchon became the first and largest tea exporter to Japan and overseas. In 1972, Fauchon set up its first shop, in a licensing agreement, in Tokyo. Today, there are more than 110 Fauchon shops all over Japan.
A move to the American market began in 1998, when a group of private investors acquired Fauchon. This group, which includes the current CEO, Michel Ducros. Under his leadership and continuing guidance, Fauchon has focused on its historical strengths — the classic story of entrepreneurial passion, authenticity in context, consistency in quality and innovation in evolving product development. In 2000, Fauchon entered the US market and opened a flagship store at the corner of Park Avenue and 56th Street in New York City, and soon after began distributing its products in Neiman Marcus stores throughout the country.
Today, Fauchon creates new products, manufactures and provides consistently the highest quality, stringently-managed production and outstanding customer attention through its 650 retail outlets in 23 countries. Its main markets are France, Japan, Korea and the US. Recently, new stores have opened in Kuwait, Moscow, as well as Dubai.
But the core values hold to the character of the true story, the true heart of the brand, as exemplified in the innovations fathered in the beginning, with the father, then the sons, further catalyzed in later ownership, that purport the selfsame principles of their origination.
Being a speaker in Paris, several weeks back brought me to the square at Madeleine, yet again. And I'd wondered about returning for a visit. Substantive change has occurred — in terms of the retail expressions.
Here's an exploratory:
The main retail store, at the northern perimeter of Madeleine, Paris:
Using remarkably glossy material finishes — that are almost completely linked to the sense of packaging of their products, it's almost like the retail conceptions are just that — large scale packaging. Everything, intentionally, offers a delicate tinged "pink" — nearly ultraviolet in some applications, more restrained in others.
Staggered neon signing, rear cash wrap station:

Illuminated shelving details and merchandising displays:

Uniformed shelf stocker — in the corporate black and pink.

Pink acrylic Christmas trees.

Mirrored staircasing, main floor.

Gloss ceiling treatments and shelving.

Fauchon café — what I found compelling about this place was the use of unusually glossed and patterned materials — metallic tilework, gilded ceiling treatments and detailing.
Metallic floor tiling and gilded leather chairs.

Rippled and silvered walls and bakery merchandising:

Ceiling details, with signing.

Food item merchandising with slit ceiling paneling, reflected in floor tilework arrangements.

Gilded and molded food service trays:

Confection and epicurean stations.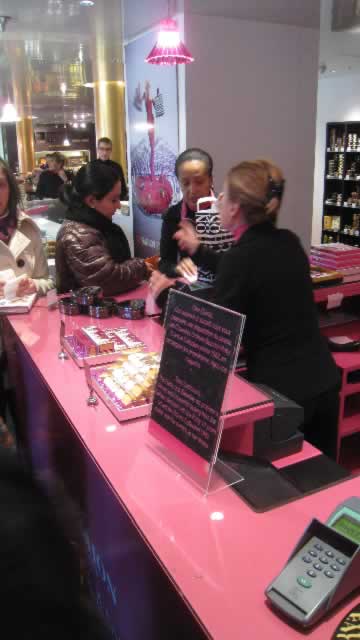 Caviar service.

There is an exemplar in expression that's holistically framed — interiors, materials, color managed in an extraordinary manner. For an extraordinary brand. A True Brand.
tsg | paris