I was talking to these girls this morning,
on the way to the office — and while I couldn't take pictures of them, since they are pitching this concept for a TV Series, I did take pictures anyway.
Love those pink gloves, I sez.
They weren't doing much, except for hanging out in front of the hotel that I'm staying at, in a precariously quiet street. Like, what's the point of being there?
I did give them a demo on jumping rope — which I sorely regretted, given the rising temperatures…
Sweet girls.?
Not sure about their punching abilities, comparatively speaking.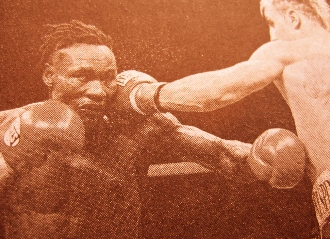 We'll see — Gabrielle, my daughter who's now exploring boxing, can keep her eye on the tube
to see if anything emerges. And what's the point about boxing? It's all you, nothing else. You are either in it, or out of it. Pretty simple.
And surely it's one of the toughest conditioning programs you could shoot for. It's surely stretched my limits.
Especially jump-roping with jeans on…
—-
T | NYC