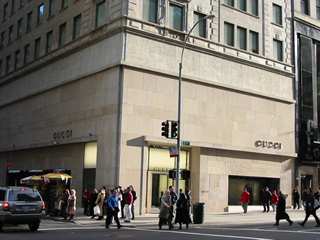 Gucci before, above — and now, Gucci anew:
Been here: blog.girvin.com/?p=323
I've been studying, though not buying,
the work of Frida Giannini.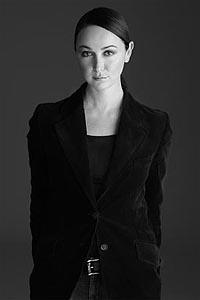 I've heard she's an interesting person. I reached to her. Wrote about some ideas and never heard from her. I'm not sure that I actually had the whole address, in Florence, her studio there. I wrote the entire letter by hand. Hand addressed. I don't know if she got it. Whatever.
I do have another friend that's linked into Gucci retail design — and runs that work for Gucci group — which is a conglomerate aggregation of luxury retail brands. What I mean is that Gucci is an organization that is owned by PPR. Gucci is a subset of that larger entity. I'd written about that, too:
She's now living in Florence, too. Her name is Sharon Frederick. I was all the more curious about her because she'd lived, as well, in Indonesia. I spent quite a lot of time talking to her about the Yves Saint Laurent work that we did. We were supposed to link up to talk about that — living internationally — sharing stories of South East Asia, but our timing never aligned. We did speak about the work that we did on the strategy side of the YSL work — and she said that we should keep after that. Meaning, that architects frequently do not have a strategy, per se, in designing something — specifically that relates to the strategy of retail. Visual tactics, implications of style — but less so the incipient link between strategic intentions, brand and business framing and…retail design. Whatever.
What I'm gesturing to here is a pattern that I think is interesting. The link between retail, story, brand, people, design and the guests therein. Think of brand as story — think of creative (or business) leadership of that brand as being the center of the story. The firestarter. Think of them as being people that just might be inherently deeper into understanding the brand — and better able to explicate the character of the story.
Examples might be — Tom Ford (William Soffield) and his leadership of YSL | Gucci | Tom Ford brand and store design initiatives. Rei Kawakubo, her stores — Comme des Garçon; Stefano Pilati – YSL (recently): Marc Ecko, Sean John — each played a role in the visioning of their stores.
The point might be that if you reach to the heart of the brand, the spirit of the making, the point of firestarting, that sparking ignition, it will be wrapped around the product. If one is intimately connected to that — the designer, the maker, then they would likely know what's best. The challenge is how to take the designers language from the fashion and clothing creation space work well in the context of interiors. Some designers are so intimately linked into the brand thinking that is associated with their holistic brand character and personality (which might be themselves) that the crossovers can be rich and immediate. A referential example might be Giorgio Armani. One language, one vision, supports, and purports, the purpose of all aspects of the brand experience. The premise is a universality of design skill and fluency — that crosses all media borders — ideated, built, manufactured, sewn, tooled and bound, that all speak about holism, of view.
Frida is this way, I believe. She's young, (mid 30s, I'd calculate, given that she was 30 when she crossed to Gucci | D&G) and was first brought on board as a bag designer for Gucci. Before that time, the creative leadership was split between her and another person. That might be the leaping point — that being a designer of bags is wholly a different material and fabrication vocabulary than clothing. And being able to do both is a crossover fluency.
I'm heading to Florence this summer, for a brief bit — and will try to connect with her then. Learn more, explore more.
The Gucci flagship store opened in Manhattan on February 8th and it's the company's largest presence anywhere in the world. Seems like Ginza is bigger. But what do I know. Overseen by Giannini, constructed in collaboration with architect James Carpenter (he also designed the glass skin cladding of the Gucci store in Ginza, Japan).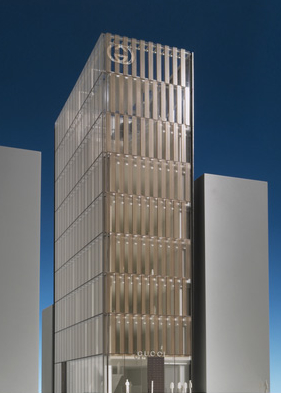 Carpenter is a remarkable amalgam, like Giannini, an artist and sculptor whose work focuses on developing new glass and material symbioses. Light, and glass, their interplay — is "essential to maximize daylighting, both in order to reduce energy needs and to improve the interior environment." The Gucci store has 3 glass enclosed floors, that are filled with radiant natural light, that showcases the rich interior in an modern and elegant way. There is a happy green alliance in the character of Carpenter's work, and supporting Giannini's visioning — having more glass reduces energy needs, which means less use of lighting and heating during the daytime. According to Carpenter's strategy — energy control using glass will be one of the most important architectural trends for the foreseeable future.
Design link: http://www.jcdainc.com/
Here's how Gucci defines the character of experience at Gucci flagship.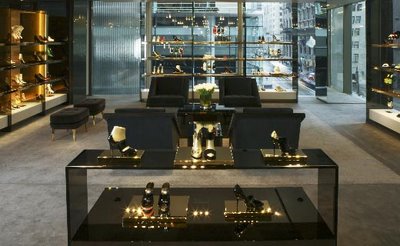 Here's my take: that the spirit of Giannini keeps rising to the occasion. She's an amazing talent — and it would appear, as well, that she's not only a great exemplar of the Gucci brand, but she's great at gathering the right talent to play along in the melodious character of her work.
GUCCI 5TH AVENUE
the concept
A towering glass edifice in the heart of Manhattan, Gucci's newest New York store is a grand architectural endeavor that is poised to become a global shopping destination. Situated at 725 5th Avenue, the store covers an area of 46,000 square feet gross that spans three spacious, warm, light-infused floors. Impressive in both size and scope, this new flagship is the world's largest Gucci store. It is a true original within the Italian luxury brand's expansive retail network and boasts a brand new design conceived by Gucci's Creative Director Frida Giannini.
Giannini's concept, which employs light and transparency to spectacular effects, is a grand departure from codified retail spaces and paves the way for Gucci's 21st century modern look. The gleaming glass exterior, which cuts a striking view from the street, is the result of celebrated architect James Carpenter's work. This external sheet of transparent glass spans all three stories, letting natural light pour through the space and allowing views both inside and out.
Historic Gucci materials such as dark rosewood and marble remain lynchpins in the store's aesthetic, however the entire space has been transformed by Giannini's reliance on natural light. An array of new materials such as ribbed glass, warm polished gold, smoked mirror and smoked glass, recall the elegance and richness of the Art Deco era and also afford the interiors incredible warmth and a striking graphic quality, in synch with Giannini's ready to wear designs.
Geometric lines, including stylized characterizations of Gucci's signature web striping, define the internal space, adding further symbolic detailing. For example, smoked mirror and smoked bronze glass alternate to allow for an elongated perspective; door handles are comprised of alternating gold and glass vertical stripes; the floor is covered in white marble that is sliced with a wide black marble strip that runs underfoot, up the wall and on the ceiling overhead; a fused bronze glass with a striped cross section and a cracked lacquer are used on shelving and display cases, while rails, with a square cross section, have been created in warm polished gold.
I like it, the crossover work of Giannini.
What's your take?
tsg | manhattan