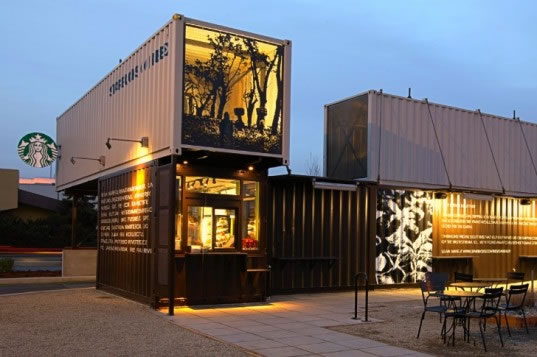 Innovations in retail place-making strategies
When I first heard about the idea of a new shipping container shop for Starbucks, I'd presumed that it might be the new modeling for the Evolution Fresh shop that was masterminded by Arthur Rubinfeld. But it's a different juice. That, the fresh juice strategy, it turns out, is another story. The notion of the container, as a LEED expression of the Starbucks global retail strategy isn't a new telling — it's been documented since a little more of a year back. Still, we've been referencing the newer positioning of Starbuck's retail concepts during the course of the past year. Speaking with Dawn Clark, AIA, LEED AP, the former Starbucks director of Global Retail Design,
she offers:
"For the whole story, this is a good reference:
http://www.fastcodesign.com/1670889/an-experimental-new-starbucks-store-tiny-portable-and-hyper-local#1
Core strategy, to the bottom line – a smaller, movable, modular, quick-install store for short term or low volume sites, part of a series of mobile store formats, with varied issues of transience and impermanence. rather than being 100% standard kit – the cladding is sourced locally by site, to contextualize and relate to it's neighborhood, while relating to Starbucks brand.
The patterns come from images of coffee origin – shade trees in coffee-growing landscape – and give a softening and link to nature in what are typically hardscape car-friendly environments.
I would add that the broader vision is to manifest the perfect balance of brand and place, while responding to the functional needs – a variable formula that is personal to every neighborhood. The use of local materials and textures on the exterior stand out against
the prototypical drive-by brand boxes."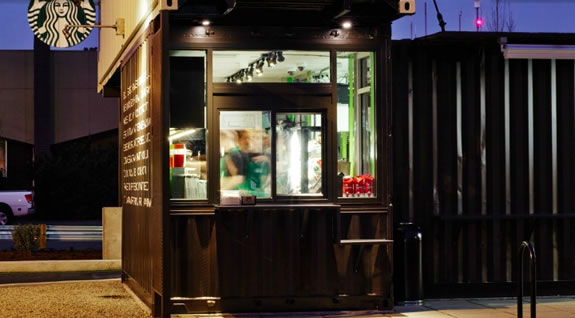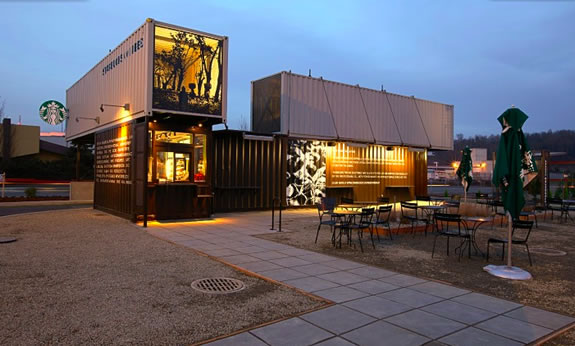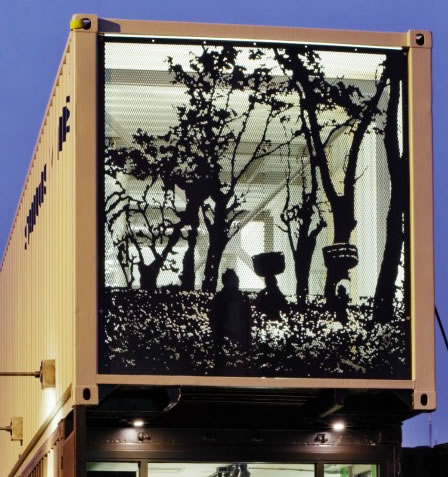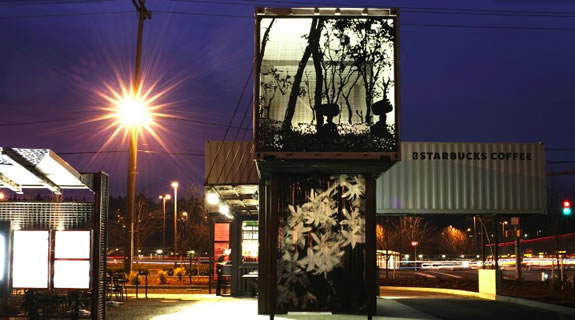 During the history of my relationship with Starbucks, part of my career was shunted by,
according to a conversation with Howard Schultz,
because I was already working with a competitor,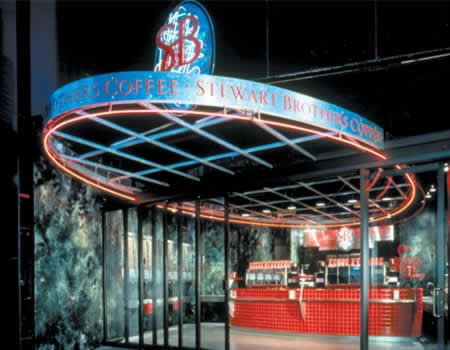 Girvin | Kundig retail and brand design for
Jimmy Stewart's "Stewart Brother's Coffee."
Then, later, they bought the brand.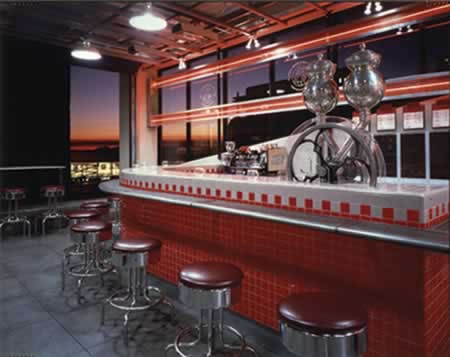 There's history there, that led to early collaborations with Jimmy Stewart, Jim Olson and
Tom Kundig, a childhood friend.
That story, began in working on early Stewart Brother's Coffee prototypes and the original branding of SBC —
which we,
in support of Mr. Stewart's legal need to change the name from Stewart Brother's
[we recommended the change to
"Seattle's Best Coffee" to hold onto
the then iconic SBC monogram — still purchasable at the landmark Post Alley shop]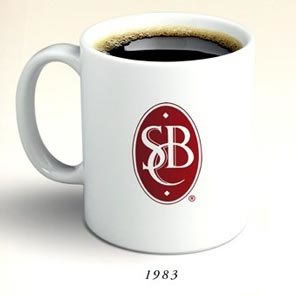 When I first heard about the shift to the new model — for SBC, and knowing Creature,
the selected brand team to support Starbuck's new shift,
I was up for, excited to see the new visioning.
Melissa Allison's notations below
overview the new planning.
"In Seattle's Best Coffee's latest divergence from corporate parent Starbucks, every new location will be a 523-square-foot drive-thru-only cafe.
Unlike at so many Northwest drive-thrus, though, the baristas won't be in bikinis.
The first drive-thru, slightly larger than 523 square feet, debuts Wednesday just off the sidewalk in front of SoDo Gateway Shopping Center at 2990 Fourth Ave. S.
The chain expects to open thousands of little red stores from which baristas will dispense brewed coffee, sweet flavored lattes, handheld pies and breakfast sandwiches that resemble Egg McMuffins.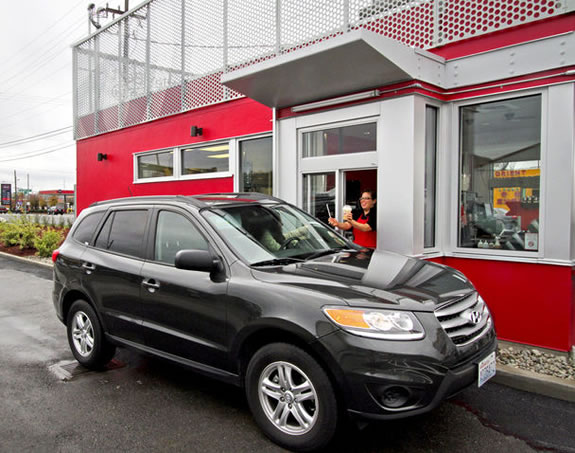 Photo by Greg Gilbert, The Seattle Times
If all goes according to plan, the tiny cafes will be situated mostly in empty suburban spaces, such as corners of Best Buy parking lots — affordable real estate that can be leased from a handful of corporate chains rather than lots of different landlords.
The stores will be owned by franchisees who can afford multiple locations, with launch costs at the low end of Seattle's Best's current startup range of $265,000 for a kiosk to $442,000 for a full cafe.
Seattle's Best is aiming for busy customers who do not have time to noodle whether they want one shot of espresso or two. They barely have time to swing by a cafe, and often pick up their brew while getting gas or breakfast at a fast-food drive-thru, said Jim McDermet, who runs the chain for Starbucks.
"A lot of people out there don't have cafe lifestyles," he said. "There are people working two jobs or going to school at night, and coffee helps get them through the day, but they've had to choose coffee that's not really good."
The uniqueness of the Starbucks strategy is
the persistent willingness to bet big on the planning of new prototypical services and retail models
to propound revived reaches to consumers.
These are not simple engagements,
but costly tactical explorations and developments —
I applaud their boldness.
CEO Howard Schultz, the brand fire of Starbucks
is surely the resilient igniter.
Tim | Girvin | Decatur Island Studios
The Strategy of Holism | Restaurant Experience Design
TouchPoints, Storytelling and Guest Engagement