Thinking Craft, Materials Cutting and Computation
I've been working on a series of journals. Recently, I'd been drawing from a iPad — and learning to craft formats and visuals that cross from photographic gatherings — and scribed, live, handwritten text. Tools are simple, but there are surely more complex versions. I've been using Noteshelf. I shoot with the iPad, then pull the content by hand, enlarge or reduce, to the page, then draw and write over the imagery.

It's different, but it's interesting to experience — a faster amalgam of content.
I think about the two forms, and one — the iPad, is likely flatter and less sensate. And the drawn journal, intensely sensual, touchable and humanly spattered with energy.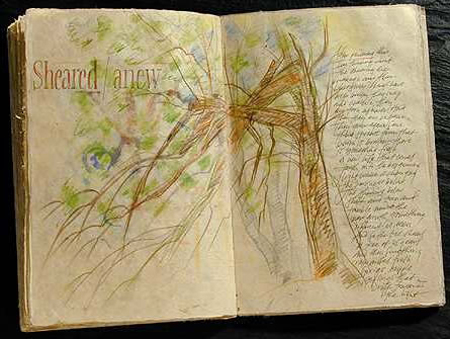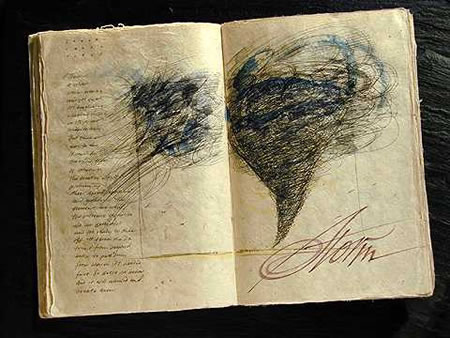 Like earlier notations on the journal, the iPad, drawing and tools — it's the balance between speed and combinant alignments with ideas, text, photography and visualizations, drawn illustrations; there's a clear difference. But there's a point to that difference. One, digital, sleek. Another — roughened paper, scented with humanity and places been, the smell of inks, pencils, glues,  pressed flowers and leaves — and perhaps, even the scent of the sun, warming it all.
In either, the more you practice, the better you get — either to the digital touch or the drafting pencil, crayons and stock.
The hand plays true.
Earlier, during the 90s, manning a staff of 80 employees at Girvin, 20,000 square feet of creative action, we had a series of teams, studios, working the edges of creative enterprise. One of those studios was Industrial Design, headed up by design partners John Bandringa and Robert Freed. We explored the idea of purchasing an amazing piece of equipment — a CNC, an automated cutting device for building complex prototypical forms. While fabulously costly decades back, these have become increasingly less expensive and now the idea of drawing forms, cutting paths are enormously simplified and accessible to nearly anyone that's interested in exploring drawing and fabricated, cut, outcomes.
Hand and craft comes to mind, speaking of the cross over between the notion of ideating work and the nature of replication. Drawing first, then digital (or at the same time). So, considering the idea of making things, then the potential the slip between "hand-cutting" an object for an artful application, and building this as a digital object becomes cleaner.
According to Peter Wayner, in a notation from 2009, the ease of "replication enabled by the digital era is coming to the tactile world, and one of its first stops is the two-dimensional world of paper, felt and vinyl. Computer-driven styluses can cut, burnish and emboss paper and other materials using instructions purchased or swapped on the Web." These cutting machines appear like printers and manipulate paper as in outputting for personal computers. However, they have blades instead of ink cartridges, and began making their appearance about eight years ago. In 2009, the cutting machine manufacturers have empowered their users to purchase patterns from professional artists and designers — making it easier for fabricators and crafting designers to share patterns through their online networks.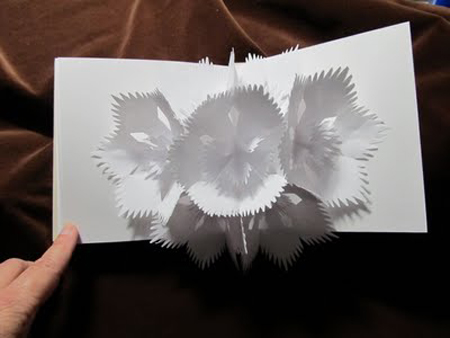 Cynthia Emerlye
Digital cutting examples to explore:
Slice — this is the ultimate portable crafter and cutter. From Making Memories, it's a patterning device, for cutting, that runs from batteries. I can't seem to find pricing information.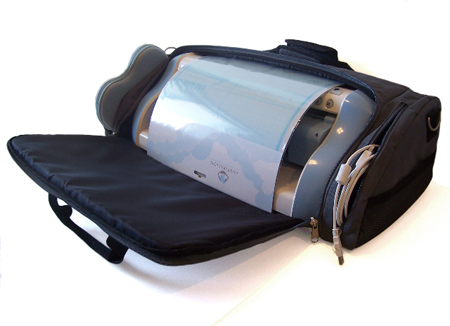 Pazzles — a "family owned and operated business dedicated to providing quality tools and services that enhance the creativity and productivity of our customers. That is why Pazzles products don't limit your creativity by imposing artificial limits but rather seek to both embrace the skills and abilities of beginner and advanced individuals alike." Using their cutting technology,"you can use any fonts, you can design your own images, you can take public domain clip art, turn it into line drawings that can then be cut," Pazzles CEO and founder Mr. Vander Woude said in the NY Times interview. $600.00, basic — $3,000.00 professional.
Cricut — Cricut is one of the product brands offered by Provo Craft. For over forty years, our mission at Provo Craft has been to inspire creativity by providing the best products, tools, education, ideas, and customer service. With creativity and ingenuity, we have expanded dramatically to become a worldwide manufacturer and distributor of craft, hobby, and education products. Basic $149.00 — larger print cutter $349.00 — hand cutter $300.00.
Silhouette — a digital cutting tool for personal use. It connects to your computer just like a printer, but instead of printing designs it cuts them with a small blade. With the machine connected to your computer, you'll get access to all of the fonts on your PC plus the thousands of cuttable designs found on the Silhouette Online Store. Cutter $300.00.
That principle of cutting, articulating form and patterned idea — this is shown in a relatively "crafty" manner. However, it's a building business — and while the reader might be a brand strategist or designer, thinking about the big, next app. — there are literally millions of others that are exploring their own personal visioning in things that they make by hand. Craft is big. $31 Billion big. I'm curious about seeing these applications in our community's hands and minds.
Slightly antiquated, the craft of papercutting — the decorative art of material patterning. Still, we believe in the power of the pattern to brand. And there's another link — the essential strategy of the new low cost rapid prototyping technology is essentially that: layered "cutting" of sintered material.
Tim
––––
Crowdweaving innovation: brand workshops
Girvin BrandQuest®