According to the Writing Instrument Manufacturers Association (WIMA) website "The purpose of National Handwriting Day is to alert the public to the importance of handwriting. According to WIMA, National Handwriting Day is a chance for all of us to re-explore the purity and power of handwriting."
In earlier notations, we've offer some reference to the depth of the hand — as a measure of the person. The mind sparkles, pulsing out an electrified gesture to frame that meaning — whether drawing or scribbled rendering.
The hand speaks.
At Girvin there is a leggy of complexly, and intimately, rendered uses of type — always first by hand, then digitally built as a usable artifact. It's our history, our legacy. Signing, packaging, movie logos, custom alphabets for projects and clients — it's our feeling that it should be hand built, then tuned as a digital object for dimensionality and utility. Drawing, using the hands, handwriting is a kind of dying art — people forget the expression of handwriting — a handwritten note carries more meaning because it it personal. Person-made, it's intimate.
ANOTHER ANTIQUITY: HANDWRITING


THE JOURNEY FROM MIND TO KEYBOARD AND THE FLUENCY OF THE FIST, IN-HAND, FINGERED — handwritten ––
Thought-bound, WORDS, POEMS
AND HEARTS
DRAWN OUT
LARGE.
There is more to handwriting than one might expect.
We've talked about the nature of design and the signature — that design is inherently a signing, a human signature that speaks to the nature of the person that is doing the interpretation. Genius lies in that interpretation —
the genius of persona.
A genie, a guardian, a tutelary guardian spirit that watches over —
each person's creativity, everyone's making.
Their light shines, brilliance glows, their luminous cartography maps itself.
Some people design in one way —
and in
that way that they design is
linked to their being:
seeing,
what mind and meditation brings,
and the outcomes that flow from the electrical gathering — sight, insight, mind, shoulder, bicep, forearm, wrist and digits, a conduit of ideation.
Handwriting marks the cadence of that current
in a way that is surely as much of an expression of
a person as
how they stand,
gesture,
smile,
stare,
watch
and listen.
Handwriting is drawing language,
thought translated from impression to graphical expression —
how that happens is tinged in
the personality of the individual.
Drawing too, is magical — speak a word, scribe it, and a translation to another plane might emerge. Most sigils and mystical marks invariably involve a handwritten scribble of empowering and transdimensional words.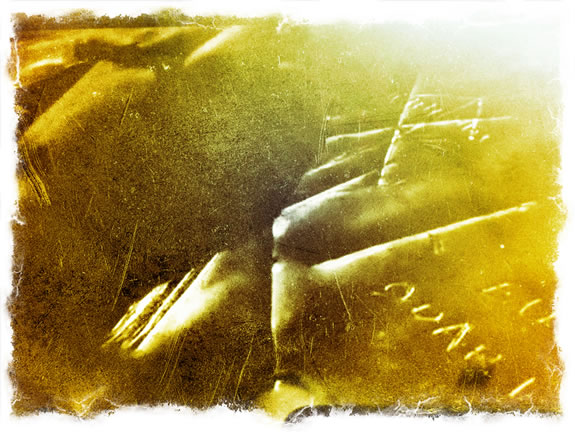 Words, like voice, have power — stories told.
Entrancing engagement and
unforgettable layers of
consciousness, meaning, history
and deeper strata of content.
The alphabet alone is a string of markings whose lineage is misted in the long legacy of time and mystery.
Write by hand and you shine through.
There is the magic of you in the strokes
that unfold in the explication of your telling.
Tim | Osean Studios
…..
G I R V I N | BRANDS BASED ON GENIUS
BUILDING STRATEGY AROUND PEOPLE
http://bit.ly/s1PEyI