I'm interested in the work of Herzog & DeMeuron.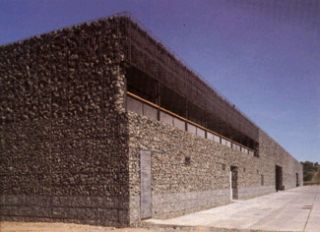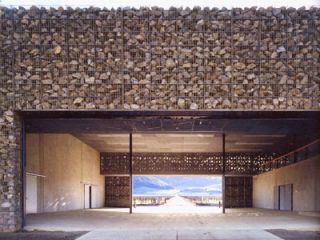 The Dominus Winery | Napa Valley
And who isn't?
Interesting, the art of it — the work that they do. But what I'm fascinated by is the notion of the raw realness of the work — the truth of story, visual and connection. Truth fullness — in design. It's a hard thing to do — finding that sense of realness — this position of truth in creating design. What could I possibly mean by that? There's something to the work that they are exploring that somehow transcends to something different, some thing more basic, nearly fundamental, soulful perhaps — art full. More direct, more raw, more emotionally striking. I admire the discipline of architecture in many layers of manifestation. And the work of varying firms can be some of these things: it can be clean. Powerful. Lean. Jagged. Bending or splayed. Human.
I'm sure that you might find others that speak to this character — that go there differently. But still, this team is special. They seem to combine elements that are texturally compelling, contextually symbolic with intriguing integrations — and what one might think of enchantment in drama. The sheer archetypal character of their forms and the relationship to how people react to them is overwhelmingly startling.
More agree:
"Herzog & de Meuron Architekten, BSA/SIA/ETH (HdeM) is a Swiss architecture firm, founded and headquartered in Basel, Switzerland in 1978. The careers of founders and senior partners Jacques Herzog (b. 19 April 1950), and Pierre de Meuron (b. 8 May 1950), closely paralleled one another, with both attending the Swiss Federal Institute of Technology (ETH) in Z They are perhaps best known for their conversion of the giant Bankside Power Station in London to the new home of the Tate Museum of Modern Art. Jacques Herzog and Pierre de Meuron have been visiting professors at the Harvard University Graduate School of Design since 1994 and professors at ETH Z since 1999.
In 2001, Herzog & de Meuron were awarded the Pritzker Prize, the highest of honours in architecture. Jury chairman J. Carter Brown, commented, "One is hard put to think of any architects in history that have addressed the integument of architecture with greater imagination and virtuosity." This in reference to HdeM's innovative use of exterior materials and treatments, such as silkscreened glass. Architecture critic and Pritzker juror Ada Louise Huxtable summarized HdeM's approach concisely: "They refine the traditions of modernism to elemental simplicity, while transforming materials and surfaces through the exploration of new treatments and techniques."In 2006, the New York Times Magazine called them "one of the most admired architecture firms in the world."
Where they live: http://eng.archinform.net/arch/291.htm
I've written something about Jacques Herzog and Pierre de Meuron.
Here — and here:
Speaking of the notion of the archetypal, in architecture, the Bird's Nest structure for the Beijing Stadium is a remarkable, even — if I might say — terrifying solution. Terrifying? Terrifyingly real…The audacity of the structure is courageous — and almost terrifying in scale, to envisage. Wonder full. And isn't there a little terror in seeing something so extraordinary?
Startling. Terrific!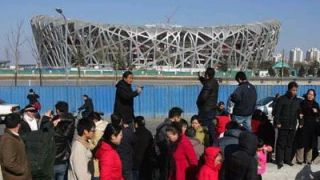 Visitors photograph themselves Tuesday in front of the National Stadium in Beijing. The stadium, known as the Bird's Nest, will be the main site of the 2008 Olympics. (Greg Baker/The Associated Press )
More, to realization — and now, actualization: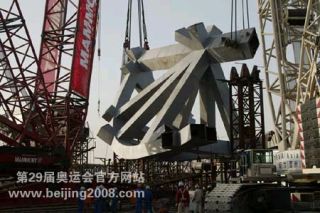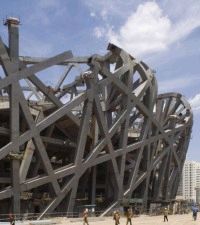 The engineering firm that orchestrated this characterized nest: http://www.arup.com/
There's more invention.
Walker Art Center – a hanging stone chandelier:

The Allianz Arena:

The DeYoung Museum:

What's the point?
No fear of experiment — what's to lose?
Love of symbolism — go in, find more: layer.
Considering message and environment entwined.
Seek nature, find spiritual breath there: inspire me.
Thinking of architecture as a kind of graphical interface — concept, form, symbolic applications and integument — aligned and robust.
I'll go there, explore. Look to nature for more. Fear less.
That's what I've got. What about you?
tsg | queen anne hill | seattle