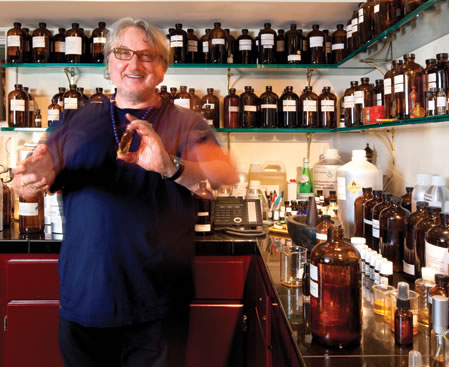 2011, photograph by ©Steve Henke
The Agent, An Axiom of Ayurvedic Principles,
the Founder of Aveda, Intelligent Nutrients, Moves On.
Remarkable people have a weaver-like mingling of a tapestried storytelling that frames out the threading of their lives — they make discoveries early, they choose their threads, match up the colors that they like, and tie knots and lacing concatenations in matching up the warp and weft of living, large and deep.
Plants figure large in the holistic beauty of his visioning, and the access of beauty being the bridge between his imaginings and communities worldwide, that love him, his shops, his promise —
to earth, in wildness, as it has been said,
the preservation of our earth.
For Horst, in my talks with him during a conference on Beauty [WWD Beauty CEO Summit] it was his Mother, and her early influences of herbalism, combined with journeys, and studies, in India that entwined his lively and enterprising curiosity.
One inspiration, and another responsive training, brought him to an early apprenticeship in hair, styling, salons and building out an array of models for schools of training, competitions, philanthropy, and in journey on journey, exploration in examination, the threads continue to intertwine and weave in building out the legacy of a beautiful life. What is the core learning from one engagement becomes the foundation for
the next tier? The foundational strategies and health-driven sentiments of
Aveda becomes the layering of the experience and product storytelling truths of Intelligent Nutrients.
That earthly protection continues in the principles of his enterprises, founded then, continuing now.
In the joy of my exposure to remarkable people,
it's the metaphor of weaving that holds true
in my memories of these moments.
One threaded idea overlays
another, the color of an
inspirational string,
a theory of
entanglement
and imagination.
The beauty of a tapestry is that its making lies in what is seen — and what is unseen — and how the two of them come together.
Known and unknown.
Above and below.
Front and back.
Shadow and Light.
Horst came off, in conversations,
as whimsical, happy, lively and laughably eccentric — jolly!
But thoroughly engaged in the strategy of his brands — old and foundational, and new in just taking flight.
Beautiful, the life lived:
passionately,
with curiosity,
with a mission,
and a promised commitment.
Life long.
Yet his, too short.
An honor to have known him for a moment.
TIM | GIRVIN | DECATUR ISLAND STUDIOS
….
HOLISTIC WELLNESS & PLACE
THE STRATEGY OF CREATING
HEALTHY PLACES OF BEING
https://www.girvin.com/subsites/wellness
DESIGNING ENVIRONMENTS FOR HEALING + HEALTH:
PLACES | RETAIL | RESTAURANTS | SPAS | WELL CENTERS
wellness experience design, storytelling + brand = http://bit.ly/XIQ0vm