What is the brand of place?
I've thought, long and hard, about the idea of brand in place. Moreso, the concept of the contained generosity, in sharing, and the nature of the host, the hostess, in creating a place of content — made; that is: if there's a place, then what's the story that might be connected with it, as well as how might that be experienced. Host, sharing, hospitality, community.
Being someone that works on the making of place — and having worked in the realm of finding and exploring better ways for hospitality to connect with relationships — I go in, look, explore, sense, and examine how to make things better. I snoop around. I get into the "back of house". I schmooze the GM. I study everything. Perhaps, this study is about knowing what it means — orchestrating the symphony of sense components —
So in working for Kerzner, MGM Mirage, Canyon Ranch, Fairmont, or Starwood, over time, I go back and back to the very nature of how hospitality works. What I've experienced recently, for example, in speaking with the GM of a local property, is the marvelous string of community connections, in going back and back, over decades of connections in the hotelier trade. From the early founding days of Westin, a designer for the St. Francis – San Francisco, Hiltons, all over the world, Jumeirah — designing, after all — everywhere. I savor that, knowing the best of the best, leads one to keep looking for more, to Philippe Starck and Mama, Candela and Tom Piggot; James Simkins and team at MTM | Luxury, the Adam Tihany, Sarah Tomerlin Lee, friend DD Allen, the Kellers, among others. The tradition of design goes back, I go back. And I go forward.
I found it interesting some of David Byrne's remarks about the state of the future, and the evolving state of design emerging for hospitality. The point is really pretty simple. How hospitable? That question reaches back, several thousand years. What, to the meaning of a place made hospitable? Hospitality. Better, host: "person who receives guests," c.1290, from O.Fr. hoste "guest, host" (12c.), from L. hospitem (nom. hospes) "guest, host," lit. "lord of strangers," from PIE*ghostis- "stranger" (cf. O.C.S. gospodi "lord, master," Goth. gasts, O.E. gæst "guest"). The biological sense of "animal or plant having a parasite" is from 1857. The verb is 1421, from the noun. Hostess is attested from c.1290. I like that idea, "lord of strangers". In speaking of the concept of the host, the hostess and hospitality, I wonder sometimes about where it's going. So, too, David Byrne. He's a dense blogger, and it's interesting that he spends the time, so carefully articulating his observations. They are compelling. He offers:
"07.21.09: Italy — I Have Seen the Future and It Is Broken

David Byrne | photo
We are staying in a large hotel that is very design-heavy — like a scene from 2001, the movie. We've stayed in boutique hotels before, and they typically feature dark hallways and clubby lounge music in the cafés and elevators, which are often also dimly lit. Philippe Starck and others have a lot to answer for, having been responsible for the top of the line and premier versions of this trend. This hotel puts the receptionists inside a kind of pod."
Byrne goes on and on — and it's a pretty amusing sequence of observations of experience, iron(ed) bath water and all. Those comments take me to actually three places, each compelling in the notion of experience design — creating something for people to sense and be enveloped in; sense surround(ed). That might be merely the white on white character of his notation, about this particular hotel, or the star(c)k spectacle of it. I believe in drama, as long as that drama is authentic to intention, captivating attention. There's something dreadful to artifice in hotel design — where experience is based merely on the concept of superficial gesture and contrived place-making.
For the Starck experience, I've talked to him several times, TED, Mercer, Paris Palais Chaillot — as well as his spouse — then, not now. The 90s, it was someone different. Now, I'm not sure who that is — there's a person that's his "business partner", but might be more, I suppose. Jasmin?
But, what I wonder about is a merge that might be seen as more honest, simple and honest, direct — Mama. There are more stories there. But another place that I savor, to the complexity of experience, loved in design, is the mythic character of Gramercy. What I'm curious about is the notion of the design of an artist, the painter Schnabel, now making films, painting installations — and, to his work with Schrager, the visioning of interiors. I like that crossover; and I suppose that this blog is about that — the connectivity of ideals.
I'll close here. James Turrell. I was among the founding Center on Contemporary Art team colleagues that brought James Turrell to Seattle, decades ago. And working in Miami, just weeks back, I wanted to explore that — James Turrell and the Fontainebleau. While the Fontainebleau is having sore challenges in the tumultuous market, the innovation of using James Turrell in the design of their Miami interiors is compelling. What I see, is here.
Here, to installations of light, formlessness, space in coloration, beauty: found.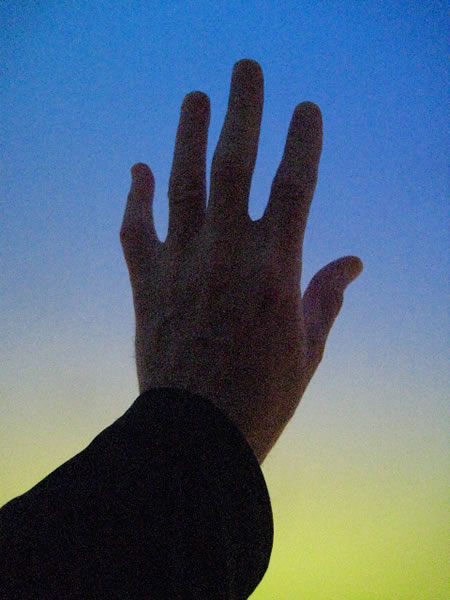 What's I'd offer is that art, design, space and the emotional richness of place-making find a curious rippling of effect — the rhythm of place made whole — the light, fantastic.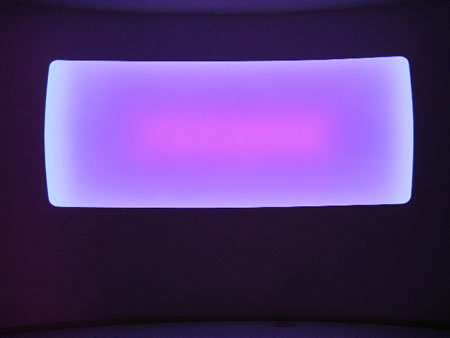 There are ways that stories can be told, that speak less to the strategic and more to the heart full — stories that draw on soul strings, less on brand strategy alone. Would be good, of course, for all of us in the space of brand development and strategic attention, to focus on the new alignment between the notion of the spiritually motivated, the instinct of experience and how they could be matched up.
I believe in that. Art, soul, experience, magic, mystery. It's coming to the surface. More will be scene.
Twitter: http://twitter.com/tgirvin