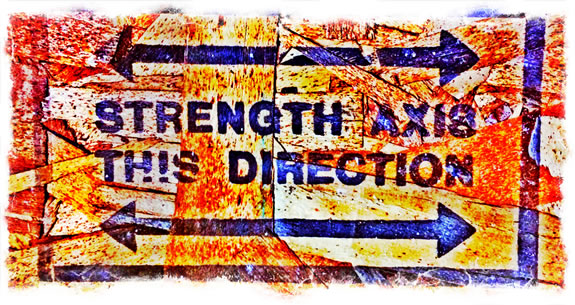 Resilience, strength, responsiveness
Brands, given their human provenance, have human character in their attitude. A brand doesn't simply move along of its own accord, it's not a robotic unit, it's fired and fueled by humans on both sides of the equation.
People dream.
Make something.
Offer it to others.
Transact a compensation.
And what happens?
Works in the mind of the crowd,
is embraced or — neglected and unobserved — it falls away and becomes a dusted and extinguished memory.
Great brands, ones with fire and verve and energy learn to swerve to new contexts of meaning and relationships.
In the present era, we — as consumers — expect transformation and resilience, we have come — all of us — into an ever-present state of change. Immanent impermanence.
Everything changes,
all the time;
nothing is stable.
In studying long-running, resiliently operating brands — there needs to be a threaded stickiness between maker and user.
There is an adhesion
of utility that speaks to:
"the reason why I buy this brand,
and pay more for it, is because…"
Because what?
"My Dad bought these, brought them home, and I can never forget that taste,
smell,
handling,
warmth,
durable and long-lasting character…"
"I had these,
and I liked them
then, and
I liked them
now.
They feel right."
But what that comes down to length, stamina, resilience. I've worked on brands that are 600 years old, 350 years old, 100 years old, 75, 50, 25, 10, 5, newborn.
And I can tell you that in each, a stamina comes from inside the brand — its human leadership:
a resilient strength,
a listening vivacity —
a tenacity in visioning.
Gets up,
goes in to work it,
it gets stronger —
it ripples from the top,
the key leadership:
they drive,
they get stronger,
they watch,
they roll onwards — up, in, deeper.
Stronger.
Better.
Watchful.
Flexible.
When you think about it, what brands, what enterprises come to mind?
Solid, long-running, changing, but still holding to the same thread — the reason for being.
Why just do when you can be?
Brands that have that resilience might be — to a fast recollection:
this reckoning —
Nordstrom.
They are:
Long-running,
stable,
listeners,
and ever-evolving.
Experimenting.
Tuning.
And committing to enormous change.
That's where it is.
The strong last.
The strong change.
Tim |
GIRVINOSEANSTUDIOS
…..
G I R V I N | SOCIALITY + MEDIATION
DESIGNING BRAND STORYTELLING IN HYBRID MEDIA
http://bit.ly/sJ4IjO