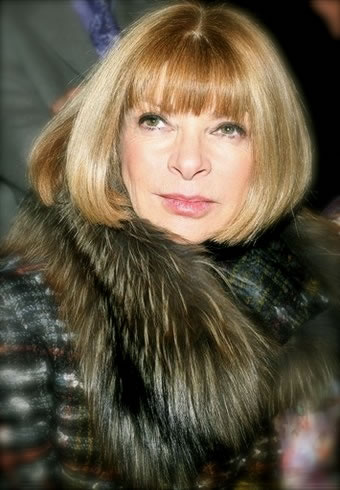 A series on Human Brand | defining the inextricable link between people, founding vision and the brands that they produce.
I've swung in and out of Vogue, with minimal amounts of work to do — precisely from a professional standpoint — with the magazine for decades. Meetings, portfolio showings, pursuit of projects. But there were connections, exposures, there. It had been a friend working at Condé Nast, or a person looking for some kind of advice, an advance from Calvin Klein — "go see them", or a note from Ralph Lauren , or Lottie Oakley. Others. But I've been in and out of there — mostly working specifically the art side of the equation; brand art — the art of the brand at Vogue, and more so: Condé Nast. Type systems, the master logo, alphabets, things like that. But it's another world, and a very big world indeed. And, in a way, like many things that might mystically allude to what one might call luxurious — it's by invitation only. And Vogue is really only part of that publishing world, the label of Condé Nast.
And there's really one person at the center of it, Vogue world, Anna Wintour — I've not met her, nor worked with her directly, but have seen her but from a distance, standing on the street, waiting for her car. There are presumptions of seclusion that resonate to her personal brand positioning. And the point is focus.
A penultimate focus on the relationship between fashion, her vision and the nature of her audience — the community of Vogue — is a long running affair. Indeed, the magazine is more than one hundred years old. And aside from its age, it's one of the most influential fashion publications on the planet, ranging 17 countries and Latin America.
In December 2006, the New York Times said that "Vogue is to our era what the idea of God was, in Voltaire's famous parlance, to his: if it didn't exist, we would have to invent it. Revered for its editorial excellence and its visual panache, the magazine has long functioned as a bible for anyone worshiping at the altar of luxury, celebrity and style. And while we perhaps take for granted the extent to which this trinity dominates consumer culture today, Vogue's role in catalyzing its rise to pre-eminence cannot be underestimated." And that idea of invention might be the real lead to Wintour's personal brand — seeing ahead, and constantly turning and tuning the magazine to feel, and to live in, that place.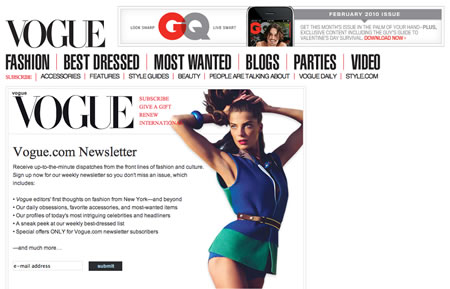 Speaking further to legacy, and the historical foundation, the magazine was founded as a weekly publication by Arthur Baldwin Turnure in 1892. When he died in 1909, Condé Nast advanced the pace and slowly began growing the publication. Changing the publication sequence, Nast changed the printing for the magazine to appear every two weeks instead of weekly. Nast also went overseas in the early 1910s — first went to Britain, and started a Vogue there, where it was well received. Moving the magazine to Spain — as a product concept — was a failure. Finally, Nast took Vogue to France, a raging success. The magazines number of publications and profit increased dramatically under Nast. The magazine's number of subscriptions surged during the Depression, and again during World War II. In the 1960s, with the emergence of another human brand, Diana Vreeland as editor-in-chief and personality, the magazine began to spread its appeal to the burgeoning youth movements of the sexual revolution by focusing more on contemporary fashion and a looser editorial positioning openly discussing sexuality. Vogue also built more celebrity into the space of fashion market, and making household brand names out of models, a practice that continued with Suzy Parker, Twiggy, Jean Shrimpton, Lauren Hutton, Veruschka, Marisa Berenson, Penelope Tree, and others, according to Eleanor Dwight's "The Divine Mrs. V," New York Magazine. This legacy evolved later under the leadership of Wintour.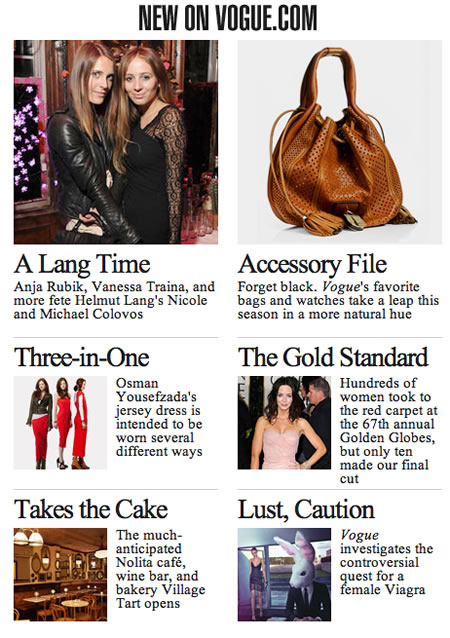 A Time magazine Design overview expands on Wintour's capacity. According to Michelle Orecklin, Wintour is a continuing show-stopper: "Runway shows don't start until she arrives. Designers succeed because she anoints them. Trends are created or crippled on her command." As the editor in chief of Vogue "she is determined to use her power for good, not evil."
That reputation for being glacially inscrutable, befitting the severe "protectionist" perfection of her English-bobbed hairstyle and relatively unassuming wardrobe, Wintour has taken on a contrapuntal kind of mothering posture to early designers and her own sense of worthy causes, most of which have to do with fashion related issues.
Since taking over the Condé Nast publication in 1988, Wintour has guarded the magazine's premier status among fashion publications—in both circulation and prestige. In building "her" brand, she has brought the magazine's tone down from its loftier heights, acknowledging that "trends are as likely to start from the ground as be decreed from on high and offering tips on how to get runway looks for real-wage prices." Film director, R. J. Cutler offers, "Anna Wintour who played such a critical role in the whole idea of fashion merging with celebrity, power and global industry. She really saw the future and used Vogue to point the rest of us in that direction. On some level you could say you wouldn't have InStyle Magazine at all had Anna Wintour not decided to put celebrities on the cover of Vogue from her earliest years as Editor in Chief." These days, that sense of accessibility is faltering. And change, in strategy, is emerging, with McKinsey consultants swarming the decks looking for cost-cutting reductions — staff and expenses.
Strategically, this maneuver is out of tactical necessity: to maintain a high circulation, she must appeal to as broad an audience as possible. In building the ever growing fray, she has proved herself committed to discovering and fostering new relationships, in addition to fertilizing the field of new talent. In 2003, for example, she joined the Council of Fashion Designers of America in creating a fund that each year will bestow money and guidance on at least two emerging designers.
From her aerie, she has also taken on social issues and urged others in the industry to do the same. "I have always believed that it is important to understand Vogue's mission in broad and socially responsible terms," she says. She got Vogue to contribute money to open beauty salons in Kabul, creating jobs for newly liberated Afghan women; a story on the project ran in the magazine. After 9/11, she organized the sale of specially designed T shirts to benefit a Twin Towers fund and spearheaded a p.r. campaign to get people shopping again. She helped lay the groundwork for the CFDA/Vogue Fashion Fund, which, after years of industry lip service, provides the first practical support for young talent. She was one of the first to focus on bringing out tactics to engage shoppers during the recessionary downturn — she's even pitched that orientation to the French recently, exhorting the government to be more supportive of its fashion industry.
All this aside, there is a distinct sense that things might be in sea change at Vogue. And this might be evidenced more in the consideration of embracing alternate models of community development, and online relationships and marketing more than the typical lavish, forest slashing bible that the magazine has represented in decades of fat publishing. Who's not guilty of this challenge, in the magazine trade, really?
It was "The September Issue" that rekindled my interest in Anna's brand. The film is a documentary about the creation of a single, very fat issue of American Vogue in a "far-off gilded age (i.e., 2007), that in reality has little to say about fashion, the real ins and outs of publishing or the inner workings, but more to the entertainment management of a brand that Ms. Wintour has captivatingly cultivated since she assumed her place at the top of Vogue editorial masthead in 1988. As a positioning boost, it worked for Anna Wintour. To Tina Brown's interview, "Now the movie is a hit. Anna is bigger than ever. After so much reality TV and confessional celebrity interviews, the public is tired of accessible stars. Who needs them to be Just Like Us? Just Like Us means just as boring as we are. It's mystique today that everybody craves. What's she really like behind the dark glasses? Anna's appeal is that she has no interest in pretending to be human." And, to the credit of the documentary's director, R. J. Cutler, has helped polish with a take so compelling and intriguing he might as well work there as a publicist. The 88-minute movie begins with Ms. Wintour explaining that "there is something about fashion that can make people very nervous." That's an understatement to the actual persona of Ms. Wintour — who, herself — makes everyone nervous.
To all the pain that she inflicts on her staff, fearing and eyes popping in disbelief with the carriage of her changes and ideals, in actuality, Ms. Wintour was — and is — just doing her job — mostly in an emotionless conditioning. There's a sense of cruelty here, but of the most attenuated kind: she says no, employees fret, stumble and tremble. But they do.
The strongest players, like the flame-haired Grace Coddington, the magazine's longtime creative director and the documentary's hugely diverting stealth star, seem to have figured out how to survive with their dignity intact. Patience, focus on the ideal and striding to the light of the next issue.
It was actually Coddington that surprised me the most, given her early career as a model, then later as a "accident survivor" repositioning herself as a art and creative directrix. Her styling drives the magazine and her unfazed positioning as the second half, struggling to keep up with Anna Wintour's vagaries, is fascinating.
More so when I got a letter from her. Or rather, just after another from Jessica Biel.
---

TIM,

I grew up on Holy Island, a small community just off of Anglesey in north Wales. I didn't have much access to fashion – there was only one not very good department store in town. So I got a subscription to Vogue; I needed a source of fashion information, and inspiration. I think I was the only person who had a subscription for miles around.

Each month I'd receive a new issue, which invariably would be something like six months out of date. The magazine featured magical photographs and clothes – and also Vogue patterns from the Paris couture, which I used to run up on my mother's hand driven Singer sewing machine.

Vogue also got me dreaming of becoming a model. There was one issue, in 1958, that announced a model contest, with a picture of a beautiful model, Nena von Schlebrugge (Uma Thurman's mother) who was photographer Norman Parkinson's favorite. On the strength of that, I decided to go to London and take a chance. I entered the competition and won, and, well, the rest is history.

What's your Vogue story? How long has the magazine been a part of your life? Share your story and we will publish one of our favorites in the April issue of Vogue.
Grace Coddington
Creative Director, Vogue
The interesting telling here is a reach to rebuild community and relationships. After considering the idea of writing about Anna, I signed up to the Vogue community. And these came. Vogue's going through challenges, rethinking their web relationships and community branding relationships. So it was a curious alignment to Girvin strategy on storytelling that lead to an opening pitch of that renewed pursuit of adhesion. What's your story?
That's a good overview to positioning and reframing the magazine — what is the relationship of community to Vogue? And in any branding enterprise, it's always about the sense of connectivity between brand, culture and humanity. Brands are made by people for people, a foundational equation — forget that link and there's almost no point in beginning the offer. To Coddington's reach — herself as a story in a story — it's the beginning of a narrative that might help the magazine rebuild itself in gathering relationships.
Anna Wintour, in the character of her unreachable fortress of personality, nearly impenetrable, she is a story — a human brand that, in the inherent character of her sense of profound attention and focus — drives onward the character of her search for the new.
As a human brand, Anna Wintour will need to be continuously re-making herself — and the spirit of the magazine's legacy that she has so proudly built.
Focus, passion and commitment even if the evidences of her promulgation are seemingly blanching in her dispersal of mission in command.
tsg
….
Love | fashion branding:
https://www.girvin.com/blog/?s=fashion
New York City + Seattle | Tokyo
the reels: http://www.youtube.com/user/GIRVIN888
girvin blogs:
http://blog.girvin.com/
https://tim.girvin.com/index.php
girvin profiles and communities:
TED: http://www.ted.com/index.php/profiles/view/id/825
Behance: http://www.behance.net/GIRVIN-Branding
Flickr: http://www.flickr.com/photos/tgirvin/
Google: http://www.google.com/profiles/timgirvin
LinkedIn: http://www.linkedin.com/in/timgirvin
Facebook: http://www.facebook.com/people/Tim-Girvin/644114347
Twitter: http://twitter.com/tgirvin