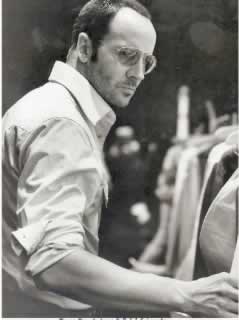 This is the second in a series on Human Brand | defining the inextricable link between people, founding vision and the brands that they produce.
"As a fashion designer, I was always aware that I was not an artist, because I was creating something that was made to be sold, marketed, used, and ultimately discarded."
Tom Ford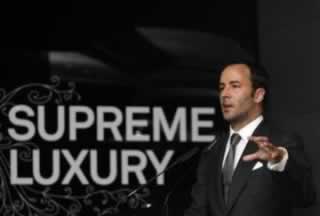 I'm fascinated by people. I like to simply watch them, look at them, listen to them. I learned this trait from my mother, I'm guessing — she too savored the art — the "watching" of them. People watching.
In the years of watching people, working around, through and with solutions to bridge the link between product, offering and resonance — and people, I've found that there are certain connections that are ever present.
People get bored; people get captivated — by what they do.
What drives that — the difference between these two extreme conditions? In corresponding with the scientist and professor, Mihaly Czikszentmihayli, it's about flow. What brings people to flow?
A state of persistent happiness — and the passion that drives a connection between the heart, action in work — and living; that somehow, these are joyously combined.
I'd offer, that more often than not, brands that are human — human brands — actually live in a state of flow. A person that drives the soul of holistic experientialism in the human brand, living and learning in comprehensive experience also self captivates — what they do is what they are. They are in flow.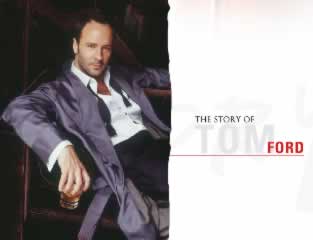 I'd proffer that Tom Ford, as human brand — and the others in the series that I'll be exploring — is drawn, are driven by, this kind of actualizing energy. Doing is being.
So in the history of Tom Ford, it's really about that proposition: doing — in being; and repeating that exploration — the story in history: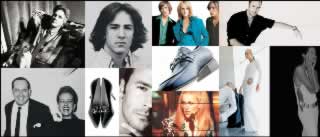 I've talked to Tom, to learn more. And I've spoken with his colleague, Shirin Von Wulffen, as well.
Tom Ford, under the leadership of Dawn Mello's chief executive counsel, revitalized Gucci in the 90s, engaging in a transformation of the dormant — then historically "styled" — line into one of the preeminent, hot fashion groups. Tom was simultaneously directing the creative evolutions of YSL — being the first creative director of that enterprise after the retirement of Monsieur Yves Saint Laurent.
With a breakdown in negotiations with Gucci leadership in 2003, Ford and business partner, Domenico De Sole, settled their closures and departed the Gucci Group.
There were renewed actions immediately — a cosmetics fragrance collaboration with Esteé Lauder, product development — as well as a line of sunglasses, both successful but in no way comparable to the designer's former level of prestige and influence. That, however, was hardly a stopping point. Rather, a catapult to expanded action.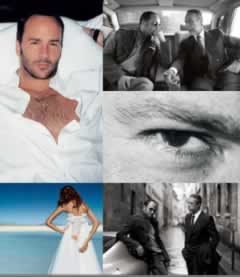 However, Tom Ford now seems poised to once again summit the fashion branded architecture with his latest venture: a line of luxury men's accessories. This array of offerings — headed by Savile Row-inspired suits and bespoke tailoring, and a flagship store in New York, quickly catalyzed in installations expanding elsewhere. The opening shop – described to WWD by Tommy Fazio, men's fashion director at Bergdorf Goodman as "the best execution — mixing Old World haberdashery with a modernistic…" appraisal.
Ford's cache with the fashion buying and design hungry elite that at the initial presentation of the concept in his Milan showroom in late 2006, retailers attending the presentation were only briefed on the concept — and the marketing plan. While they were prepped — no actual product was shown…and were still ready to sign on for the line of offerings. Even Karl Lagerfeld has a stake in the evolving character of Tom Ford:
Linda Fargo, the fashion director for Bergdorf Goodman, told the New York Post. "Tom is such a talent that everyone's hot to get their arms around what he's doing,"
But that effort isn't happening alone — there's a supporting legation of partners: Ford and De Sole are linked to global luxury heavyweights Lane Crawford Joyce Group (Asia), Villa Moda and UAE Trading (Middle East), Mercury (Russia), Trois Pommes (Switzerland), Daslu (Brazil), Harrods (London), and the Neiman Marcus Group (U.S.)
A powerhouse marketing collective, the group plans to gold-plate the globe with the Tom Ford brand of old-world indulgence – envision entirely hand-made, customized suits, all types of ready to wear Ford lines, specially fabricated shirts and matching undergarments, lushly (and personally) monogrammed men's velvet slippers with embroidery – sprouting from 100 shop-in-shop, as well as freestanding stores over the next decade, franchise stores in Moscow, Zurich, St. Moritz, Hong Kong, Beijing, Kuwait, Dubai and Qatar, and a Milan flagship. Speaking of holism, Tom's brand intelligence deeply extends into everything he can touch — and in speaking with his global publicist, Shirin Von Wulffen, a friend of mine from Yves Saint Laurent, his sense of the handmade, the hand-touched, is profound. Besides his presence in the hand made tailoring of his more expensive offerings, his bespoke suits, Tom's touchpoints extend to the care of his retail interiors. Along with his long time collaborator in retail design, William Sofield, his retail spaces are intensely personal — his home: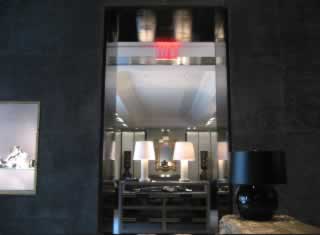 "It is great to be doing something that is purely 100% my own taste, my own vision, my own creation from the ground up."
The brand began in NYC — Dawn Mello's (his friend and collaborator from the Gucci days) founding habitue, the brand starting as an exclusive to an in-store shop in NYC's Bergdorf Goodman for a year, then, and now — the global rollout machine has kicked into action. In-store shops are being built, or planned for Harrods in London, Daslu in Sao Paulo, Moscow and Joyce Boutique stores in both Tokyo and Osaka.
"Retail design has always been significant in helping to define a brand and has become more important than ever as the entire luxury industry has become more homogenised. More than ever, the brand experience is, in part, determined by the retail space."
The acquisitive purchase power of the Asian market is so impressive that almost 90 franchised Tom Ford stores are planned for the region, including Hong Kong, China, Taiwan, Macau, Singapore, Indonesia, Malaysia and Australia.
On that front:
"This is a great day for us as we have now laid the foundation necessary to become a true global luxury brand,"
Ford recently told WWD.
"The plan will allow us the platform needed to reach and service our customers worldwide." This modeling, unsupported, is dangerously risky — especially now. But the character of Tom Ford is more about engagement — and connecting with his audiences — in an increasingly intimate modeling of relationships with guests. Person to person. There are no online sales at tom.ford.com.
Writer and interviewer Bridget Foley, exploring the later legacy of his efforts — and the conclusions of his role with Gucci creative direction, his break with PPR, the holding Luxury entity,
"Money had absolutely nothing to do with it. It was about control."
And that's part of the founding premise of the human brand — that the premise of the brand is about — it's about defining the character of the brand in a way that is nearly genetic; there are Tom Ford brand "chromosomal" codes to the brand that are infiltrating virtually every portal of expression. Everything you touch everything you experience, is Tom Ford. The evidence touchpoint, the persona of the man — the human brand.
This modeling, shown above and below, this exploration reflects that.
I've talked about this concept of brand coding in presentations and online, for some time. And what I'm looking at is the idea of the power of the person, integrated to experience.

There is a cult in the culture of the brand; there is a captivating story, that lends humanistic narrative dimension — there is the premise of the person — who? This is the founding driver of the brand — that leverages the beauty of engagement, the emotional gift of the offering (fulfillment, satisfaction, alignment, personal emulation and aspiration, archetypal connection) — and finally, the reflective corollary. What is given, what is given back — if there's a good story, a connected sharing — it's reflected, one to another.
Expanding on theories of legacy — and truth, for that matter — there is the matter of evolution. How does the viability of brand act in the framing of time? Time tells — stories are built. And there is authenticity in the telling — that evolution in truth. The character is evolving.
"My 10-year plan now is very different from what my 10-year plan was 10 years ago. There's a nice quote I came across a while ago that says, "Midlife is when you get to the top of a ladder only to realize you've had the ladder against the wrong wall." Now, that probably happened to me a few years ago — meaning when I left Gucci.
A lot of what has driven my life was coming to not necessarily a midlife crisis, because I was very happy with everything that I had accomplished, but maybe a sort of midlife lack of fulfillment in certain ways, and it redirected my life — redirected my business life by making me understand that work wasn't really about making money, getting ahead. You know, all the things that we're taught as kids. But work should really be something that you love to do, and through this I realized all along I had been working because I liked to design things. I like the challenge of it. So I realized that.
Then I tried to think about how I can do this where I take away all the parts that I don't like, such as waking up in the morning and having to read the review in the [International] Herald Tribune about whether the collection was good or bad. I hate all that stuff. I really hate it. I really like making the product. But believe it or not, I don't like talking to journalists. I don't like posing for pictures. I don't like all the stuff that's now around fashion. I still do it because it's part of my business — you've got to communicate to the customer. Before I was driven by "Be successful, be successful, be successful." It was a different kind of drive from what I feel now." (Time Magazine)
And plans, as they must on an increasingly accelerated pace, change and tune to the person that drives the brand — it's about flow, in being, in creating, in working:
So my 10-year plan now is kind of spiritual. Now you're really going to think I've lost my mind! My 10-year plan now is more focused on my personal relationships, my personal life, my family. It's a different phase of my development. It's focused on business too. It's focused on things like making movies, which I'm not going to make any money doing, but it's creatively something that excites me and fuels my mind. With relationship to my men's business, I did what I did out of a real need, a niche in the market, something that I personally wanted. (Time Magazine)
Tom moves to articulating his theory about brand, stardom and story.
"A star becomes a star because what they do sells and because they perform."
And that is continuity, performance, contributions and foundations.
On the visualization of brand, in story, in design and visible language:
"It's really that there is a point of view. There is a vision today that is a summation of the last 10 years of my saying yes to this and no to that. There is a personality. There is a point of view and it is consistent. You can like it or not like it, but it is a point of view."
And this was another challenge to the modeling of Tom's continuing work with, for Gucci — and Pinault, Printemps & Redoute; the retaining of the emotional heart of leadership, the core drive of the brand storied visioning.

Miuccia Prada (Photo: WWD.com)
In referencing the designspirit of Prada (and some remarks that PPR leadership had offered) Serge Weinberg: "no one talks about Miuccia Prada. No one knows it's she who designs the brand." And if there's no link, then the humanity of the connection is dissipated.
Tom comments again to the focus, Prada humanbrand:
"Miuccia has a point of view, a vision with a purpose. Not only am I a great fan of what she does from a design standpoint, but a great fan in terms of the way she has been able to pinpoint her vision with Prada."
The point is the visioning of the legacy — and the human brand leadership that equates vision, design production and making the relationship: her point of view permeates through every corner of that company, but many people who buy Prada goods don't know that. Story, be told. "There is a point of view, there is a focus, and that's what comes from the designer", that role of leadership forces a kind of storytelling capacity: "It takes a large set of skills to be a chief designer of a company. You have to be a talented designer but that's only part of it. You also have to be articulate. You have to understand how to work with people. You have to have a vision and a point of view."
I'm a commercial fashion designer. I never pretended to be anything other than that.
Aside from motion pictures, that is.
Ford is getting the die, cast in place, and settled for his long-awaited move into movies.
Ford, trying now his hand in Hollywood, announced, Wednesday, Oct. 29, 2008, his first deal to direct a film. "A Single Man," starring Colin Firth, Julianne Moore and Matthew Goode, is set to begin filming in Los Angeles, "A Single Man," Ford's adaptation of a Christopher Isherwood novel.

Christopher Isherwood
Late October (2008) was the opening production date. The story, published in 1964, the novel centers on a gay man who, after the sudden death of his partner, is determined to persist in his usual routine, which is seen in the span of a single, ordinary day in southern California.
Firth is the gay man, an Englishman and professor who feels like an outsider in Los Angeles. Goode is the boyfriend who dies in a car accident and appears in flashbacks. Moore plays a friend of the professor.
Supporting this move, Ford, who earlier this year ranked 12th in a list of the 49 men who most influenced the way other men thought, behaved and shopped, adapted the screenplay for the independently financed project with David Scearce. Fade to Black is the production company that has been formed by Ford. More, to movies — here aligned to fashion.
James Bond 007 always is the epitome of coolness, savoring the finer things in life from suits, to the latest gadgets, but what is hard to miss in the latest Bond film "James Bond 007 Quantum of Solace" are his Limited Edition Tom Ford James Bond 007 TF108 shades.
This undated photo below provided by Tom Ford shows Daniel Craig in a tuxedo designed by Tom Ford. Along with sports cars, gadgets and sex appeal, an impeccable sense of holistically defined style is the benchmark of the now 46-year-old James Bond movie franchise — the alignment is perfected. Besides Ford's friendship with Craig, there is another component — to the premises of the human brand; the Bond brand fits precisely the ethos of Tom's emerging legacy.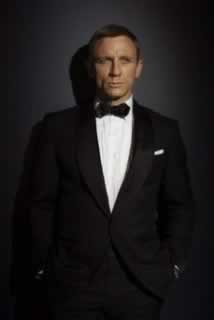 There are a clear grouping of attributes that guide the character of this human brand. But it's interesting to consider the framing of this humanly defined brand — the genetics of its explication — from the perspective of a designer. Working in the brand space as a designer it's rare to find such comprehensive thoughtfulness. But that's the character I find, and found, in my conversations with Tom and his team — thought fullness.
Articulate. Careful. Methodical. Ambitious. And willing to risk creatively in the leap to advance the brand, which is…himself.
"The progression of my work as a designer very much follows the progression of myself as a person. As I grow older, I see myself and the world differently. I have different role models and different values. Authenticity has become increasingly important to me in my life and in my work."
A gallery of personal creative extensions to the mind of Tom Ford, the man, Tom Ford, the brand: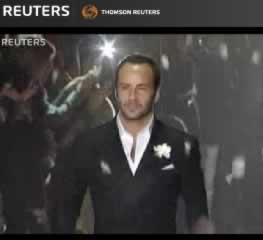 Rich, the work. Refined, the man. Defined, the brand.

Karl Lagerfeld photo
tsg | nyc