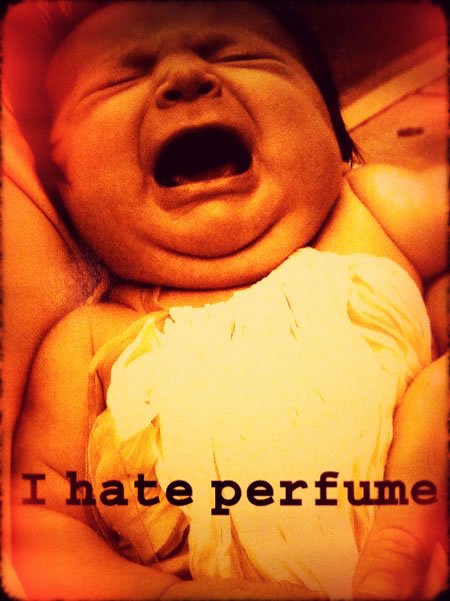 Perfume Environments: The Scent Visioning of Christopher Brosius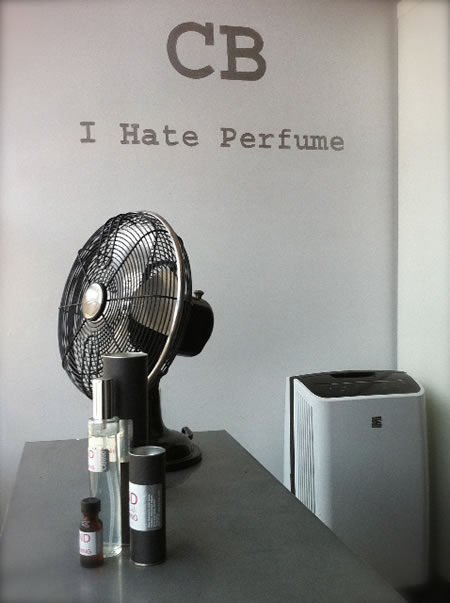 Window display, Brosius
I'd tried to link to Brosius live, but couldn't since he was working on project, one that he was focusing on. I did see him at his shop, but held my tongue in reaching out. I'd admire that — focus.
The interesting character about Brosius' distinction relates to just that — a focus and attention to build on a dream of exploring the complexities of the fragrance space, then actually building a place, a personalized retail space to tell that story and to sell the products that he offers.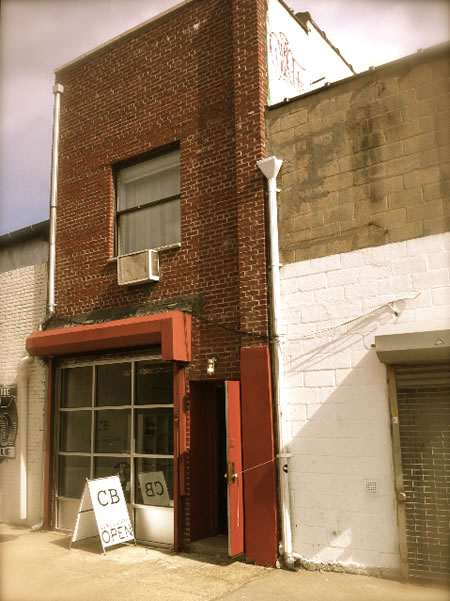 CB|I Hate Perfume shopfront, Brooklyn, NY
It's a small two story shopfront in Brooklyn which might've been a machine shop or garage front, a footprint of perhaps 2000 square feet. Shelving, on the grid, is simple — but the product arrangements are not. Brosius, ever the educator and spreader of perfumed dreams has a complicated hierarchy of fragrance models that he's trying to get his guests to understand.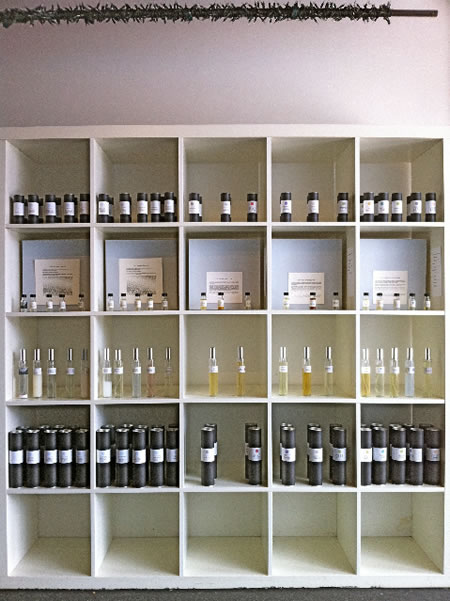 Accords, archetypes, collections for exploration
But that world, the mythic layering of scents, accords and other amalgams is as complex as the art is long — the listing of a single fume being dozens of essences, each titrated to build the formulation of a moment. His carriers are not alcoholic — he uses water for purity.
Brosius might've started in a manner that's similar to his Demeter originations — building scents that duplicate experiences — like, for example, dirt or grass. But Brosius chose the path less to duplication of precise moments of scenting memories and worked more to interpretations of gatherings. That skills founded other levels of olfactory interception and he built other paintings of memories, scenes, mysteries and imaginings.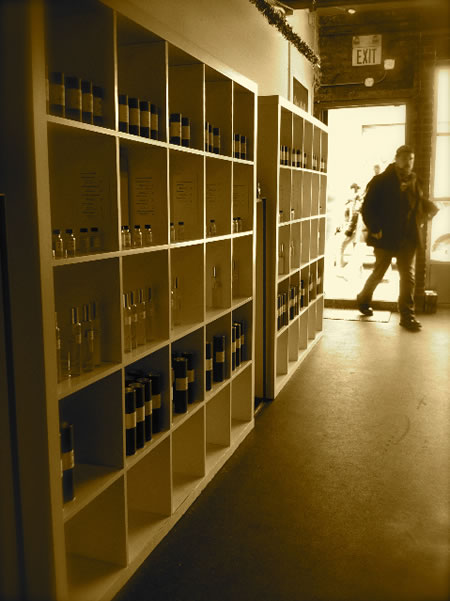 Rubber floors and shelving arrangement at Brosius' shop
Today, there is a composite of dozens of interpretations that are gathered in the shop — it's for you to explore and dig into the structuring of his thoughtful investigations, learn more of the Brosius mindful approach to reaching to memory and distinction in experience, then building your own grouping of CB | I Hate Perfume touches to tint the sillage of your being. During that trip, I'd met Amanda Walker, her own student — and artist — of perfumed collections, with a focus on completely organic admixtures — she's formed groups building on her examinations of origins — the sources for ingredients and the purity of their cultivation.
I've studied CB's Cumming (The Fragrance) — based on the picturing mind of the actor Alan Cumming. I wear it as a contrast to other scents — a tint here, that bursts bergamot, black pepper, scotch pine, whiskey, cigar, heather, Douglas fir, rubber, leather, highland mud, burnt rubber, peat fire, and white truffle. These come from the recollections of manliness in the Alan Cumming. Popular enough for a new interpretation, Cumming 2 | The Fragrance. Potently — all profits to charity.
What I found compelling about the modeling of this "celebrity perfume" is the nature of it's antithetical character and vitality of build. Anti-celebrity, so called. Rather than the hazy "image charts" and "marketing briefs" of conventional fragrance houses — Brosius and Cumming worked together, building and exploring: notes on that experience offer a hint of that collaboration. Brosius observes, "How well I remember that afternoon! I keep all samples of my individual accords in small brown bottles. Alan began by picking one up, uncapping it, holding the bottle to one nostril while pinching the other closed. Then with a huge rush, he'd inhale deeply. "No my dear," I told him gently. "I get the association but it's not necessary. All you have to do is lightly sniff these…" Eventually though, he'd chosen a number of seemingly strange and unrelated scents. I was thrilled with his selection. Although it was a challenge to fit them together into a fragrance that made sense, each accord was very important to Alan and spoke clearly of his history and the unique man he is." But this is personal, friendly. Real. Alan's revelation, here.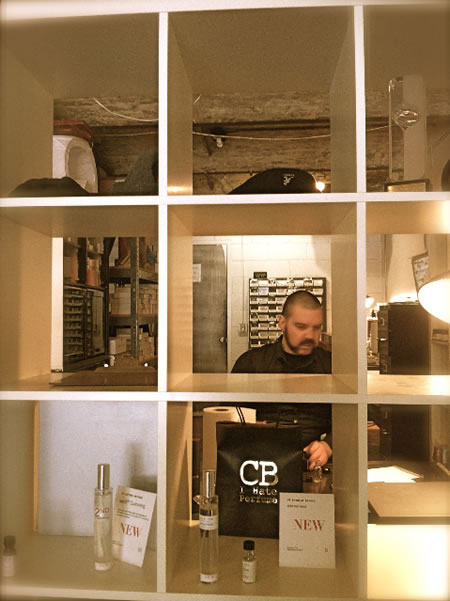 The alchemy of customized, on the spot mixes
Shopping there, I'd met with the Operations Director — talked to him about my notes to Christopher. And in purchasing a take away, I chose Gunsmoke. He titrated the admixture, formulated in a tiny bottle. My recollections of this scent — specifically the fiery end of gun, powdered fume and the oiled steel afterburn — were strikingly familiar, yet distinctly mnemonic. The scent lies quietly on the skin, heating up, it becomes stronger, revealing the character of a gunshot. Been there, done that.
To learn more of Christopher's passion, check into the site to learn more of his modeling — it's a rich and lustrous world, belying decades of study and experiment, now artfully crafted in expertise and artfulness.
The power of the craft is the passion of commitment, and the dreams of evocation — gathering the voices of memory, lustrating their recalled magic.
A good journey always leaves a scent in the front of the mind.
TIM | Brooklyn, NYC
––––
THE STRATEGY OF THE LUXURY BRAND
Girvin Brand Luxe | http://bit.ly/gTW5HZ
the reels:http://www.youtube.com/user/GIRVIN888
girvin blogs:
http://blog.girvin.com/
https://tim.girvin.com/index.php
girvin profiles and communities:
TED: http://www.ted.com/index.php/profiles/view/id/825
Behance: http://www.behance.net/GIRVIN-Branding
Flickr: http://www.flickr.com/photos/tgirvin/
Alltop network: http://my.alltop.com/TGirvin
Google: http://www.google.com/profiles/timgirvin
LinkedIn: http://www.linkedin.com/in/timgirvin
Facebook: http://www.facebook.com/tim.girvin
Facebook Page: http://www.facebook.com/girvindesign
Twitter: http://twitter.com/tgirvin