The waft of scent and memory — deep fragrances from the earth, the forest, dark smoke and fire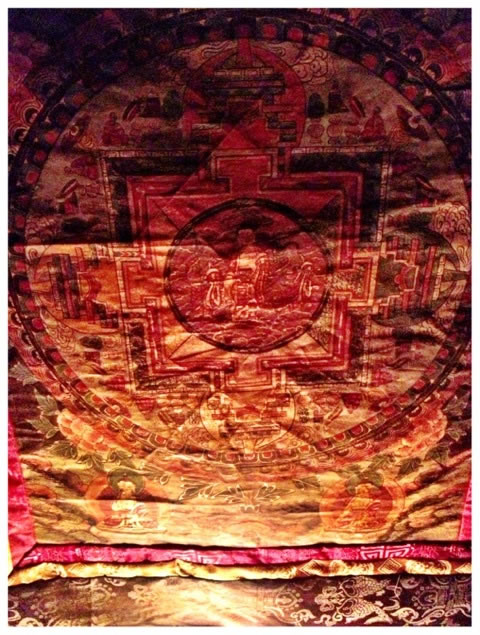 I was so dirty, with scent: the power of perfume, dirt, darkness and memory
Lying on my bed, in a darkened bedroom, painted a deep, raven-dark purple, I was looking at an old Tibetan painting, 200 years of ideas, a mandala — a mapping of mind and cosmos — reaching back another 1400 years, and further back into the mists of antiquity, magic and the supernatural.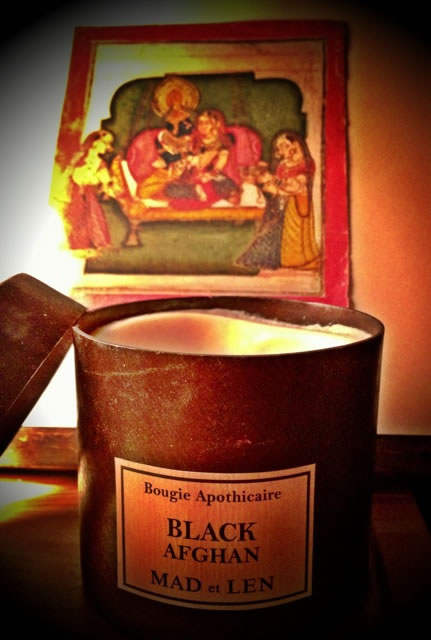 But while I was lying there, a scent crept into the edge of my mind — of old, burned teas, the forgotten fire of wood embers, resinous oils, tree pitch and heated bark, of deep earth. Of cedar oils, fiery bark, burned juniper and pine needles.
And I drifted into a dream — on one side, the scent designed by Mad et Len — Black Afghan; and on the other, their Cade. As they say, on their site:
"THE PERFUME HOUSE,
MAD ET LEN,
IS BASED IN THE SOUTH OF FRANCE AND
SPECIALIZED IN INTOXICATING AROMAS HANDMADE
WITH AN ARTISAN'S TOUCH.
MAD ET LEN IS A SEARCH FOR LOST TIME AND
ITS REAPPROPRIATION
IN THE RECOLLECTION
OF ORIGINAL ORGANIC DISTILLED ESSENTIAL OIL
FROM FLOWERS, WOOD OR AROMATICS.
THE USE OF THESE RAW INGREDIENTS
GIVES THESE FRAGRANCES A
REFRESHING NATURAL AROMA,
EXTENDING THE PRODUCT LINE
FROM HOME FRAGRANCES
TO CANDLES WITH RICH SCENTS.
EACH PRODUCT IS UNIQUE, FROM THE HAND MADE PACKAGING TO THE HAND BLENDED PERFUMES."
The sign of Mad et Len relates to a supreme naturality — hand-made, hand-hewn, hammered containers. Their scents recall a distant past when scents were made of flowers, roots, woods and barks, tars and resins — the scents, deep, fat and dark, culled from and calling from the earth. Another link from Nowness calls to their origins in a photographic collection. And their notations, evoke more to place and imagery, the mountainous village of Saint Julien du Verdon.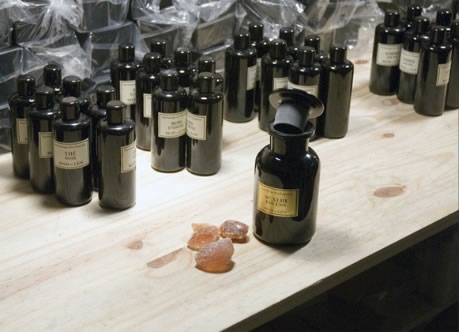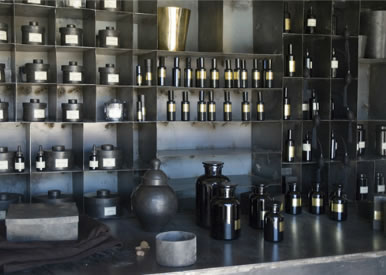 Berlin-based photographer Anne Lass road trips through the mountainous Verdon region of southeast France to visit the ateliers of reclusive perfume makers Mad et Len, tucked away in the picturesque village of Saint Julien du Verdon. Named in homage to the famous madeleine scene in Marcel Proust's Remembrance of Things Past, Mad et Len adopt an intimate approach to scent with founders Sandra Fuzier and Alexandre Piffaut naming each product after a memorable aromatic encounter from their global travels, like Russian Leather or Amsterdam Tobacco. Over the past five years the husband and wife team have been reviving contemporary French perfumery by revisiting the practices of traditional apothecaries, experimenting with natural aromas that have been matured for years and hand-blended from the essential oils of spices, woods and flowers until they uncover a scent that they feel reflects real luxury. "It's quality and rarity we aim for," explains Aurélie Pineau, Sales Director at Mad et Len. "The calm and serenity of Verdon allows for total freedom in creativity." On meeting the media-shy founders at their workshop, Lass recalls: "We drove around a lot to explore the landscape, adventurous drives on small paths in the mountains. I wanted to make viewers smell what it smelled like over there: lavender and pine trees."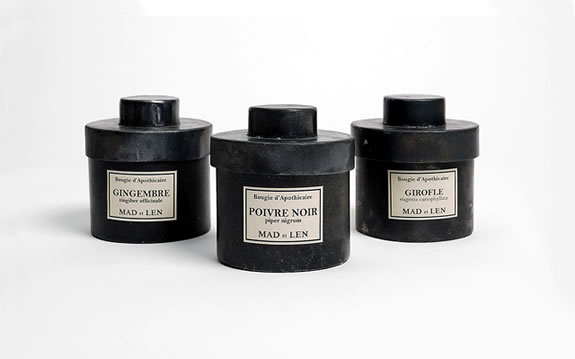 Dark perfumes are a dream, landscaped in the labyrinth of mind — lying in a bed, resting in a meditation, the sign of scent makes a mark in memory — and I lean back in time, to other places, dream scopes of the deep physicality of place recalled — mountains, forests, rocks and running streams and mossy lichens.
I go back, I go in.
Deep.
Dream.
Drop.
Dark.
TIM | Queen Anne Studios
The West Queen Anne Elementary School
––––
EXPERIENCE DESIGN
STRATEGIES | BRAND, STORY & SCENT