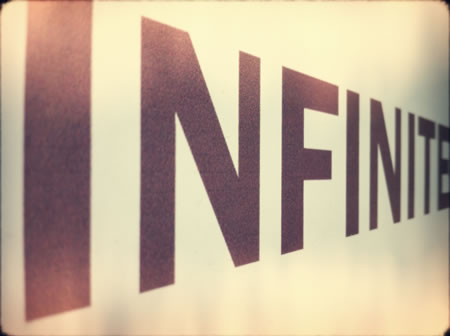 (Girvin | Barcelona)
THE FINITE, THE INFINITE — AND WHO CARES WHERE YOU'RE GOING? HOW FAR MIGHT YOUR STORY GO?
FAR —
TO THE CALL OF THE RIPPLE.
I remember when I was in grade school, and I couldn't quite figure out the spelling of infinity — and better, the simpler: infinite. As well — finite, aligned to the word: finished –from another, older word: finis — the end. I was thinking, then, that — if it's in-finite, then it's in finite — which might be "in — the finish." Makes sense. But still, the idea of infinite — going on forever, and ever. Then that would be "no finish."
FINALLY, I "finished" — I learned the right spelling. Reaching the proverbial end, I figure it out — THE END." FINISH, THE FINITE. Ad infinitum — onwards, that exploratory, for-ever.
These days, I've been talking to colleagues, friends, and clients about the idea of
"the ripple."
It comes to the idea of how ideas get out.
And go on and on.
For-ever.
When there's a stone cast — tossed on water [or another stoney surface] then there's a ripple, a watered wave, they're both rolling movement, or the echoing clatter of sound from stone on stone, traversing the air, flowing out.
Being at a certain pond, on a remote island – all is still, no breeze waffles the place, nor the sheen of the water — there are no ripples, just a quiet stillness. As I cast the stone, across the smooth water — it's rippling and skipping; I'm watching the stone trip its way across the pond. As I'm watching the reaction of the water, it's changing the character of the surface. Clipping the skin of the water, rings of movement extend — the rippling.
And I'm thinking about the touch of people, the movement of the story, the spoken murmuring. Sharing, fluttering — the movement. How people share, ideas and other things. Emotion is but that — the psychic motion of people.
Rippling— as I stand at the edge of the pond, contemplating the finish of the tossed stone movement, I see the softest lulling at the grasses that extend from surface of the pond water.
Like a breeze, it's the whisper of an idea — like the flock of birds, they flow like an idea — one, another, to an other. They ripple across the water of time, then they come back — like everything.
It goes out, and comes back — from one, to many. Returned…the story. The storied rippling . . . the true wave of human kind.
TIM
…..
GIRVIN | IMAGINATION +
EXPERIENCE = PLACE
DESIGNING ENVIRONMENTS:
PLACES | RETAIL | RESTAURANTS